Apple replaced the small iPod mini with the even smaller iPod nano in September 2005, initially offered in 2 GB and 4 GB capacities in either a white or black plastic enclosure. a 1 GB version was added in February 2006.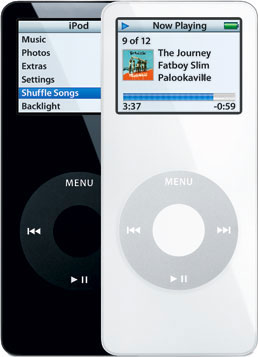 The big difference in size came from leaving behind the Mini's 1″ hard drive and using flash memory, which allowed the iPod nano to be thinner, narrower, and lighter. It also had a smaller color display at 1.5″ instead of the Mini's 1.67″.
With its plastic enclosure, the original iPod nano was easily scratched, which led to a class action lawsuit that was settled in October 2008 at a cost of $22.5 million to Apple – and a $15-25 benefit to each registered user.
There were also problems with batteries provided by one supplier, which led to a recall. This recall is still in effect.
Hardware Overview
Models
Announced 2005.09.07 at US$199 (2 GB) and $249 (4 GB). 1 GB version announced 2006.02.07 at $149.
Included accessories: earbuds, USB 2.0 30-pin dock cable, dock adapter
Code name: Drifter
Model number: A1137
Product numbers:

1 GB: black, MA352; white, MA350
2 GB: black, MA099; white, MA004
4 GB: black, MA107; white, MA005
Technology
CPUs: 2 ARM 7TDMI-derived CPUs running at variable speeds up to 80 MHz
Audio chip: Wolfson WM8975G
Display: 1.5″ 176 x 132 pixel 16-bit LED-backlit color LCD.
Battery: lithium ion
Charge time: 3 hours max. (1.5 hour fast charge to 80% capacity)
Play time: 14 hours for audio, 4 hours for slideshow
Compatibility
Original OS: iPod nano OS 1.0
Maximum OS: iPod nano OS 1.3.1
iTunes Versions: iTunes 5.0 and later.
Mac OS Required: OS X 10.3.4 or later.
Windows Versions Supported: 2000 SP4, XP Home or Professional SP2
Dimensions and Weight
Dimensions: 3.5″ x 1.6″ x 0.27″ / 89 x 41 x 6.9 mm
Weight: 1.5 oz. / 42.5 g
Further Reading
Keywords: #ipodnano #1gipodnano
Short link: http://goo.gl/PYb1kK
searchwords: ipodnano, 1gipodnano