Sometimes a computer with a lower GHz rating can outperform one with a higher speed rating, and that's especially true for the 2.5 GHz Power Mac G5 Quad. One of the first Macs to use IBM's new dual-core G5 CPUs, the Quad uses a pair of them, which means Power Mac owners now have access to four cores. Not since the Daystar Genesis of 1996 have Mac owners had a four-processor option.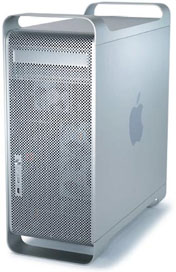 Each core has 1 MB of level 2 cache, twice as much as earlier G5s, which further boosts computing power. In addition to the 2.5 GHz Quad, Apple also offers 2.0 GHz and 2.3 GHz models with a single dual-core CPU.
Other improvements include the adoption of PCI Express (PCIe) architecture and a 16-lane Nvidia video card, 533 MHz DDR2 memory, and a 16x dual-layer SuperDrive. This is the first time Apple has included an Nvidia graphics card as a standard feature on its leading-edge model since the Digital Audio Power Mac G4 was introduced in January 2001. There isn't even an ATI option for this machine.
There's a small price to pay for this power. The 2.7 GHz Power Mac remains available for those who need PCI-X slots or can't wait for the Quad to ship in November, but the quad-core 2.5 GHz model is from 20% to 75% faster, according to Apple's tests.
The motherboard architecture uses HyperTransport technology. System memory is so fast (533 MHz RAM on a 1.25 GHz bus) and the level 2 cache so large that Apple doesn't bother with a level 3 cache.
A headphone jack, a USB 2.0 port, and a FireWire 400 port are located on the front of the G5 for easy access, and there are three USB ports on the back, up from two on previous G5 Power Macs.
It's easier to distinguish the dual-core models from the earlier ones from the back than from the front, as shown in the photo on the left. The Dual and Quad (left) have three USB ports at the bottom of the strip of ports, while earlier models (right) have ethernet and modem at the bottom. There's also a grey plastic strip on the left side of the dual-core machines.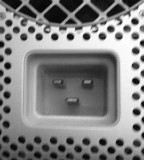 One oddity of the dual-core Power Mac G5s is that they use a different power connection, known as IEC320 C19, and don't work with the standard computer power cable, as show in the photo on the right. These models also use a different power supply than earlier G5 Power Macs, with the Quad using a more powerful one than the Duals.
Power Mac G5 Reliability
Reliability ratings are based on statistics compiled by MacInTouch in June 2006, at which time the dual-core Power Mac G5 models had only been on the market for 8 months. Letter grades are based on failure rate: A = 0-6%, B = 7-12%, C = 13-18%, D = 19-24%, and F = 25% or higher. We also note the two components that failed most often.
G5/2.0 dual-core (Oct. 2005), C- (18%, power supply, logicboard)
G5/2.3 dual-core (Oct. 2005), C- (18%, power supply, logicboard or optical drive)
G5/2.5 quad-core (Oct. 2005), C- (17%, logicboard, power supply)
In each generation, except for the final dual-core one, the fastest model is the least reliable, while the second-fastest is the most reliable. Logicboards are the most expensive component to repair, followed by the power supply. Hard drives, optical drives, video cards, and RAM can be replaced inexpensively using third-party components.
Details
2.5 GHz Quad announced 2005.10.19 at $3,299 with November delivery; replaced by 2006 Mac Pro on 2006.08.07
Identifier: PowerMac11,2
Order Number: M9592
Supported Mac OS Versions
CPU: 2.5 GHz dual-core G5
Bus: 1.25 GHz (half CPU speed)
Performance:

Geekbench 2 (Leopard): 3197
Geekbench 2 (Tiger): 3298

RAM: 512 MB, expandable to 16 GB using 533 MHz PC2-4200 DDR2 RAM in 8 slots
L2 cache: 1 MB on-chip L2 cache per core
L3 cache: none
Video: Nvidia GeForce 6600. Nvidia 7800 GT with 256 MB and Nvidia Quadro FX 4500 with 512 MB optional
VRAM: 256 MB
Hard drive bus: 1.5 Gbps SATA Rev. 1
Hard drive: 250 Serial ATA (SATA) 7200 rpm
Optical drive bus: ATA/100 bus
optical drive: 16x dual-layer SuperDrive on Ultra ATA/100 bus
3 open PCI Express slots: two 4-lane slots, one 8-lane slot
optional external 56k v.92 modem
Microphone: standard 3.5mm minijack, compatible with line-level input, not compatible with Apple's PlainTalk microphone
FireWire: 2 FW400 ports (1 on front), 1 FW800 port
USB: 4 USB 2.0 ports (1 on front)
Ethernet: 2 independent 10/100/gigabit ports
WiFi: antenna and connector for 802.11g AirPort Extreme card
Bluetooth: built in, optional antenna
size (HxWxD): 20.1″ x 8.1″ x 18.7″ (51.1 x 20.6 x 47.5 cm)
Weight: 44.5-48.8 lb. (20.2-22.1 kg)
Gestalt ID: n/a
PRAM battery: 3V CR2032 lithium
Power supply: 550W part no. 661-3738, requires IEC320 C19 power cord
Accelerators & Upgrades
Online Resources
Keywords: #powermacg5
Short link: http://goo.gl/X0MA1x
searchword: late2005powermacg5quad