2007 – This year I visited Macworld Expo in San Francisco for the first time to check out new products from over a hundred companies on the show floor as tech giant Apple unveiled more magical products. Macworld 2007 was the biggest Mac event yet, and attendance had increased since last year.
Macworld amazingly managed to grab as much attention from the media as the Las Vegas-based Consumer Electronics Show. Macworld 2007 was held from January 8th to 12th at the Moscone Center, San Francisco, California.
This year's show was incredible, packed with excitement, new products, and great events. The media went crazy over Macworld Expo this year, and here's why:
Show Summary
Apple previews, demos, and announces iPhone, a "smart phone" device, for June 2007 release in the US.
Apple releases Apple TV, which streams media from computers wirelessly to your living room (previously known as iTV).
Apple quietly releases new Airport Extreme, with a similar appearance to Apple TV and 802.11n draft support.
Apple changes its corporate name from Apple Computer, Inc. to Apple, Inc.
Apple expands choice of movies on iTunes, announces over 2 billion songs sold.
Microsoft announces Office 2008 for Mac, coming later in 2007, will have Universal Binary support.
Axiotron's Modbook made a large appearance at the show, the first real Mac tablet.
Roxio released Toast 8 Titanium at the show, with an all new interface and many new features.
Storyist Software show off their newest product, Storyist for novelists.
Game makers Aspyr Media, Feral, and Freeverse were at the show with all their latest products.
Adobe Systems makes appearance at the show with a large booth, giving demos of Adobe and Macromedia products. Premiere Pro comes back to the Mac, and Photoshop CS3 shows Universal Binary support.
Parallels made their first appearance at the show with their virtualization product Parallels Desktop .
Macworld presented their 'Best of Show' event live on stage for the first time.
NEC announce new display, the MultiSync LCD2690WUXi-BK.
Not to be missed were the presentations at Macworld this year, such as David Pogue's comical talk show-like event where he interviewed several guests including Phill Ryu, founder of MacHeist and MyDreamApp. Walking around the show, I noticed many excellently presented booths including that of Omni Group, Freeverse, Apple, HP, Microsoft and others.
The major highlight of the show was Apple CEO Steve Jobs' keynote presentation, where he announced that history was going to be made. Jobs performance was flawless. In a different approach from previous keynotes, the major and most anticipated product was not left until last with a "one more thing…" slide. The Apple Store news at the beginning of the keynote was also missing. Jobs' approach also seemed to be more historical, mentioning an Alan Kay quote, the original Macintosh, and also Woz's TV Jammer from college.
In the keynote, Jobs announced two products that were most highly anticipated. Those being the iPhone and the Apple TV (previously known under the code name iTV).
The iPhone
The iPhone fits into the category of products known as smartphones, which means it competes against the Blackberry, Palm Treo, and dozens of other cell phone products that also double as music players and internet devices. The iPhone is unique, using a high quality multi-touch display and, like the iPod nano, comes in 4 GB and 8 GB models, costing US$499 and US$599 respectively.
The iPhone supports the Cingular network [Cingular was renamed AT&T Wireless before the iPhone launched in June 2007], and it has not yet been announced which carriers will be supported in the future. The most exciting feature of iPhone is the pure elegance and sheer quality Apple have presented by using OS X technology embedded within the phone itself. Running Safari, users can browse websites just like they do on their Mac.
Apple didn't stop there. They also adapted iChat into the phone for text messaging, and they collaborated with Google to integrate Google Maps into the phone. iPhone also has emailing capabilities, with support for both POP3 and IMAP.
The initial thoughts of the iPhone are extremely mixed across the media and Apple faithful. Some think it is too highly priced, while others think it is a good bargain. Some believe the product will fail because it has a high price and doesn't fall straight into a wide market. I could go on, but here's what I think:
Firstly, the iPhone will be a phenomenal success just as the iPod became – but it will take time, as successes don't always happen overnight. As Apple are entering an extremely crowded market with dozens of competitors; it may take longer to gain serious market share than it did with the iPod. Currently, the iPhone is a wonderful, sexy product with a gorgeous crisp and bright display, but the iPhone is still missing many vital features that phone users want, such as built-in games, Java support, an iTunes Store within the phone, 3G support, video conferencing and recording, and more.
However, iPhone updates are already due by the end of this year, and in 2008 a 3G model will most likely appear if it hasn't already.
Apple TV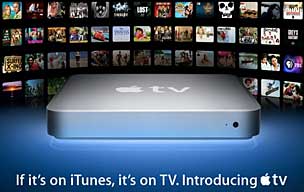 The Apple TV has stayed remarkably identical to the prototype we saw in 2006. It sports the same ports on the back, as well as the same industrial design and user interface. The Apple TV requires a widescreen display; it is not compatible with CRT-based televisions. It will cost US$299 and be available in February.
Not Announced at Macworld Expo
Surprisingly, there was no sign of iLife '07 or iWork '07, Apple's lifestyle and office suites for Mac OS X. It's now expected that these products will be announced with Mac OS X 10.5 Leopard in the second half of this year.
There were no Mac or iPod updates at the keynote. This left many of the hard-core Mac fans disappointed, some expecting a MacBook mini or a Mac tablet.
For the iTunes fans, over 100 Paramount movies are being added to the iTunes Store, and the 2 billion songs sold mark was crossed.
Further Reading