In 2001, Apple expanded into music with the iPod. In 2007, into television with Apple TV. But the original Apple TV was a lot different than the compact models we've seen since.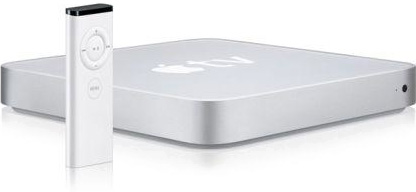 Announced as iTV in September 2006, Apple TV was a hard drive-based device built around a 1.0 GHz Pentium M processor. In fact, this was the only version of Apple TV built around an x86 CPU rather than one of Apple's ARM processors. It was also the only version to run a modified version of Mac OS X (10.4.7) rather than a version of iOS.
It was sold with either a 40 GB or 160 GB UltraATA 2.5″ hard drive (not a SATA, as was used in all Macs by 2007) installed, and it can be upgraded with a hard drive or SSD (at least to 320 GB and possibly more). It outputs video via HDMI or component video up to 720p. In addition to showing content stored on its hard drive, Apple TV can stream video from iTunes.
The original Apple TV has built-in 802.11b/g/n WiFi, 10/100 ethernet, and a single USB 2.0 port designed for diagnostic use.

The original Apple TV displays 480p and 720p video, but not 1080i or 1080p. It also supports the 50 Hz 576p PAL format and can display 480p and 720p on a 1080p or 1080i screen.
Apple sold 100,000 units in its first month on the market. The best estimate is that they sold 1 million in calendar 2007, 1.8 million in 2008, 2.8 million in 2009, and 2 million more before the original model was discontinued in September 2010. That totals approximately 7.5 million units sold over its life.
Apple will discontinue iTunes support for the original Apple TV on May 25, 2018.
Specifications
Announced 2006.09.12 as iTV, announced 2007.01.09 as Apple TV, 40 GB version shipped 2007.03.21, 160 GB 2007.05.31. 40 GB model discontinued 2009.09.14, 160 GB 2010.09. Replaced by 2nd Generation Apple TV 2010.09.01.
Price: 40 GB, US$299; 160 GB, $399
Model no.: A1218
Identifier: AppleTV1,1
Item no.: MA711 (40 GB), MB189 (160 GB)
Hardware
CPU: 1.0 GHz Intel Pentium M
GPU: Nvidia GeForce Go 7300
RAM: 256 MB of 400 MHz  DDR2 SDRAM
Drive bus: UltraATA
Video output: HDMI, component video
Sound output: optical S/PDIF, analog via RCA ports
Supported resolutions: 480p, 576p, 720p
Connectivity
WiFi: 802.11 b/g/n
Ethernet: 10/100
USB: 1 USB 2.0 port for service and diagnostics
Infrared only for Apple Remote
Software
Original OS: Mac OS X 10.4.7 (a.k.a. Apple TV OS 1.0)
Maximum OS: Apple TV OS 3.0.2
Requires iTunes 7.1 or later.
Physical
Dimensions: 1.1″ x 7.7″ x 7.7″
Weight: 2.4 lb.
Further Reading
Keywords: #appletv #1gappletv #originalappletv
Short link: http://goo.gl/pJfLj5
searchword: appletv