Buffalo Japan has introduced a brand new USB mouse that looks and works a lot like an iPod with a tail. Seriously, Buffalo's new scrollwheel mouse has a round control pad that looks just like the ones you'll find on the iPod nano and iPod classic.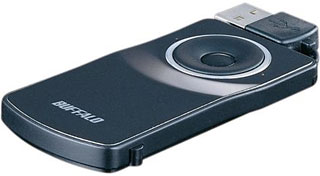 Apple introduced a scrollwheel similar to this with the original iPod in 2001, and the design of Buffalo's scrollwheel is remarkably similar – right down to the raised center. And just like the first iPod scrollwheel, you can run your finger around the outer track to scroll up and down – or push down the right or left side to click and perform an action.
While the rest of the world may consider this a novel design, the idea has been around for a half-dozen years now, as longtime Rumor Mill readers know.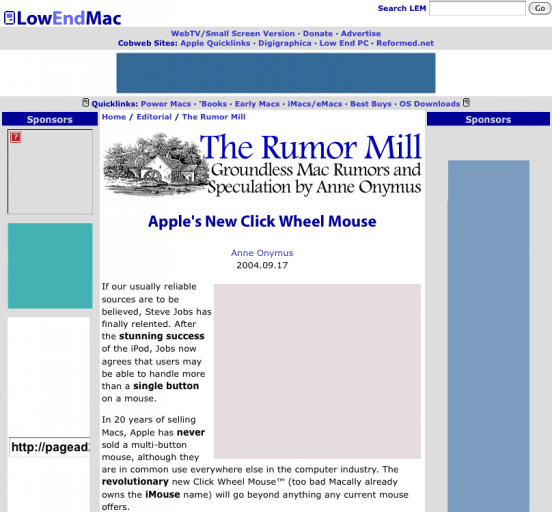 That's right, you read about it here first – way back in 2004 when I told you about Apple's Click Wheel Mouse, a project that never saw the light of day and was killed in favor of the Mighty Mouse, which used a miniature trackball instead of a traditional scrollwheel.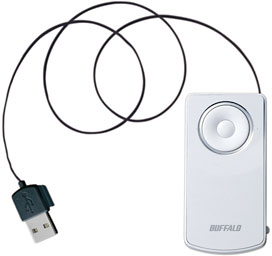 According to the press release, the Buffalo BOMU-RHW01 USB Ultra Thin Mouse is only one-third of an inch (8mm) thick and has 800 dpi resolution. The 2′ (0.6m) USB cable is retractable at the push of a button, making it very easy to store and transport the mouse, which is a big plus for laptop and netbook users.
This mouse measures 1.6″ (40mm) wide and 3.7″ (94mm) long. It weighs 30 grams, just a hair over one ounce.
What the press release doesn't mention is the Buffalo's engineers were inspired by my column from six years ago and actually approached me to license the idea. What a shame that I didn't patent the idea, but at the time I thought it was pretty off the wall and more than a bit ludicrous.
Today, I regret that decision. I would be far richer today if I'd patented this crazy idea. As it is, all I've received is a gift card for one free mouse in my choice of black, white, or silver. I'm leaning toward black but haven't yet made up my mind.
If you want one, you can order it in white from Dynamism for $69.99 plus shipping, which starts at $8.38. All three colors are available from Audiocubes for $79.99 plus shipping.
This new mouse was news to our sources at Apple, which had not indicated whether it would take legal action against Buffalo for copying its clickwheel design.
– Anne Onymus
Keywords: #clickwheelmouse
searchword: clickwheelmouse