In 2012, The New iPad – as Apple called it – got its first Retina Display with a 2048 x 1535 pixel screen. It also received a quad-core graphics processor as part of its dual-core A5X CPU. It is commonly known as the 3G iPad.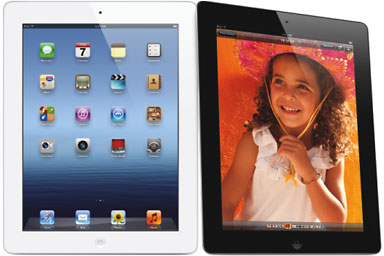 For photos and video, the 3G iPad sports a 5 MP rear-facing camera that can record 1080p video. Facing the user is the same 640 x 480 camera found in the iPad 2.
Remarkably, despite having 4x as many pixels on its Retina Display, the 3G iPad matches the iPad 2 under Geekbench testing.
Rather than calling iPads with mobile data "+3G" as it had in the past, Apple switched to "Wi-Fi + Cellular" in part to celebrate moving past 3G into the realm of 4G LTE – and to avoid legal issues after first calling it "Wi-Fi + 4G" in markets where it was incompatible with local 4G standards. Cellular support is pretty much limited to US and Canada.
As with the iPad 2, there was a separate CDMA version of the 3G iPad.
The 3G iPad was discontinued after just over 7 months, replaced by the 4th generation iPad, which provided broader support for 4G LTE standards around the world.
iOS 9.3.5 was the last version supported on the 3rd generation iPad.
Hardware Overview
Models
Announced: 2012.03.07, on sale 2012.03.11 at $499 (16 GB), $599 (32 GB), and $699 (64 GB). $130 additional for cellular version.
Included accessories: USB 2.0 30-pin dock connector, 10W 2A power adapter
Code name: J1
Identifiers:

WiFi only: iPad3,1
GSM: iPad3,3
CDMA: iPad3,2

Model numbers:

WiFi only: A1416
GSM: A1430
CDMA: A1403

Product numbers:

WiFi only: MC705 (16 GB black), MD328 (16 GB white), MC706 (32 GB black), MD329 (32 GB white), MC707 (64 GB black), MD330 (64 GB white)
GSM version: MD366 (16 GB black), MD369 (16 GB white), MD367 (32 GB black), MD370 (32 GB white), MD368 (64 GB black), MD371 (64 GB black)
CDMA version: MC733 (16 GB black), MD363 (16 GB white), MC744 (32 GB black), MD364 (32 GB white), MC756 (64 GB black), MD365 (64 GB white)
Technology
CPU: 1 GHz dual-core Apple A5X
RAM: 1 GB
Architecture: 32-bit
Audio chip: Cirrus Logic CS4398
Graphics engine: quad-core PowerVR SGX543MP4
Display: 9.7″ 2048 x 1536 pixel multitouch screen
Cameras

rear: 4 MP 1080p
front: 640 x 480 FaceTime

Sensors: accelerometer, ambient light, compass, 3-axis gyroscope
Performance
Geekbench, single core: 259
Geekbench, multicore: 489
Connectivity
I/O port: 30-pin dock connector
WiFi: 802.11a/b/g/n
Bluetooth: 4.0
Wireless data:

GSM: 4G LTE (700, 2100 MHz), UTMS/HSPA/HSPA+/DC-HSDPA (850, 1900, 2100 MHz), GSM/EDGE (850, 900, 1800, 1900 MHz)
CDMA: 4G LTE (700 MHz), CDMA EV-DO Rev. A (800, 1900 MHz), UTMS/HSPA/HSPA+/DC-HSDPA (850, 1900, 2100 MHz), GSM/EDGE (850, 900, 1800, 1900 MHz)

GPS: WiFi-assisted GPS
Power
Battery: 42.5 Watt-hour lithium polymer
Charge time: not specified
Battery life: up to 10 hours
Compatibility
Original OS: iOS 5.1
Maximum OS: iOS 9.3.5
iTunes Versions: iTunes 10.6 and later.
Mac OS Required: OS X 10.5.8 or later
Windows Versions Supported: 7, Vista, XP Home or Professional SP 3 or later
Dimensions and Weight
Dimensions: 9.5″ x 7.31″ x 0.37″
Weight: 1.44 lb. (1.46 lb. for cellular versions)
Further Reading
Keywords: #3gipad #ipad3
Short link: http://goo.gl/Di37SY
searchwords: 3gipad, ipad3