Apple previewed OS X 10.10 Yosemite on June 2, 2014, at the Worldwide Developer Conference (WWDC). In addition to a lot of new features and a whole new level of integration with iOS devices, Yosemite looks like the most beautiful version of the Mac OS to date.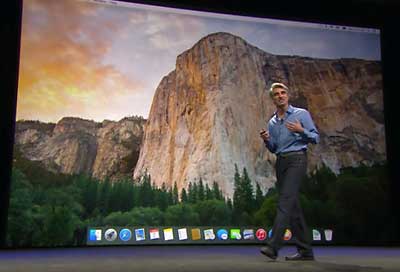 Redesigned Interface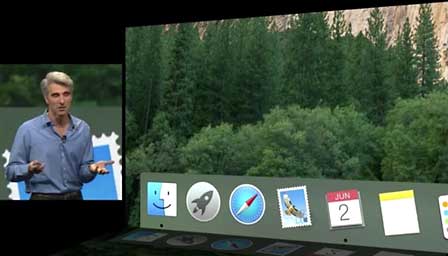 Just as Apple overhauled the look of iOS when it released iOS 7 last year, it is overhauling the look of OS X this year. For instance, icons in the (no longer 3D) Dock are a lot less busy and detailed, a lot simpler and more dynamic – just like icons for apps updated for iOS 7.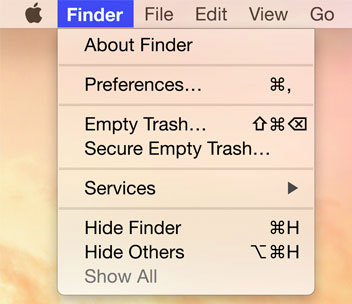 The font used in the menu bar, pulldown menus, and with icons has also been tweaked for a superior user experience.
Apple made a lot of translucency during the keynote. It looks great, but time will tell how useful it is.
And for those who are tired of white pull-down menus, there's a new dark theme.
Built-in Apps
Safari has been overhauled for speed. Mail works better with large attachments and lets you annotate documents. Messages works with both SMS and iMessages – and transparently integrates with messages on your iOS device(s) using iOS 8.
iCloud Drive is Apple's adaptation of iCloud to make it more competitive with Dropbox, GoogleDrive, Microsoft SkyDrive, and other cloud services. You can finally organize iCloud the way you want it to work, not only the way Apple insists on doing it, as was true until now. You get 5 GB for free, and 20 GB will set you back just 99¢ a month. Need more? 200 GB is $3.99 per month, and you can get up to 1 TB of storage space.
iOS/OS X Integration
Your iOS 8 iPhone (4S and newer) rings, and your Mac pops up caller ID – and lets you take the call at your Mac if you want to. The new Handoff feature lets you start a message or email on one device and finish it on the other. And Instant Hotspot turns your iPhone into a WiFi hotspot for your Mac or iPad.
System Requirements
Apple had done a remarkable job supporting older hardware, some going back as far as 2007 – using the same system requirements as OS X 10.8 Mountain Lion and 10.9 Mavericks.
Oldest Supported Hardware
OS X 10.10 Yosemite will be available in Fall 2014, and it will be free.
Keywords: #osx1010 #osxyosemite
Short link:
searchword: osxyosemite