The Mac LC 550 and 575, also sold as the Performa 550 and 575 to the home market, have 4 MB of RAM soldered to the motherboard and a single 72-pin SIMM socket for memory expansion. They can handle up to 36 MB of memory.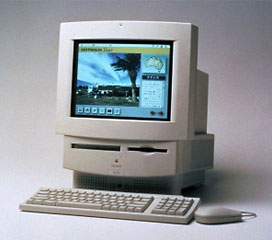 With the edge connector facing away from you, you will see a SIMM socket near the far left edge of the motherboard, running from the front of the computer to the rear. This can be filled with a 1 MB, 2 MB, 4 MB, 8 MB, 16 MB, or 32 MB SIMM. The 72-pin SIMM must be 80ns or faster.
To add memory, simply put the new SIMM in the RAM socket.
add a 1 MB SIMM for 5 MB total
add a 2 MB SIMM for 6 MB total
add a 4 MB SIMM for 8 MB total
add an 8 MB SIMM for 12 MB total
add a 16 MB SIMM for 20 MB total
add a 32 MB SIMM for 36 MB total
Additionally, the 68040-based LC/Performa 575 will work with 64 MB SIMMs – see the Pickle's Low End Mac FAQ for detailed memory specifications. These models may also be compatible with 128 MB SIMMs, but that has not been verified.
VRAM, Where More Memory Means Less Speed
The 550 ships with 512 KB of soldered VRAM. You can upgrade this to 1 MB by adding one 512 KB VRAM SIMMs to the single VRAM socket.
The 575 ships with 512 KB VRAM composed of two 256 KB VRAM SIMMs. These can be removed and replaced with a pair of 512 KB VRAM SIMMs.
Keywords: #maclc550 #maclc575 #performa550 #performa575
Short link: http://goo.gl/Is8CGY