The Mac LC/Performa 580 shipped with 4 MB soldered on the motherboard and two 72-pin SIMM sockets for memory expansion – twice as many as the LC 550 and 575 – for up to 52 MB total system memory, the most possible in any 500-series Mac. Like other 500-series Macs, it has a slide-out motherboard.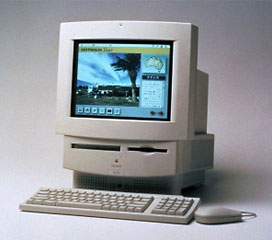 With the ports on the motherboard facing you, you will see two SIMM socket near the left edge. The leftmost SIMM socket can accept single-sided or double-sided SIMMs of 1 MB, 2 MB, 4 MB, 8 MB, 16 MB, or 32 MB. The other socket can only accept single-sided SIMMs, which come in 1 MB, 4 MB, and 16 MB sizes. The 72-pin SIMMs must be 80ns or faster.
Some Configuration Options
With six capacity options for the left SIMM slot and three for the right one, there are numerous upgrade options.
1 MB in either slot, 5 MB total
2 MB in left slot or two 1 MB SIMMs, 6 MB total
2 MB in left, 1 MB in right, 7 MB total
4 MB in left, 8 MB total
4 MB in left, 1 MB in right, 9 MB total
2 MB in left, 4 MB in right, 10 MB total
8 MB in left or 4 MB in left and 4 MB in right, 12 MB total
8 MB in left, 1 MB in right, 13 MB total
8 MB in left, 4 MB in right, 16 MB total
16 MB in left, 20 MB total
16 MB in left and 1 MB in right or 1 MB in left and 16 MB in right, 21 MB total
16 MB in left and 4 MB in right or 4 MB in left and 16 MB in left, 24 MB total
8 MB in left, 16 MB in right, 28 MB total
32 MB in left or 16 MB in left and 16 MB in right, 36 MB total
32 MB in left, 1 MB in right, 37 MB total
32 MB in left, 4 MB in right, 40 MB total
32 MB in left, 16 MB in right, 52 MB total
Keywords: #maclc580 #performa580
Short link: http://goo.gl/w3tD7j