We've all heard the saying "less is more" — but can a smartphone that does less offer more in terms of personal productivity?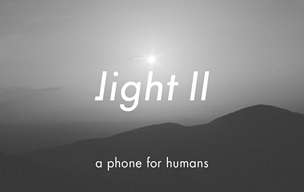 Enter the Light Phone 2, a smartphone that is, to quote its creators, "a phone that actually respects you." The device is lean and simple with 4G LTE connectivity, the ability to make phone calls, and utilities such as messaging, an alarm clock, and navigation.
But what about e-mail, an internet browser, a music player, or downloadable apps and games, more so a camera? You won't find any of those features here.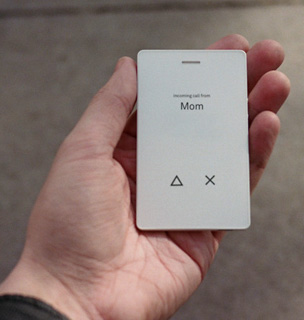 You aren't even going to find a color backlit LCD or OLED screen, as this smartphone has an E-ink screen, an energy efficient display that doesn't emit light but shows images by mimicking black ink on white paper. (If you've seen a grayscale Kindle, you've seen an E-ink screen.)
The main selling point of this Smartphone is the ability of its user to "go light" with only the basic tools (which users can remove, or return, to suit their preference) and leave their main smartphone — such as an iPhone or Android — at home more frequently or even permanently. While the former is a step forward, the latter appears to be its creators' ultimate goal.
If you really think about it, the device almost sounds like an ultimate anti-smartphone!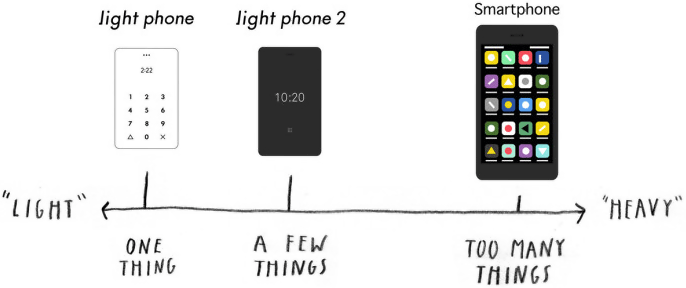 It's definitely a "radically different" — to borrow a phrase the company uses to describe itself — concept from the minds of Light, a design and technology company based in Brooklyn, NY. Established in 2014, Light was created by founders Joe Hollier and Kaiwei Tang, an artist and a product designer, respectively, as a counter to large tech companies like Apple and Google.
From the company's press release for the Light Phone 2:
"By freeing you from your smartphone, Light Phone 2 encourages you to spend more quality time doing the things you love most, free of distractions. … In a time when we have grown accustomed to seeing our existence and self-worth through a hyper-connected portal of social affirmations, disconnecting is profound and more important than ever."
"In recent years, the OS of our smartphones, be it Apple or Android, have become more convoluted and confusing, adding layers of complexity of the high cost of usability. Light's operating system uses a few thoughtfully implemented tools with physical buttons…"
Speaking of an OS, while the Light Phone 2, which uses a customized Android operating system, will be compatible with Mac, Windows, and Linux, the device will be fully functional right out of the box and can operate independently without a computer.
So what's inside the box? Just a black or white unlocked phone (without a SIM card) and a charging cable. In addition, complementary software may be released for installing future updates (which was done for the original Light Phone) but the possibility remains that this simply could be done wirelessly over the cellular network.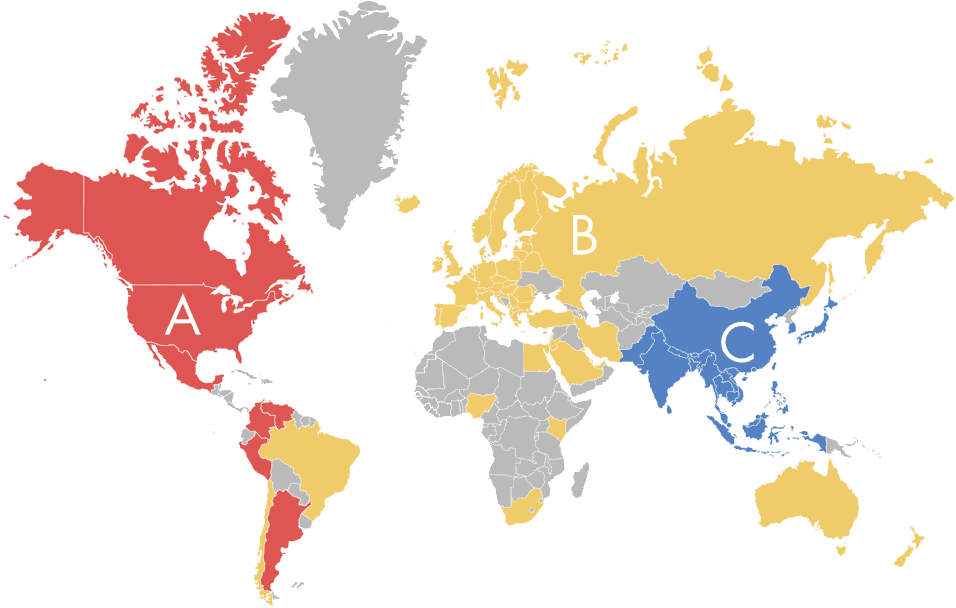 And how about that network as far as coverage and compatibility are concerned? The company says that the phone will work globally wherever 4G is available in correlation to the regional bands that each model being offered will operate on. Specifically, in the U.S., three of the four major wireless carriers will support the Light Phone 2: AT&T, Verizon, and T-Mobile. (Light says Sprint is not included as its bands are not widely used in the two continents of our region. The company also notes that any MVNO, mobile virtual network operators, carrier that uses the same compatible networks can support their smartphone as well.)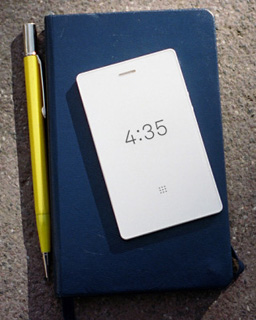 The device is currently in its prototype stage, and features may be added or removed before the final product is released. Although the product is still in development, the device is already being pre-sold, and supporters who purchase one have the added incentive of being part of the creation process, such as being able to suggest features to include in the device. (One feature that has already been suggested is the addition of Bluetooth, which currently is not included.).
At an introductory price of $250 for a limited time through the Indiegogo website (which launched on March 1st and ends on the 25th), the low-end smartphone might seem like a great bargain.
But with its lack of other mainstream features, will people be willing to, go light?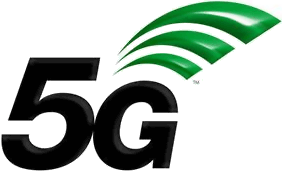 According to the Mobile World Congress 2018 event held last month in Barcelona, Spain, the future of smartphones is moving forward at a rapid pace with new technologies like 5G, advancements in artificial intelligence (AI), virtual and augmented reality, the internet of things, and continued development of content and media for mobile devices.
Based on those facts, more seems to be what techcompanies think users want, not less. Can the Light Phone 2 compete in this arena with its reverse psychology?
Intentional Simplicity
When asked why people would buy the Light Phone 2 over similarly or even lower priced older iPhone or Android smartphones, Light representative Mikhail Zalesky said, "One of the main reasons for why people are attracted to the Light Phone 2 is in its intentional simplicity. In a world where hyper-connection is the norm, it's refreshing to have an option that's not designed to consume your time and attention."
Zalesky was also asked if the Light Phone 2 would be a good fit for the typical low-end technology user, such as the readers of this website.
"I believe the Light Phone 2 would fit greatly into your readers lives chiefly because [as you put it] 'they don't want or need the latest and greatest technology for their lifestyle,'" he said. "Even compared to feature phones on the market, the Light Phone 2's capabilities are much lighter, pun intended, in that it's not striving to integrate the latest and greatest."
In 2015, when the original Light Phone was released, the company sold only 10,000 phones worldwide. That's a far cry from the 74.5 million iPhones sold by Apple just in the first quarter of that same year, according to a report from Fortune magazine.
Since the start of their campaign on Indiegogo, Light has secured funding in excess of $1 million and over 3,500 pre-orders for their smartphone. The company hopes to sell even more devices going forward, and while they have already more than exceeded their initial goal of raising $250,000, additional funds are needed.
"The funds we are raising on Indiegogo will get us well into the development phase of the Light Phone 2, however, like our original Light Phone, we will need additional capital to fully deliver our finished product," Light said.
"We raised an additional $3 million from private investors [in 2015]," commented Zalesky. He added, "Our goal with the campaign is to raise enough to kick off development, prove the interest to our investors, as well as build an engaged group of future users to learn from as we go through the design and development process."
The Light Phone 2 will continue to be pre-sold after the Indiegogo campaign is over, but the price will likely go up, according to Zalesky. The Smartphone is scheduled to be released in April 2019 with a price tag of $400.
If you are ready to go light and are interested in purchasing a Light Phone 2, head over to their page on the Indiegogo website to support their campaign.
For more information on Light, visit the company's website at www.thelightphone.com.
(All images in this article provided by and courtesy of Light).
keywords: #lightphone #lightphone2 #leoandmac
short link: https://goo.gl/3Pu9HZ