PowerBook 101 Rumors
Charles W. Moore - 1999.03.02
NOTE: This Miscellaneous Ramblings column originally appeared on MacOpinion on 1999.03.02. It is republished here by permission of the author and MacOpinion.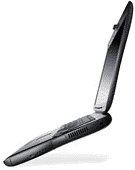 More rumors about the new 101/Lombard/Series III professional PowerBooks continue to filter out and circulate - and while none of this is official word, a clearer picture of how the new 'Books will shape up is gradually forming.
However, don't hold your breath waiting for the announcement. There are still a lot of Series II G3s in the pipeline, and you're going to see some even better deals on them before you see the new 'uns. Apple's Worldwide Developer's Conference (May 10-14) in San Jose, California, is likely the earliest venue for the new PB's intro.
Besides the inventory logjam, another pertinent factor is the imminent introduction of Mac OS 8.6. Apple would doubtless rather ship the new 'Books with 8.6 ("Veronica") from the start, instead of sending the first ones out the door with OS 8.5.1 and then offering a retroactive upgrade.
Apple is already catching flak from the pundits for cutting the 101/Lombard's compliment of PC Card slots by 50 percent. Users of PC Card based peripherals will only be able to use one at a time, which will be a particular annoyance for those who opt for FireWire support in lieu of an internal modem (some reports indicate that you won't be able to have both - others predict that FireWire support will be CardBus PC Card based).
There is scuttlebutt that the 101/Lombard will start at a price point of $1,999. If this is true, they will be an incredible deal.
As pictures (1, 2) recently published by Mac The Knife indicate, the new PowerBook will be evolutionary rather than revolutionary in appearance. They will be a bit thinner (by 1/2") and shorter in chord (front to back), but still black. Perhaps bigger news it that the unit will be up to 1.5 pounds lighter than the Series I/II.
G3 chips with clock speeds of 300 MHz, 333 MHz 366 MHz, and 400 MHz are all being predicted by various sources. I doubt that all these speeds will be offered, (although if the $1,999 price leader becomes reality, I'm betting that it will have a 266 Mhz chip). The new PB is expected to have an internal bus speed of 66 MHz
Base RAM will almost certainly be 64 MB (as it should have been with the Series I and II) , with 128 MB shipping on the higher-end machines, and up to 512 MB supported using two 256 MB chips. Hard drive sizes will be anywhere from 4 GB up to the 10-12 GB neighborhood.
The word is from several sources that 101/Lombard's expansion bays will be a new design - not compatible with the Series I and II machines and not swappable side to side. Unless there was a really compelling reason for doing this that isn't presently apparent, this is an unfortunate change, introducing another battery size and expansion device configuration to the inventory mix. Some reports say that 101/Lombard expansion devices will work with WallStreet/PDQ, but not vice-versa.
Many things will remain the same as the WallStreet/PDQ 'Books: speaker location; 14.1" displays; 10/100 ethernet; irDA; S-video, an internal 56k V-90 modem (a different one, though), and a SCSI port (probably the last PowerBook to have one).
Video will be revamped to multiple monitor status as on the 5300 (no mirroring). Display and sound control functions have been moved from the buttons behind the keyboard to function key commands, and cooling ventilation is improved.
P1/iBook Update
As for Apple's long and anxiously awaited subnotebook, Paulo Rodrigues over at Low End Mac has published a summary of its expected specifications.
This stuff is a lot more specualtive than the 101/Lombard predictions above, and I'm not looking for the subnotebook until late spring at the earliest.
Meanwhile, PowerBook Central has published an editorial entitled "Dear Apple. Where's my ultraslim PowerBook?" which echoes much of my own thinking on the topic.
Inside from the Outside
Speaking of prognostications, MacNN has published a column by Mark J. Hershenson, who had the opportunity to sit in on an Apple Computer "Technology and Information Update" meeting.
Mark relays a variety of interesting information, including the intelligence that "PowerBook G3s are essentially PowerMac G3 desktops in a different casing," and that Apple says the PowerBook is "not a portable computer, but a movable desktop."
Also, UltraATA drives are coming on the new PowerBooks, and they are on par or better than SCSI, as well as cheaper. PowerBooks will be able to run Mac OS X Server, although Apple will not support this.
There is tons more in Mark's article, folks. Check it out.
A Powerful Shareware Mac-Only Word Processor from Korea
In this week's exotic software department, we have HanMac Word, a full-featured Mac-only word processor from HanMac Software of Korea, a company that develops Macintosh applications and QuarkXPress XTension programs. The HanMac application is in English, but you can process English and either Korean or Japanese (Japanese versions are called I-Write and HanMac Word -J) with the proper Language Kit installed.
HanMac Word is available in a full software version, or shareware versions (-K and -J). The latter have a very friendly price of $35 - a super value for such a powerful application.
HanMac Word features:
Powerful Table Handling
Multiple (non-contiguous) text selection
Fast find/replace
Flexible footnotes:
Frames
Document DB: Documents are automatically maintained on a database organized with document summary information. This is a very cool feature.
HTML Conversion: One mouse click can convert or save your document to HTML format.
Internet mail: Eudora program is activated automatically to send your document via internet mail in ASCII text format. You can also queue your mail in Eudora outmail box.
Styles
Variable multi-columns.
Multiple sections
Library: You can maintain library files of frequently used text, text boxes, pictures, graphics, or tables.
I've only experimented with HanMac Word for half a day so far, but it seems to combine many useful features of MS Word, WordPerfect, and AppleWorks with some great new ones of its own. HanMac Word (shareware version) is small - the entire application folder is only 2.4 MB, and will run in a 2,000 KB memory partition (2,500 KB recommended) with Virtual Memory or RAMDoubler activated.
The program comes in a smart fat binary installer. You can install versions for either PowerPC, 680x0, or both. HanMac Word requires 68020 Macintosh computer or higher, and System 7.1 or later.
Unfortunately, a serious problem for many potential users of HanMac Word is the present lack of a spell-checker. According to SukSang Yoon of HanMac Software, "The current version of HanMac Word doesn't support a spelling checker. Since a spelling checker function is top priority from users' wish lists, we'll do it if the situation allows in the future.
In the meantime there are several free-standing spellcheck programs that would work, such as Excalibur or Casady & Greene's Spell Catcher v1.6.
For more information or to download the shareware versions of HanMac Word, go to:
http://www.hanmac.com/english/hwordkinfo.htm (English/Korean)
or
http://www.hanmac.com/english/hwordjinfo.html (English/Japanese)
Prices for the various HanMac Word/I-Write programs are:
HanMac Word: $150.00
I-Write:19,800Yen
HanMac Word-K: $35.00
HanMac Word-J:$35.00
E-mail: sales@hanmac.com
Imacfloppy Interface Now in All Six iMac Colors
This week, iMacFloppy.com added the option of personalizing their customer interface with any of the five new iMac "flavor" colors, plus of course the original Bondi blue.
"You would not believe the number of people that requested this," says Frank Borges LLosa, president of iMacFloppy.com's parent company NetFloppy LLC.
I've been using iMacfloppy lately as a means of sending files to people over the Internet rather than clogging their email inboxes with attachments. I signed up for a second account with iMacfloppy.com for this purpose.
I just upload the file or files and then forward the username and password to the recipient by email. They can then log on at their convenience to download the file.
G3 Series Wins Honorable Mention at Mobility Awards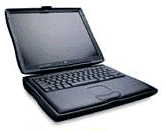 Mobile Insights has awarded the PowerBook G3 " Honorable Mention" (1st runner-up) for best consumer portable in this year's Mobility Awards presentation.
The IBM ThinkPad iSeries 1451 was the winner. The ThinkPad is a nice-looking piece of industrial design, but how can people stand using that horrible little pointing device that IBM insists on using instead of a trackpad? Anyway, honorable mention awardees were proclaimed to have come "within points of first place," so Apple didn't do too shabbily in a Wintel-centric field.
The Mobility Awards Committee, consisting of 40 top analysts and members of the press, chose the winners of this year's Mobility Awards by voting on an online ballot. The committee spent time researching the products."
USB Connecivity
The ability to connect to USB devices will be an increasingly important issue as the Mac universe consolidates its shift to USB as its standard connectivity protocol. The solution for PowerBook G3 users is a PC Card adapter, such as the one offered by ADS Technologies.
With one of these adapter cards, you can connect USB-based printers, modems, speakers, scanners, and hundreds of other devices. USB is hot-pluggable, and you can daisy-chain up to 127 USB products to your PowerBook without configuration hassles. The $40 ADS PC Card adapter supports all USB-compliant devices, provides 2 USB ports, and reportedly will require the not-yet-available Mac OS 8.6 (a.k.a. Veronica) to work on the G3 Series 'Books.
Unfortunately, while ADS is reportedly selling its USB Port PC Card with a sticker on the box claiming "Mac USB drivers inside," said drivers are not in fact in the box or on the company's Website. Apparently, the drivers are not yet ready, and ADS will mail them to users at the end of March.
For more information, contact:
ADS Technical Support Email:support@adstech.com
Low End PowerBook Watch
MacResQ has the following low-end 'Books available this week:

520c     36/240/19.2    Refurbished   040/66 Mhz   $649
520c     12/240/19.2    Refurbished   040/66 Mhz   $599
520      12/240/19.2    Refurbished   040/50 Mhz   $499
160       8/80/14.4     Refurbished   030/33 Mhz   $249
         

Liquidation Station offers these budget used and refurbished Road Warrior machines:

PowerBook  1400cs/117   32/750mg/12XCD/28.8modem (u)          $900
PowerBook  5300c/100    32/750mb/28.8/enet Active Color (r)   $850
PowerBook  5300cs        8/500 (r)                            $670
PowerBook  540C         12/320/19.2 modem (u/90 day war)      $489
PowerBook  520C         12/320/19.2 modem (u/90 day war)      $464
PowerBook  540          12/320/19.2 modem (u/90 day war)      $464
PowerBook  280c Duo     24/320/14.4/Active Color/Duo Dock (u) $450
PowerBook  520          12/320/19.2 modem (u/90 day war)      $438
         

PowerBook 1400 Upgrade
Still with low-end 'books, reader Jim Kahnweiler wrote with this question:
I just read your article on low-end PowerBooks. I'd like to consider the 1400c and wonder if it can be upgraded to a G3. There was a banner on your Website that offers an upgrade card for under $500. Sounds like a deal to me. What's the maximum RAM for the 1400c?
The 1400 is very upgradable with its processor chip on a user-replaceable daughterboard. Both Newer Technology and Vimage make G3 upgrade cards for the 1400 in several speeds.
However, be sure to compare the cost of a used/refurb 1400 plus upgrade card against the cost of a real G3 Series 'Book. Refurbished Series I 233s have been selling for as low as $1,399 (both MacConnection and The Apple Store had some at this price, although the refurb 'Books disappeared from The Apple Store when the prices dropped on the new PDQ machines a couple lof weeks ago). However, they'll be back, and the next batch may be priced lower yet, as you can get a new G3 Series II 233 for as low as $1,750.
The real G3 is a better bet for approximately the same money or perhaps less.
The maximum RAM for a 1400 is 64MB.
A Wind-Up PowerBook???
Remember those World War II movies where one guy would climb on the bicycle generator and pedal his lungs out while his buddy worked the mobile radio? There are rumors about (CNN.com) that Apple may include a kinetic (manual wind-up) recharge option with the coming P1/iBook subnotebook. There would be a fold-away handle on the side of the 'Book that could be cranked to recharge the battery.
Apple has reportedly licensed highly efficient kinetic technology from a British firm that developed it (the Brits were big on bicycle generators, too!) The hand-charging device is currently used in the South African-built Freeplay radio, which won a British Broadcasting Corporation Design Award for Best Product Sixty turns of the crank yields 30 minutes of listening on the Freeplay.
The wind-up rig works by winding a spring from one spool to another. The energy is stored on one side of the spool, transfers to the other, and drives a gear train.
That wind up power will work with computers has been demonstrated by BayGen Power Group, the FreePlay radio's manufacturer.
This idea is not as whimsical as it may seem at first hearing. Wind-up computers combined with wireless technology could free portable computers from their wire umbilicals for extended periods of time, and make computing possible in remote areas of the planet where power lines are non-existent.
You can see a QuickTime movie of the BayGen prototype (looks to be a converted Newton E-Mate) in action.
Steve Wood has posted a column to the MacTimes Website, entitled "Apple's Dirty Laundry," that will be of interest to anyone who has been following our series on Apple service issues. It has been suggested to me that airing of such "dirty laundry" in public amounts to disloyalty to the Mac. I think not.
Our favorite fruit company has a not undeserved reputation for arrogance and for stonewalling customers who have service problems. Trying to sweep this issue under the rug will not serve Apple's or the Mac's best interest in the long run.
Steve implies that the problem is mainly a few bad apples in "Apple Disservice," unfortunately some of them at management level. Combine that with corporate bean-counters' characteristically myopic obsession with the quarterly bottom-line, and you get a recipe for what _some_ customers are experiencing with Apple Support.
As one of Steve's readers quoted in the column notes, Apple receives 6,000 support calls per day, and _most_ of these are handled satisfactorily.
Incendiary PowerBooks
Last week I wrote about the issue (or not) of G3 PowerBooks supposedly spontaneously catching fire. The PowerBook Source has published a report and several letters from readers on the topic.
Apparently the problem stems from maladjustment of the power adapter receptacle in a small minority of G3 'Books. In these instances, there is electrical contact between metal shielding and the other metal of the adapter port. In most cases this just prevents the battery from charging. Sometimes it "fries" the motherboard. And in a very few (four?) cases, the computer has actually caught fire. Not too bad a record out of 125,000 G3 Series 'Books.
Reassurance
If you're getting a bit bummed by these stories, check out this page on Ric Ford's Macintouch Website for some good news:
Or go here for some perspective on how the Wintel side deals with support problems, at least one manufacturer anyway.