a.k.a. PowerBook G3 (Bronze Keyboard)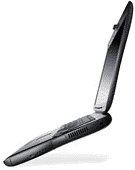 This version of the PowerBook G3 was announced on 1999.05.10 and reached stores by the end of the month. At nearly two pounds lighter and 20% thinner than the PowerBook G3 Series, toting Lombard was easier than any PowerBook since the 4.4 lb. 2400.
In the field, a fresh 50 Watt-Hour Apple battery with a full charge yields up to 5 hours of use. Using two batteries can increase that to as much as 10 hours. Replacement batteries can boost that by up to 60%, for a potential 8 hours with one battery and 16 hours with two!
Other changes: only one drive bay (incompatible with the previous one), only one PC Card slot, and no ADB port. The keyboard also looks different, made of a translucent brown (Apple calls it bronze) plastic. This was the last PowerBook with built-in SCSI support and the first with New World ROMs.
Although the 333 MHz Lombard has a faster clock speed than the 300 MHz PowerBook G3 Series II model it replaced, the older model sometimes outperforms it due to a larger (1 MB vs. 512 MB) and faster (2:1 vs. 2.5:1) Level 2 cache.
If only Apple could have come up with a name to distinguish this PowerBook G3 from the original, the G3 Series, and the updated G3 Series. And, of course, it was replaced by the PowerBook (no G3 in the name; also known as Pismo) on 2000.02.16.
Note that the DVD drive is not supported under Mac OS X. If you want to watch DVDs, you will have to boot in the classic Mac OS (8.6-9.2.2) to do so.
Warning
According to the Road Warrior, the drive controller in G3 PowerBooks is incompatible with some ATA-6/Ultra ATA-100 hard drives. When replacing the internal hard drive, you should be sure to obtain an ATA-5/Ultra ATA-66 compliant drive or an ATA-6 or ATA-7/Ultra ATA-133 drive known to work with Lombard.
Details
Accelerators & Upgrades
Online Resources
Cautions
keyword: pblombard