Lombard: A Great $400 Field Computer
- 2005.12.06 - Tip Jar
I'm going to take you back in time. The year was 2004.
I know it wasn't that long ago, but that was an important year to me. It was the year I got deployed to Iraq. I can't go into details, other than say I spent a whole year there, mostly in Baghdad.
I had never used a laptop 24/7 in my life. Before leaving the States, I researched different Mac laptops to see which one would fit my needs and my budget. My PowerBook would become my best friend and companion.
This is what I needed:
USB
14" or bigger screen
Video out
Wireless capable
Ethernet port
Long battery life
Easy to clean the insides
Mac OS X capable
Capable of playing DVDs
After all my research, I had to decide between Lombard, Pismo, and the original titanium PowerBook G4.
My budget was $400 shipped. Unfortunately, I could not buy any of them before I left (due to unexpected expenses), so I took an old PC laptop that some one had given me as a gift. I used the PC laptop for a month-and-a-half before I sold it. Then I purchased a Lombard - the Pismo was around $100-150 more, and a titanium was even more expensive.
My initial comparisons (mostly based of info from LEM):
Lombard
Pros:
Has SCSI and target disk mode
Has two interchangeable bays
Can support easy battery changes
Can use two batteries at the same time
Has a built-in DVD decoder and drive
Has two USB ports
Easy access to important components
S-video out
Ethernet port
PCMCIA slot
Cons:
No widescreen display
Small hard drive
Can't hold a lot of RAM (512 MB max.)
No AirPort slot
Pismo Compared to Lombard
Pros:
More RAM space (1 GB max.)
Built-in AirPort slot
FireWire (but I didn't have use for it at the moment)
Cons:
None really, other than price
Titanium compared to Lombard
Pros:
Widescreen display
Holds more RAM (1 GB max.)
Built-in AirPort slot
G4 processor
FireWire
Cons:
Price
Requires more storage space
Seem more fragile
Only one battery
No interchangeable bays
I decided to go with the Lombard. I bought it on eBay for $350 very carefully and had it shipped home to my wife. She then mailed it using FedEx, and I got it three days after that at a cost of $125. It was a lot, but they took good care of transporting it all those miles. My other option was to use normal mail, and that would have take anywhere from 3-6 weeks.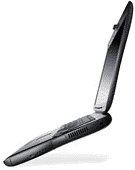 Once I got it, the first thing I did was take it apart and clean everything. I like the Lombard because of the two bays: I can use two batteries at the same time, maximizing operation time. Another Lombard plus is that it has a hardware DVD decoder and the S-video port out so you can watch movies on a TV.
The sleek black case looks great along with the black rubber, making a bit more rugged. The screen was big enough for me to watch movies and surf the Web comfortably.
While the Lombard didn't have AirPort compatibility, I could add wireless networking using a PCMCIA slot.
The last best thing is that my Lombard is very easy to clean - being in the desert, there's a lot of sand and dust. All I had to do was pop up the keyboard and hit it with compressed air. I could easily reach all the important areas of the Lombard with ease.
Next week I will talk about what accessories, upgrades, and software I used with my Lombard in Iraq.

Join us on Facebook, follow us on Twitter or Google+, or subscribe to our RSS news feed
If you find Joe's articles helpful, please consider making a donation to his tip jar.
Today's Links
Recent Content
Custom Search
Follow Low End Mac on Twitter
Join Low End Mac on Facebook
Favorite Sites
MacSurfer
Cult of Mac
Shrine of Apple
MacInTouch
MyAppleMenu
InfoMac
The Mac Observer
Accelerate Your Mac
RetroMacCast
The Vintage Mac Museum
Deal Brothers
DealMac
Mac2Sell
Mac Driver Museum
JAG's House
System 6 Heaven
System 7 Today
the pickle's Low-End Mac FAQ
Affiliates
Amazon.com
The iTunes Store
PC Connection Express
Macgo Blu-ray Player
Parallels Desktop for Mac
eBay

Advertise