Upgrading a Pismo PowerBook with a Slot-load Drive Salvaged from an iBook
- 2009.10.01
Popularity:








Short link: http://bit.ly/6vCUC
Well, I wasn't dissatisfied with the DVD-ROM drive that came with my Pismo. In fact, I had two of the modules; one from another Pismo. They played movies, read CDs, and allowed me to install software from them.
However, wouldn't it be nice if I could burn CDs and DVDs from my Pismo?
I just happen to have a burner (photo below), salvaged from a iBook G4. This might be tough, I thought, but since I had two of the original DVD-ROM drives, I could use one to made the conversion and not be out anything.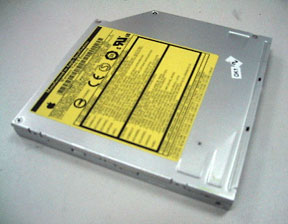 Now, I know this topic has been covered before (Simon Royal wrote Replacing Your Lombard or Pismo Optical Drive with a SuperDrive), but it's always nice to review how easy it is for a motor moron such as myself to install things in the Pismo (the world's easiest computer to update).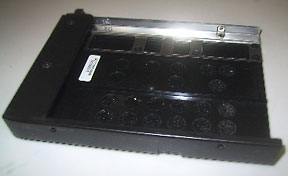 The first thing to do is take the donor drive apart so you can salvage the sled that slides in and out of the Pismo. There are two screws on the left side of the drive. There are also two screws on the right side. Pop the four screws off, remove the silver drive, and you have the empty sled.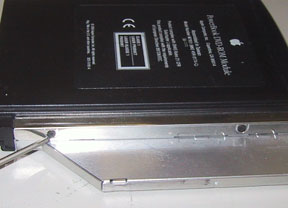 I had to remove some bits and pieces from the G4's drive, including the ribbon cable, to get it in shape for the install. Fortunately, the newer drive has screw holes that line up with the Pismo's sled. You just slide it in, fasten all the screws, and you have updated the disc drive on your Pismo.
Funny how it just seems easier on the Pismo.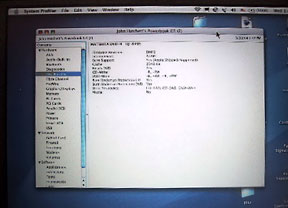 As you can see by the screen photo, the Pismo recognizes the new drive. I have even burned a CD (off a Genius playlist) for use in my car. I haven't burned a DVD, but I might give it a shot for Christmas presents.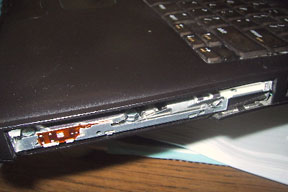 Now the only drawback is the appearance. It looks like the Borg have hacked my Pismo to make the new drive fit. However, I plan to take a Dremel tool to an old Zip drive module and then attach it (somehow) to the new drive to make things look neater.
It's a pity that Apple's design mavens would have a hissy fit if you suggested that Apple build a "Pismo II". It's so easy to work on and update that it would probably become an instant classic that would last for years and years.
Okay, maybe that's the reason they won't build one.

Join us on Facebook, follow us on Twitter, use our Google+ page, or read our RSS news feed
Recent Recycled Computing Columns
Links for the Day
Recent Content on Low End Mac
Recent Deals