The PowerBook 2400c was designed to replace the discontinued Duo series – particularly the 2300c – with something very small and light (just 4.4 lb./2.0 kg). Although the keyboard is slightly smaller than usual, those who have 2400s just love these small PowerBooks. And with its 8.5″ x 10.5″ dimensions, the 2400c had the smallest footprint of any Apple notebook to date (89.25 square inches vs. 93.5 for the PowerBook 100).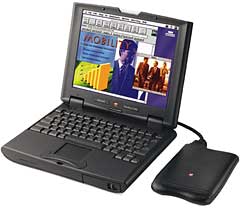 Memory expansion is limited to 112 MB, which can be extended by the use of RAM Doubler or Virtual Memory. Using a hard drive larger than 3 GB may preclude the use of SCSI Disk Mode, according to PowerBook Hard Drives: The Essential Upgrade.
Warning
According to the Road Warrior and Other World Computing, the drive controller in pre-G4 PowerBooks is incompatible with ATA-6/Ultra ATA-100 hard drives.
Details
Online Resources
Cautions
Keyword: #powerbook2400c
Short link: http://goo.gl/1WOpby
searchword: powerbook2400c