The PowerBook Duo 2300c was Apple's only PowerBook Duo based on a PowerPC CPU. To make the 2300c compatible with Duo Docks for earlier models, the 100 MHz 64-bit PowerPC 603e CPU was used on a 33 MHz 32-bit bus, which seriously compromised performance.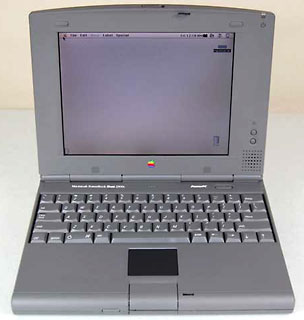 The 9.5″ 640 x 480 display normally runs in 8-bit/256-color mode, but by switching to 640 x 400 resolution it support 16-bit color.
The 2300c marked the end of the PowerBook Duo line.
Warning
According to the Road Warrior and Other World Computing, the drive controller in pre-G4 PowerBooks is incompatible with ATA-6/Ultra ATA-100 hard drives.
Details
Code name: AJ
introduced 1995.08.28; discontinued 1997.02.01
requires System 7.5.2 through Mac OS 9.1
CPU: 100 MHz PPC 603e
Performance: unknown
RAM: 8 or 20 MB, expandable to 56 MB
ROM: 2 MB
Hard drive: 750 MB or 1.1 GB
display: 640 x 480 9.5″ 85 ppi active matrix with 8-bit color (16-bit color at 640 x 400)
ADB port: only with dock
SCSI port: HDI30 connector on dock
serial: 1 DIN-8 RS-422 port on back of computer
proprietary modem slot
Gestalt ID: 118
Size (HxWxD): 1.5″ x 10.9″ x 8.5″
Weight: 4.8 pounds
power supply: M4174
Online Resources
Best Classic Mac OS Deals. Best online prices for System 6, 7.1, 7.5.x, Mac OS 7.6, 8.0, 8.1, 8.5, 9.0, 9.2.2, and other versions.
Low End Mac's Compleat Guide to Mac OS 9, Charles W Moore, Miscellaneous Ramblings, 2008.05.12. Mac OS 9 remains fast and stable, but Classic software hasn't kept up with the changing internet. Which Macs support OS 9, where to buy it, and how to update to 9.2.2.
PowerBook Duo and DuoDock problems, no TPM on most Intel Macs, iTunes for Linux, and more, Dan Knight, Low End Mac Mailbag, 2008.07.17. Also a Mac mini that displays some Web images in grayscale, vintage Mac desktop patterns, where to sell a used Mac, dithered images, and more.
Environmentally Responsible Retirement for Old Macs, Rick Lawson, Pioneers in Mac Development, 2008.06.13. After you've scavenged what useful parts you can from your old Mac, what's the most environmentally friendly way to dispose of the rest?
The Duo Dock Tick of Death Page, Sean Cleary. Duo Docks can fail, refusing to accept or eject a PowerBook Duo. Here's how to fix it.
What's the best Mac OS for your iBook, PowerBook, or MacBook?, Charles W Moore, 'Book Value, 2008.08.19. Tips on choosing the best OS for your PowerBook 500 Series or newer Mac notebook.
Mac 'Book Power Management Adventures, Charles W Moore, 'Book Value, 2009.05.19. If your 'Book won't power up, shuts down while your working, or has other power issues, resetting its internal power manager may clear things up.
Golden Apples: The 25 best Macs to date, Michelle Klein-Häss, Geek Speak, 2009.01.27. The best Macs from 1984 through 2009, including a couple that aren't technically Macs.
Why You Should Partition Your Mac's Hard Drive, Dan Knight, Mac Musings, 2008.12.11. "At the very least, it makes sense to have a second partition with a bootable version of the Mac OS, so if you have problems with your work partition, you can boot from the 'emergency' partition to run Disk Utility and other diagnostics."
Every working computer is useful to someone, Allison Payne, The Budget Mac, 2008.11.19. Whether it's a PowerBook 1400, G3 iMac, or Power Mac G4, it could be all the computer someone needs.
The last MDD Power Mac, Windows death spiral, thoughts on improving keyboard design, and more, Dan Knight, Low End Mac Mailbag, 2008.07.29. Also restoring a ticking Duo Dock, Compact Flash as a Solid State Drive, Psystar's legal troubles, and bargains galore.
The Compressed Air Keyboard Repair, Charles W Moore, Miscellaneous Ramblings, 2008.07.24. If your keyboard isn't working as well as it once did, blasting under the keys with compressed air may be the cure.
Hooked by a PowerBook Duo, Walker Quine, My First Mac, 2008.01.25. Receiving a PowerBook Duo 2300 with Mac OS 8 was enough to hook the author – and get almost his entire family using Macs.
MacBook Air: Return of the PowerBook Duo?, Robert Alpizar, Marketing the Mac, 2008.10.29. Like the PowerBook Duo, the MacBook Air is the ideal field computer, but it needs a lot more features when its on your desk.
Solving Mac Startup Problems, Adam Rosen, Adam's Apple, 2007.12.12. When your old Mac won't boot, the most likely culprits are a dead PRAM battery or a failed (or failing) hard drive.
Better and Safer Surfing with Internet Explorer and the Classic Mac OS, Max Wallgren, Mac Daniel, 2007.11.06. Tips on which browsers work best with different Mac OS versions plus extra software to clean cookies and caches, detect viruses, handle downloads, etc.
Apple's first subnotebooks: The PowerBook Duo family and the PowerBook 2400c, Charles W Moore, Miscellaneous Ramblings, 2007.09.04. With rampant rumors of a subnotebook MacBook Pro, it's a good time to look back at Apple's earlier attempts at subnotebook computers.
Mac System 7.5.5 Can Do Anything Mac OS 7.6.1 Can, Tyler Sable, Classic Restorations, 2007.06.04. Yes, it is possible to run Internet Explorer 5.1.7 and SoundJam with System 7.5.5. You just need to have all the updates – and make one modification for SoundJam.
Silence is golden: Running your existing notebook using flash memory, Dan Knight, Low End Mac Reviews, 2007.05.23. With a new adapter from Addonics, you can replace your laptop's IDE hard drive inexpensively and boot silently from a Compact Flash card.
Appearance Manager Allows Internet Explorer 5.1.7 to Work with Mac OS 7.6.1, Max Wallgren, Mac Daniel, 2007.05.23. Want a fairly modern browser with an old, fast operating system? Mac OS 7.6.1 plus the Appearance Manager and Internet Explorer may be just what you want.
Format Any Drive for Older Macs with Patched Apple Tools, Tyler Sable, Classic Restorations, 2007.04.25. Apple HD SC Setup and Drive Setup only work with Apple branded hard drives – until you apply the patches linked to this article.
First Blu-ray drive for Apple's 'Books, replace notebook hard drive with Compact Flash, and more, The 'Book Review, 2007.04.13. Also 160 GB 7200 rpm hard drives, upgrading from a MacBook Pro to a MacBook, Waterfield's flexible new Sling bag, bargain 'Books from $170 to $1,699, and more.
System 7 Today, advocates of Apple's 'orphan' Mac OS 7.6.1, Tommy Thomas, Welcome to Macintosh, 2006.10.26. Why Mac OS 7.6.1 is far better for 68040 and PowerPC Macs than System 7.5.x.
30 days of old school computing: Increasing battery life with a RAM disk, Ted Hodges, Vintage Mac Living, 2006.09.14. When using the hard drive, the old battery ran out of juice within 30 minutes, but running from a RAM disk it still has a 50% charge after half an hour.
Mac OS 8 and 8.1: Maximum Size, Maximum Convenience, Tyler Sable, Classic Restorations, 2006.09.11. Mac OS 8 and 8.1 add some useful new features and tools, and it can even be practical on 68030-based Macs.
Inside your notebook's battery: Ordinary AA Li-Ion cells, Dan Knight, Mac Musings, 2006.09.08. That expensive battery in your notebook computer probably holds less than $30 worth of off-the-shelf AA Li-Ion batteries.
Customizing Mac OS 9, Nathan Thompson, Embracing Obsolescence, 2006.08.01. Fiddling with themes, picking a browser, and making the Classic Mac OS work just the way you want it to.
Compact Flash with SCSI Macs, PB 1400 CD-RW upgrade problems, and Web incompatibilities, Dan Knight, Low End Mac Mailbag, 2006.06.16. Suggested ways to use Compact Flash with vintage Macs and PowerBooks, problems getting CD-RW to work with a PowerBook 1400, and more thoughts on website incompatibilities.
System 7.6.1 is perfect for many older Macs, John Martorana, That Old Mac Magic, 2006.03.24. Want the best speed from your old Mac? System 7.6.1 can give you that with a fairly small memory footprint – also helpful on older Macs.
System 7.5 and Mac OS 7.6: The beginning and end of an era, Tyler Sable, Classic Restorations, 2006.02.15. System 7.5 and Mac OS 7.6 introduced many new features and greater modernity while staying within reach of most early Macintosh models.
Web browser tips for the classic Mac OS, Nathan Thompson, Embracing Obsolescence, 2006.01.03. Tips on getting the most out of WaMCom, Mozilla, Internet Explorer, iCab, Opera, and WannaBe using the classic Mac OS.
The best browsers for PowerPC Macs and the classic Mac OS, Nathan Thompson, Embracing Obsolescence, 2005.12.16. Two browsers stand out from the pack: iCab 3 is modern and remains under development, and WaMCom brings Mozilla to older Macs.
Why you should use Mac OS 7.6 to get the most out of vintage Macs, Thomas Ahart, The Productive Mac, 2005.12.12. Although you may be able to run OS 8 or 9 on your old Mac, you'll generally find better performance using Mac OS 7.6.
SCSI and FireWire Disk Modes, Paulo Rodrigues, Tangerine Fusion, 2000.11.29. How to use SCSI Disk Mode and FireWire Target Disk Mode for ultrafast file transfers.
PowerBook history, Adam Robert Guha, Apple Archive, 2000.05.12. A history of portable Macs from 1989 through 1996.
Getting Online with a PowerBook Duo, Julie Fugett, Mac Daniel, 1999.11.17
How to upgrade your DuoDock, Power-Macintosh. Includes lots of helpful photos.
Recovering a stolen PowerBook, The 'Book Page. One user's experience.
Apple Specs for PowerBook Duo 2300c/100
Keyword: #powerbookduo2300c
Short link: http://goo.gl/larJHY
searchword: powerbookduo2300c