Modern Computing: First Impressions of a $10 PowerBook G3
- 2006.04.26
A few days ago, I was talking with a friend of mine at work. We were talking about computers, and I was told him about how I acquired my Apple Lisa (You can read more about that in my article Retro Computing: First Impressions of a Newly Acquired Apple Lisa).
Anyway, when I told him how I acquired my Lisa, he piped up and said, "Hey, Ted, I have an old G3 Mac laptop that I bought from a friend of mine for $20, but I have no use for it. Do you want it?"
The first question that I asked myself was, "I wonder how he got it for so cheap?" So I asked him, and he said that his friend got it from his Dad, who had used it at his office. His friend didn't want it, so he sold it.
I figured it was either a Kanga or a WallStreet. Wondering which one it was, I asked him if it had a solid white Apple Logo on the top. He said it did, so I was sure it had to be a Wall Street.
Then I asked him how much he wanted for it. I'd given him $5 earlier so he could get some lunch, since he forget his wallet at home, so he said, "Give me another $5, and we'll call it even."
I said, "Cool, sounds great."
So the next day I went over to his house and picked it up - little did I know what I was getting.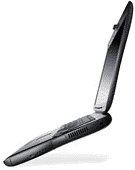 I got a laptop bag, power adapter, and a Lombard PowerBook G3. I was really surprised that it was a Lombard, so I knew I got a good deal from a really good friend - it's the 400 MHz model with 320 MB RAM, 6 GB hard drive, and DVD.
Mike, if you're reading this, thank you again. It means a lot. Now I can be working (or playing) while I'm on the road. For instance, I'm writing this at the dentist's office while my sister is getting her teeth cleaned.
It only has a few problems:
There is a dent on the screen near the bottom. It looks like someone might have dropped something on the screen. It's not bad though.
Graphics performance in OS X isn't great due to no 3D acceleration (see Rage at Being Left Behind for more on that topic),
The battery is dead. That's not a really big problem, but it's so dead that the computer doesn't even stay asleep on battery power - the battery has so little power that the 'Book shuts off. I'm sure I can find an inexpensive used battery that works on eBay.
Even with those problems, you can't beat it for $10.
Anyway, I can't wait to watch DVDs, surf the Web, play games, and write articles while I'm on the road. All I have to do is get a working battery.

Join us on Facebook, follow us on Twitter or Google+, or subscribe to our RSS news feed
Today's Links
Mac of the Day: 14" 600 MHz iBook G3, introduced 2002.01.07. The first 14" iBook ran at a comfortable 600 MHz.
Recent Content
Custom Search
Follow Low End Mac on Twitter
Join Low End Mac on Facebook
Favorite Sites
MacSurfer
Cult of Mac
Shrine of Apple
MacInTouch
MyAppleMenu
InfoMac
The Mac Observer
Accelerate Your Mac
RetroMacCast
The Vintage Mac Museum
Deal Brothers
DealMac
Mac2Sell
Mac Driver Museum
JAG's House
System 6 Heaven
System 7 Today
the pickle's Low-End Mac FAQ
Affiliates
Amazon.com
The iTunes Store
PC Connection Express
Macgo Blu-ray Player
Parallels Desktop for Mac
eBay

Advertise