Lombard PowerBook: Almost a Pismo for Less
- 2009.06.18 - Tip Jar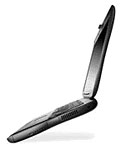 The PowerBook G3 line has to be one of Apple's most interesting laptop lines. Albeit long discontinued, these notebooks still find their way into usefulness.
The Lombard I own was sourced from eBay. It came with a new battery, 2x DVD-ROM drive, 128 MB RAM, and a 400 MHz G3 (1 MB L2 cache) processor. No AC adapter or hard drive were included. It ended up costing $60 including shipping fees. There were barely any scratching on the case, rubber feet still intact, and no wear on the keyboard. It was obvious it had been used with an external keyboard for most, if not all, of it's life.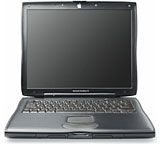 The "UFO" style AC adapters that originally come bundled with this system are known for fraying and shorting out internally, and they are usually expensive. I snagged an eBay after-market adapter for $15 with free shipping. It's cable is thick and has held up well to abuse so far.
The lack of a hard drive was not a problem, as I purchased a 5400 rpm 60 GB hard drive for $25 from another eBay vendor. Adding two sticks of 256 MB PC66 RAM for another $25 and a Belkin PCMIA Wireless Adapter for $10, the machine was completely maxed out. The Belkin adapter has a natively supported chipset, so it's viewed as a normal AirPort Card.
The grand total: $135
That's an interesting number. The cheapest and similarly spec'd Pismo PowerBook G3 I could find for instant purchase was $150.
Lets compare the models I found and see what we get. The results might surprise you.
Lombard - $135
400 MHz G3 1 MB cache
66 MHz system bus
60 GB 5400 rpm hard drive
2x DVD-ROM drive
512 MB PC66 RAM (max 512 MB)
14.1" 1024 x 768 screen
8 MB Rage LT graphics
Wireless-G PCMIA adapter
Pismo - $150
400 MHz G3 1 MB cache
100 MHz system bus
20 GB hard drive
6x DVD-ROM drive
128 MB PC100 RAM (max 1 GB)
14.1" 1024 x 768 screen
8 MB Rage Mobility 128 graphics
AirPort Card slot
FireWire
Now, there are the obvious performance benefits of the Pismo: A faster system bus means faster general performance. More maximum RAM, better onboard graphics, an AirPort Card slot, and FireWire are the main benefits. Lets examine each one.
Faster System Bus: This translates to slightly faster system performance. But if your daily use doesn't call for (slightly) more performance, it's a moot point in terms of real world benefits.
More Maximum RAM: I can't argue with this one, 1 GB is quite large for a machine it's age - especially when running a memory hog like OS X. It's nice to have high ceilings. It does, however, tack on at least $50 to the Pismo's base price to max out the RAM (over $90 for new RAM), furthering the price gap.
Better Onboard Graphics: Again, see my first point on slightly better system performance. The 8 MB Rage LT may not be murdering pixels with it's enormous power, but it's more than enough to run OS X reasonably.
AirPort Card Slot: Notice I said slot, not card. The machine I found did not include an AirPort Card or any wireless device. And while native AirPort support is nifty, it's nullified by the premium price of AirPort Cards and their obsolescence. For a great article on this, see How about an 802.11g card for the Original AirPort Card Slot?
FireWire: The "big FW" is definitely a full benefit for the Pismo, since both the Lombard and the Pismo are equipped with USB 1.1. FireWire 400 blows USB 1.1 to bits in terms of transfer speed - and let's not forget FireWire Target Disk Mode.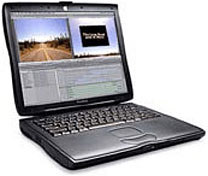 One thing that Pismo definitely holds over the Lombard: Native Mac OS X 10.4 "Tiger" support. Personally, I installed Tiger onto the new 60 GB hard disk using my PowerBook G4, then simply transferred the drive to my Lombard. It works seamlessly, but it's obviously not as easy as a native install.
I didn't touch on G4 upgrades, although they can add some more value into the equation in terms of performance. However, most that I came across significantly raised the prices of both machines (G4 Lombard upgrades are rare, and a 550 MHz G4 for Pismo costs $199), making a used G4 TiBook price competitive.
In conclusion, the Lombard truly is capable of being a "Pismo junior". Both machines are more than capable for web development (excluding Flash and heavy graphics processing), remote console, writing, and whatever other lightweight tasks you can throw their way. I consider it a wash in terms of real world performance. In terms of price/real world usability ratio, the Lombard takes it hands down.
Still, in terms of expandability, system performance, and legacy, Pismo is king.

Join us on Facebook, follow us on Twitter or Google+, or subscribe to our RSS news feed
Today's Links
Custom Search
Follow Low End Mac on Twitter
Join Low End Mac on Facebook
Favorite Sites
MacSurfer
Cult of Mac
Shrine of Apple
MacInTouch
MyAppleMenu
InfoMac
The Mac Observer
Accelerate Your Mac
RetroMacCast
The Vintage Mac Museum
Deal Brothers
DealMac
Mac2Sell
Mac Driver Museum
JAG's House
System 6 Heaven
System 7 Today
the pickle's Low-End Mac FAQ
Affiliates
Amazon.com
The iTunes Store
PC Connection Express
Macgo Blu-ray Player
Parallels Desktop for Mac
eBay

Advertise