Pismo PowerBook
a.k.a. PowerBook (FireWire), PowerBook (2000), PowerBook (Pismo)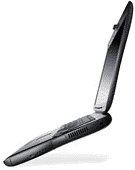 The last G3 PowerBook (just PowerBook, no longer "PowerBook G3") was announced on February 16, 2000. It's the same size and weight at the original Lombard PowerBook G3, but this model has FireWire ports instead of SCSI, room for an AirPort card, and a 100 MHz motherboard.
Pismo PowerBooks will not boot with a dead PRAM battery. However, they will boot if the PRAM battery is removed, so you can avoid the cost of a replacement battery (not cheap).
In the field, a fresh 50 Watt-Hour Apple battery with a full charge yields up to 5 hours of use. Using two batteries can increase that to as much as 10 hours. Replacement batteries can boost that by up to 60%, for a potential 8 hours with one battery and 16 hours with two!
Pismo uses the same drive bay devices as the Lombard PowerBook G3, although its DVD drive cannot be used on Lombard.
Finally, the Pismo PowerBook can be used as an external FireWire drive in FireWire Disk Mode.
Pismo supports both screen mirroring and screen spanning when using VGA or S-video output.
Closed Lid Mode: Pismo supports "lid closed" (or clamshell) mode, which leaves the built-in display off and dedicates all video RAM to an external display. To used closeed lid mode, your 'Book must be plugged into the AC adapter and connected to an external display and a USB mouse and keyboard (you might also want to consider external speakers). Power up your 'Book until the desktop appears on the external display and then close the lid. Your 'Book will go to sleep, but you can wake it by moving the mouse or using the keyboard. The built-in display will remain off, and the external monitor will become your only display. Since all video RAM is now dedicated to the external monitor, you may have more colors available at higher resolutions. The Pismo is designed to run safely in closed lid mode, but if your Pismo runs hot (perhaps due to a G4 upgrade or high ambient temperatures), you may want to open the lid when in lid closed mode: The screen will remain off and the computer will more readily vent heat from the CPU.
To resume use of the internal display, you need to disconnect the external display, put the computer to sleep, and then open the lid. This will wake up your 'Book and restore use of the built-in display.
Warning
According to the Road Warrior, the drive controller in G3 PowerBooks is incompatible with some ATA-6/Ultra ATA-100 hard drives. When replacing the internal hard drive, you should be sure to obtain an ATA-5/Ultra ATA-66 compliant drive or an ATA-6 or ATA-7/Ultra ATA-133 drive known to work with Pismo.
Details
introduced 2000.02.16 at US$2,499 and $3,499
requires System 9.0 or later; Mac OS 9.2.2 and OS X 10.3.9 recommended, 10.4.x can be installed. Can only run OS X 10.5 with a G4 upgrade, but DVD Player may not work (VLC works, but at a horribly low frame rate). You have to work around the Leopard installer to get 10.5 installed.
CPU: 400 or 500 MHz PPC 750 (a.k.a. G3)
bus: 100 MHz
performance:

Geekbench 2 (Tiger): 212 (400 MHz), 3 277 (500 MHz)
232,906 (500 MHz) Whetstones

ROM: 4 MB, NewWorld ROM in RAM architecture
RAM: 64 or 128 MB, expandable to 1 GB using two PC100 3.3 volt unbuffered low-power 144-pin 100 MHz SO-DIMMs
Level 2 cache: 1 MB at 40% of CPU speed (160 MHz or 200 MHz)
Video: ATI Rage Mobility 128 on an AGP 2x bus
VRAM: 8 MB
display: 14.1" 24-bit 1024 x 768 91 ppi color active matrix, resolution scaling to 640 x 480 and 800 x 600, also has S-video and VGA output with support for 512 x 384, 640 x 480, 800 x 600, 832 x 624, and 1024 x 768 with 24-bit color (VGA also supports 640 x 870, 800 x 500, 856 x 480, 1024 x 640, 1152 x 864, 1152 x 870, 1280 x 960, 1280 x 1024, 1360 x 768, 1600 x 1000, and 1680 x 1050 with 24-bit color, dependent on the connected display; S-video also supports 720 x 480). 1920 x 1200 possible with 8-bit color.
hard drive: 6, 12, or 18 GB UltraATA-66; revised to 10, 20, or 30 GB in Sept. 2000; maximum hard drive size is 128 GB without third-party support. See How Big a Hard Drive Can I Put in My iMac, eMac, Power Mac, PowerBook, or iBook? for your options.
expansion bay: same as Lombard
DVD-ROM: 2x
floppy drive: external USB only
expansions bays: one
USB: 2 USB 1.1 ports
FireWire ports: two
ethernet: 10/100Base-T
modem: v.90 56k
PC Card slots: 1
infrared: 4 Mbps IrDA 1.1
size: 10.4 x 12.7 x 1.7" (26.4 x 32.3 x 4.3 cm)
weight: 6.1 lb (2.8 kg) with optical drive, 5.7 lb. (2.6 kg) with weight saving module replacing optical drive
machine ID: PowerBook3,1
family number: M7572
Accelerators & Upgrades
Online Resources
Cautions
Do not under any circumstances use the Password Security control panel with any PowerBook running Mac OS 9 - see PowerBook (FireWire): Late Breaking News - it will render your PowerBook inoperable. The only fix is to put the drive in an older PowerBook, open Password Security, go to Setup, and click the Reset button, and then put the drive back in your Pismo.
There is an incompatibility between the Kensington Startup ADB extension and the Trackpad control on the iBook with Mac OS 9.0.4. Symptom: trackpad responds during boot, but not later. Solution: disable Kensington Startup ADB extension. This may also apply to other USB portables and versions of the Mac OS.