Kissing Internet Explorer for OS X Good-bye
Daniel Knight - 2004.04.16
I cut my Internet teeth using Netscape Navigator back in the version 3.x era and continued to use it into the 4.0.x period - until one day we had a horrendously slow Internet connection at work.
That was the day I discovered a huge difference between Internet Explorer and Netscape - for some unknown reason Netscape had to reload an entire page from the Internet whenever you printed. IE didn't do that, and at several minutes per page, I began using IE regularly on that fateful day.
Earlier this week I stopped using Internet Explorer for OS X.
With the advent of iCab, then Safari, and more recently Firefox, I've had some good alternatives to IE. Until about a week ago, Safari was my browser of choice, and now I find myself gravitating toward Firefox on both of my Macs and my even lower-end 450 MHz Dell running Windows 98.
WebChecker
Three weeks ago Charles Moore asked, Why Are Mac Users Still Surfing with Internet Explorer? I continued to use IE for one simple reason: It worked with WebChecker, a shareware program I've used for years. WebChecker doesn't just organize your links, it also checks them to see if pages has been modified since the last check. I have it check about three dozen pages at startup, almost all of them Mac-related.
WebChecker means I don't have to visit pages that are unchanged, and it can display the list of pages ordered by whether they have been changed or not. It's not perfect - a lot of pages are listed with "invalid header date" - but it's a big help.
That's great. The problem is that WebChecker is a classic Mac OS application that only supports two browsers: Netscape under classic and Internet Explorer under either Mac OS. If IE for OS X is up and running, WebChecker uses it. If not, WebChecker launches the "classic" IE 5.1.
And it won't work with any newer version of Netscape, so I'm stuck with IE as long as I continue to use WebChecker. (If you're using System 7 through Mac OS 9.2.2 and have a bunch of sites you visit regularly, check it out.)
I've looked at other bookmark managers, but none seem to offer the one thing that sets WebChecker apart - actually checking the pages for changes. If such a program does exist, please let me know, as I'd love to have this capability in a program that can work with Safari and Firefox.
Internet Exploder
Anyhow, back to IE 5.2 on my eMac. Over the past few weeks, it has hung up more and more often, living up to that old nickname "Internet Exploder." Reinstalling it didn't help. Clearing the history and caches didn't fix things. Sometimes I couldn't even force quit the hung application; I was forced to restart the computer, and sometimes I could only do that by using the power button to turn off the eMac instead of using the restart command.
Enough of that. For the first time since I installed OS X 10.1 about two years ago, I no longer have the IE icon in my dock. When I need to use IE, I use version 5.1 in classic mode. It's horribly slow, but at least it works.
I don't know why IE for OS X is being so troublesome, since it's worked fine right up through 10.3.2, but I suspect it's a combination of factors. On the one hand, Apple keeps improving OS X, and that sometimes breaks older apps. On the other hand, Microsoft sees Safari as eliminating any need for future IE development on the Mac, so if something breaks, they won't fix it.
I've been caught between a rock and a hard place. Both WebChecker and Claris Home Page only let me use browsers that exist under classic. Fortunately the same hooks have allowed me to use them with IE for OS X, but neither program will hook into Safari, Camino, Firefox, or even the OS X version of iCab.
Alternatives to WebChecker
We're blessed with a nice selection of modern browsers these days. In addition to those I've already mentioned, there are also Opera and OmniWeb, neither of which I've used recently. But none of the bookmark managers I'd found provided a real alternative to good old WebChecker.
When searching for a bookmark manager, VersionTracker lists iLink, which sounds like a great way to use a single bookmark list with multiple browsers, and Safari Katra appears to do the same thing. URL Manager Pro works with all the browsers and can even handle unique browsing histories for each one. Butler combines a bookmark manager with a file launcher, search utility, and more. DEVONnote looks to be another feature-rich program that goes way beyond bookmark management.
But not a single one will tell me whether the bookmarked pages have been modified since my last visit. There are a few programs that seem to be working on it, but user feedback indicates that two of the three are slow or inaccurate. The most promising of the bunch appears to be Bookmark Tool 1.2 (below).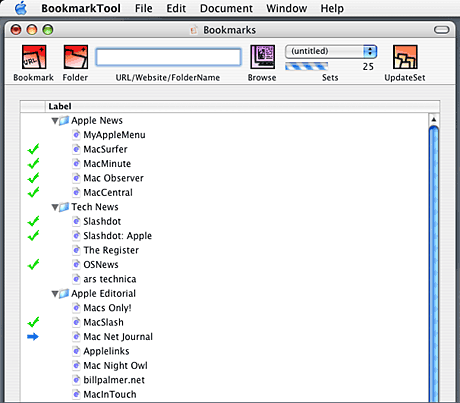 Unlike WebChecker, Bookmark Tool is OS X native, removing one more dependence on classic mode and Internet Explorer in one fell swoop. You can organize your bookmarks using folders and subfolders.
Bookmark Tool isn't a speed demon, but neither is WebChecker. What you save is time downloading unchanged pages. That said, no system of detecting page changes is perfect, but over time you'll learn which sites always appear to be changed even when they haven't. (Joy of Tech, Mac Night Owl, MacCentral, Mr Barrett, and The Register always had that problem in WebChecker.)
I'll be using Bookmark Tool ($15 shareware) to see how I like it, but first impressions are good. I do wish it had some way for the user to select an alternative to the default OS X browser, which would let me spend more time switching between Safari and Firefox, but that's the only significant improvement I can suggest.
Once I find a way to live without Claris Home Page, I can stop using classic, but that's a pursuit for another time.