Xbox 360 Specs Put Power Mac G5 to Shame
Daniel Knight - 2005.05.13
Microsoft unveiled the Xbox 360 last night. And just what does that have to do with Macs?
A lot! The Xbox 360, due on the market in time for the holiday retail frenzy, has more horsepower than Apple's dual 2.7 GHz Power Mac G5.
A gaming system!
At the heart of the Xbox 360 is a three-core IBM PowerPC processor running at 3.2 GHz. The clock speed alone is nearly 20% higher than the fastest Power Mac, and a three-core CPU is bound to outperform a pair of single-core CPUs by up to 50%.
That's just wrong. IBM can't produce 3.0 GHz G5 processors for Apple - but for Microsoft they can reach 3.2 GHz? It just doesn't make sense.
Or maybe we'll finally see single- and dual-core G5 CPUs reach and surpass the 3.0 GHz mark as IBM supplies the entire gaming industry (Sony, Microsoft, and Nintendo) with PowerPC brains for their consoles.
Nobody seems to know how much Microsoft will sell the Xbox 360 for, but it's bound to be a whole lot less than the $2,999 top-end Power Mac G5.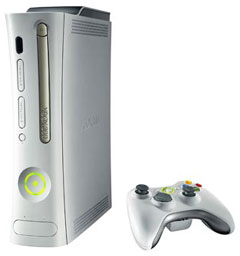 How does it compare? The Xbox 360 will be at least 50% more powerful due to a three-core CPU. 512 MB of RAM will be standard, shared by the CPU and a 500 MHz ATI graphics processor. The Xbox 360 will be liquid cooled, has a removable 20 GB hard drive, and include a 12x DVD-ROM drive.
Like the Power Mac G5, it has USB 2.0 ports and is WiFi ready. Additionally, it can take four game controllers at once. And it's bound to cost a lot less than any Power Mac G5, even the 1.8 GHz single-CPU one.
I can imagine a huge after-market for hard drives, SuperDrives, and memory upgrades, which could turn Xbox 360 into a killer digital video recorder. And you just know that the Linux community is going to port their favorite OS to this hardware as fast as they can.
Where does that leave Apple?
Good question. Apple has sold a lot of Power Mac G5 systems to Microsoft, and Microsoft has customized them as Xbox 360 development systems. That means it shouldn't be too hard to port Macintosh software - and possibly even OS X - to the new hardware.
Can you imagine the impact something like this could have on Mac mini sales? Can you imagine the potential for marketing OS X and iLife to Xbox 360 owners?
The mind reels at the possibilities, which could hurt or benefit Apple a great deal. I hope Apple will see Xbox 360, Playstation 3, and the next generation Nintendo gaming system as ways to expand the OS X base to Apple's weakest market - gamers.
IBM's hat trick is going to change the gaming world, and killer Pentium systems might be considered yesterday's news once the new game consoles ship. Being able to add a user-friendly OS and expand their capabilities to anything computers can do has real potential.
Update: Under Linux, the Xbox 360 has Dhrystone benchmark scores roughly comparable to a 1.25 GHz G4 Mac mini (also running Linux). That's a lot less power than we ever would have expected from a triple-core 3.2 GHz PowerPC machine.