Of Mice and Keyboards
Daniel Knight - 2005.05.25
One of the best things about the Mac mini is that it doesn't come with a cheap mouse and keyboard - and cheap is what Apple's mouse and keyboard are these days.
In the era of Apple's round mouse and the compact iMac keyboard, the first peripherals we bought for any new Mac - iMac or Power Mac - were a decent mouse and keyboard. If you're going to be spending hours at the computer, you deserve quality input devices.
Keyboard
If you spend a lot of time typing, get a keyboard that has a good feel to it. If you spend a lot of time mousing, find a mouse that feels good in your hand and gives you the buttons you need.
In the old days, Apple made some of the finest keyboards in the industry. The Apple Extended Keyboard is the stuff of legends, and Matias has done a good job resurrecting that quality with their Tactile Pro USB Keyboard (see Has the Best Keyboard Apple Ever Made Been Resurrected?).
I'm not saying Apple or Matias make the best keyboard ever, only that they are among the best. Others can debate that to their heart's content - as they've been doing in The Best Mac Keyboard? I Beg to Differ and other Miscellaneous Ramblings columns.
Whatever the best keyboard for the Mac, it isn't the mushy one Apple shipped with my eMacs. My four-year-old PowerBook G4 has a better keyboard, and I'm none too fond of it.
Keyboard choice is subjective. Perhaps you like a stiff action. Perhaps you like something that only needs a soft touch. Regardless, it's the kind of thing you want to try before you buy.
I never buy a keyboard without going to CompUSA, Office Max, or Office Depot, getting a feel for almost every keyboard in the place, revisiting some favorites, and then settling yet again on the same Logitech keyboard.
It's a personal choice, but I really love the feel of the Logitech Cordless Keyboard. I don't really care one way or the other whether it's wireless. It's nice to be able to sit back with the keyboard in my lap and not have to worry about cables catching, but it's certainly not a make-or-break feature.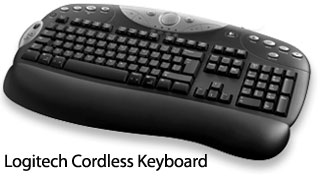 This keyboard has some nice features: a scroll wheel, a volume knob, a dedicated mute button, and a sleep/power button. The pair of AA batteries lasts a long, long time, and the only thing I really don't care for is that it's a black keyboard and hard to read in low light.
The same keyboard is available in a USB version as the Logitech Elite Keyboard.
Mouse
Mice are another subjective area. Some people like trackpads. Some people love trackballs. Most of us prefer mice, and most Mac owners buying a mouse are looking for something with more than Apple's single button.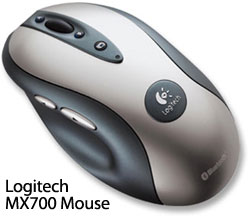 Again, I go to the store, grab the mice, move them around, pick them up, get a feel for them. I've seen some nice new mice with side-scrolling, and again I settle on a Logitech product. The Cordless MX700 Mouse fits my hand very nicely, has a scroll wheel, and even has a pair of thumb buttons. I've got two of them now - one at home, one at the apartment - as well as one Cordless MouseMan Optical, the model that preceded it. (Southpaws are already aware that lots of mice are right-handed. This is one of them.)
One nice feature of the MX700 - it comes with rechargeable batteries and a charger base. I get about a week's use before it dies, and in a pinch I can throw in alkaline or NiMH AA batteries.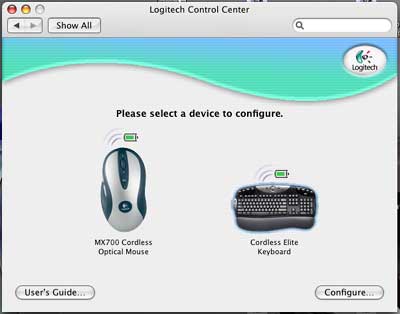 Logitech's Control Center software (OS X only) not only lets you program all the special keys on the keyboard and mouse, it also lets you know battery status of both peripherals.
One more nice thing - I can use these with my ancient 450 MHz Dell, which also came with a cheap mouse and keyboard.
It's a shame that this mouse and the Logitech MX Duo (which pairs the mouse and keyboard) are discontinued. That said, there are plenty of other good mice and keyboards to choose from.
There is no right and wrong. It's subjective. There is only what works well for you and what doesn't. If you spend a lot of time at the computer, spend a little time finding the right mouse and keyboard.
Links