The MacBook Value Equation: Incredible Value
Daniel Knight - 2006.05.16
The entire Mac community has been waiting for months to see what kind of Intel-based model Apple would devise to replace the iBooks. I think Apple surprised a lot of us when it released the new MacBook today and explained that a single 13" model would replace the 12" iBook, 14" iBook, and 12" PowerBook.
As widely anticipated, the MacBook has a 13" widescreen display (1280 x 800 pixels), a MagSafe power connector, built-in iSight, and the same kind of rugged plastic casing iBooks have always used. And for the first time ever, there's even a black model.
Measuring 1.1" thin, the MacBook has an 8.9" by 12.8" footprint, and it's weight falls between that of the 12" and 14" iBooks. Ports are the expected gigabit ethernet, single FireWire 400, and dual USB 2.0. Bluetooth 2.0 and AirPort Extreme are standard.
Extended desktop, long a feature of PowerBooks but never of iBooks, is now standard, and the MacBook uses the same Intel GMA graphics chip as the Mac mini. This means the MacBook video also ties up 80 MB of system memory, since there is no dedicated video RAM.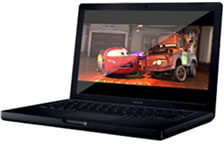 The entry-level MacBook has a 1.83 GHz Intel Core Duo processor - not the less costly, less powerful Core Solo some had anticipated. It ships with 512 MB of RAM, a 60 GB hard drive, and a Combo drive at US$1,099.
The next step up is the 2.0 GHz model which includes a 4x SuperDrive. The extra speed and more capable drive bring the price to US$1,299.
At the top is the black MacBook. Also a 2.0 GHz SuperDrive model, it has an 80 GB hard drive and sells for US$1,499. $200 extra seems a bit steep for a black finish and an extra 20 GB of drive space.
New vs. Old
Things get a bit tricky when you're comparing one new model against three that it's replacing. Here's where the MacBook beats the older G4 'Books:
1280 x 800 widescreen display vs. 1024 x 768
1.83-2.0 GHz Intel Core Duo vs. 1.33-1.5 GHz G4 CPU
60-120 GB hard drives
extended desktop (PB had it, but iBook didn't)
built-in iSight vs. use of external webcam
can take advantage of software optimized for Intel
MagSafe power connector
And where the older 'Books edge out the MacBook:
12" 'Books smaller, lighter than MacBook
internal modem vs. optional US$49 external USB modem
ability to run classic mode and classic apps
faster running PowerPC programs than Rosetta emulation on MacBook
dedicated video RAM doesn't steal 80 MB from system memory
The Value Equation
The entry-level MacBook retails for just US$100 more than the 1.33 GHz 12" iBook. For the difference in price you get 30% more pixels, a wide aspect ratio screen, extended desktop mode, a much faster memory bus (667 MHz vs. 133 MHz), a bigger hard drive, a higher RAM ceiling (2 GB vs. 1.5 GB), iSight, and a 1.83 GHz dual-core CPU.
That's an awful lot for just a little more money, and I predict the entry-level MacBook will be a runaway best seller for Apple - especially in comparison to the larger, heavier, slower, $1,299 14" iBook and the smaller, lighter, slower $1,499 12" PowerBook.
Moving to the middle model, we gain 8-9% more CPU speed (2.0 vs. 1.83 GHz) and an 8x dual-layer SuperDrive. With Apple, you usually pay a US$100 premium when going from a Combo drive to a SuperDrive, putting the cost of the faster CPU at US$100. Not surprisingly, that makes 9% of the price due to the 2.0 GHz Core Duo and 9% due to the SuperDrive.
In terms of value, I'd call it a tie between the two lower cost MacBooks.
But then comes the black MacBook, where for an additional US$200 you gain an 80 GB hard drive (20 GB more) and get a black case. With the Mac mini, Apple only charges US$50 more to go from a 60 GB notebook hard drive to an 80 GB one, so someone at Apple thinks the black color alone is worth US$150.
I don't think so. Sure, for those who need to be ultra-cool, mega-hip, or just plain different, paying 10% of the MacBook's cost for the black finish might be justifiable, but we're more interested in real world value than image.
Thumbs up to Apple for creating a gorgeous black MacBook. Thumbs down on the overly inflated price for what's going to be seen as a vanity model.
MacBook or iBook?
If you're looking for a new 'Book, even the refurbished iBooks can't compete with the value of the white MacBooks. Spec for spec, feature for feature, the MacBook is the better value.
But that doesn't take into account two important factors that can't be quantified. Do you need classic mode? Do you depend on applications, such as Photoshop, that aren't yet Intel-native?
As always, our advice is to stick with the G4 'Books if you depend on any classic software. And if you use some "heavy lifting" apps that haven't yet been ported to Intel - Photoshop is always a good example - you'll be more productive with PowerPC-based 'Books.
If it's a mix - you use some apps that are available as universal binaries and some that are still PowerPC only - you'll just have to weigh the costs of Rosetta for the PPC apps vs. the increased performance of universal binaries.
That's not an easy decision.
MacBook or MacBook Pro?
Comparing the 13" MacBook to the 15" MacBook Pro, I have a feeling Apple is going to have to slash prices on the Pro 'Book. The 1280 x 800 display is sufficient for most users. While the Pro's 1440 x 900 display is nice, it's not US$900 worth of nice, especially with the same level of performance.
The MacBook Pro does have a larger screen with more pixels, dedicated video memory, and an aluminum case, but even putting all of that together, we can't see too many people picking the US$1,999 2.0 GHz MacBook Pro (price drop today) over the US$1,099 1.83 GHz or US$1,299 2.0 GHz non-pro MacBook.
If Apple wants to keep moving the 15" MBP, they need to trim about 15% from its price. If they don't, the MacBook will take away most of its market.
Temptation
Despite the fact that I am still dependent on one classic app and prefer another over its OS X equivalent, I can't help but recognize not only the value of the 13" MacBook, but also how it would be my perfect computer. Not just field machine, but overall computer.
The CPU speed, fast bus, and dual cores mean it could run circles around my dual 1 GHz Power Mac G4. And it would absolutely blow my 400 MHz PowerBook G4 and its 1152 x 768 display into the weeds.
All I need is a real replacement for Claris Home Page, a WYSIWYG HTML editor that's fast, easy to use, and can open existing HTML files. (Believe it or not, a lot of promising low-end HTML editors don't let you open existing pages.) Once I have that, I think I could find complete happiness with a MacBook.
But like many of you, I do have to wait for either a good editor or someone to come up with a way of emulating classis on Intel Macs.
Join us on Facebook, follow us on Twitter or Google+, or subscribe to our RSS news feed
Dan Knight has been using Macs since 1986, sold Macs for several years, supported them for many more years, and has been publishing Low End Mac since April 1997. If you find Dan's articles helpful, please consider making a donation to his tip jar.
Links for the Day
Mac of the Day: Macintosh TV, introduced 1993.10.25. This limited edition black Mac includes a TV tuner, but it was a real Road Apple.
Recent Content