Apple hit the 1 GHz mark with the Quicksilver 2002 in January 2002 and 1.25 GHz with the Mirrored Drive Door in August 2002. Even the entry level 867 MHz Power Mac G4 now has dual processors.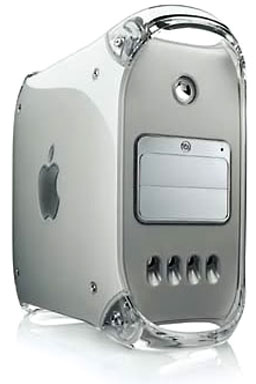 The two faster models introduce a 167 MHz system bus. All models now have two full size media drive bays (so you can have a SuperDrive plus a fast CD burner), four RAM sockets, and three independent drive buses that each support two devices. An Ultra ATA/33 (ATA-4) bus is used for the optical drive(s), Ultra ATA/100 (ATA-6) connects to the stock hard drive, and there's also an unused Ultra ATA/66 (ATA-5) bus. Only the ATA/100 connector supports drives over 128 GB capacity. There are four 3.5″ hard drive bays inside the G4.
Although the MDD Power Macs support up to 2 GB of RAM, Mac OS 9 is only able to recognize up to 1.5 GB of RAM.
Watch out for Apple's claim of "four USB ports" – there are two on the computer and two on the keyboard, just like the old G4s, so with the keyboard plugged in, you only have three available. That drops to two when your mouse is plugged in.
The fastest pair of new G4s have faster video cards, the ATI Radeon 9000. The dual 1.25 GHz model includes 2 MB of level 3 cache per processor, twice as much as the slower models.
You should have the most recent firmware installed in your Power Mac G4. The newest version for Mirrored Drive Doors models is Power Mac G4 Firmware Update 4.4.8, which is only for Mirrored Drive Doors Power Mac. To install this firmware update, you must boot into Mac OS 9.2.2 from a writable partition (not a CD).
Details
G4/867 MHz dual 256/60/Combo/GeForce 4 MX introduced 2002.08.13 at $1,699
G4/1.0 GHz dual 256/80/Combo/Radeon 9000 Pro introduced 2002.08.13
G4/1.25 GHz dual 512/120/SuperDrive/Radeon 9000 Pro introduced 2002.08.13; reduced to $1,299 on 2003.06.23 as a 256/80/Combo model
Requires Mac OS 9.2 or OS X 10.2 Jaguar through 10.5 Leopard
CPU: 867 MHz/1.0/1.25 GHz PowerPC 7455
Bus: 133 MHz on 867 MHz model; 167 MHz on faster models
Performance:

Geekbench 2 (Tiger): 1047 (1.25 GHz), 874 (1.0 GHz), 724 (867 MHz)
Geekbench 2 (Tiger): 1048 (1.25 GHz), 862 (1.0 GHz), 722 (867 MHz)

RAM: 256/512 MB standard, expandable to 2 GB (although Mac OS 9 will only recognize 1.5 GB) using PC2100 memory in 4 DIMM slots in 867 MHz model, PC2700 memory in faster models
Video: Nvidia GeForce 4 MX on 867 MHz model, ATI Radeon 9000 Pro on faster models; AGP 4x; DVI and ADC ports, includes DVI-to-VGA adapter
VRAM: 64 MB
L2 cache: 256 KB on-chip L2 cache
L3 cache: 1 MB per CPU on 867 MHz and 1 GHz models, 2 MB per CPU on 1.25 GHz model
Hard drive: 60/80/120 GB 7200 rpm ATA/100
Combo (CD-RW/DVD) on 867 and 1.0 GHz models; SuperDrive (4x DVD, 2x DVD-R) standard on 1.25 GHz model, optional on others
internal Zip 250 drive (optional)
4 64-bit PCI slots
Modem: internal 56k v.92
Microphone: standard 3.5mm minijack, compatible with line-level input, not compatible with Apple's PlainTalk microphone
FireWire 400: 2 ports
USB: 2 USB 1.1 ports
Ethernet: 10/100/gigabit
antenna and connector for AirPort card
size (HxWxD): 17.0″ x 8.9″ x 18.4″
Weight: 42.0 lb.
Gestalt ID: n/a
PRAM battery: 3.6V half-AA
upgrade path: none yet, although CPU upgrades are likely
Order no.: M8787 (867 MHz), M8689 (1 GHz), M8573 (1.25 GHz)
Accelerators & Upgrades
8x SuperDrive DVD±RW upgrade, MCE Technologies, $99. 8x4x12x DVD, 24x24x40x CD. 2 MB buffer.
3 CPU upgrades for Mirrored Drive Doors G4 Power Macs, Dan Knight, Mac Musings, 2007.05.22. If your Mirrored Drive Doors Power Mac isn't fast enough, here are three CPU upgrade option to get you to 1.33, 1.6, and 1.8 GHz.
for CPU upgrades, see our Guide to Power Mac G4 Upgrades
Online Resources
Cautions
Leopard (Mac OS X 10.5) boot times for Power Mac with the GeForce 6200 fall into the 4-5 minute range, and it was initially suggested that you install Leopard with the Mac's original video card to avoid slowing down the process. "gotoh" has posted the fix in The Mac Elite Forum. The delay is due to Leopard not supporting temperature sensors in G4 Macs. Simply remove AppleHWSensor.kext from /System/Library/Extensions and the delay goes away.
Note that some vendors are substituting PC2700 RAM for PC2100 modules. Although PC2100 Macs can work with PC2700 RAM, you shouldn't use both types of RAM in the same machine. All installed RAM should be the same type, either PC2100 or PC2700.
Short link: http://goo.gl/9h6ArQ
searchword: mddg4