The Summer of Macs: Mac mini, MacBook Pro, and iMac Overdue for an Upgrade
Daniel Knight - 2007.05.30
Apple launched its Intel transition with the iMac and 15" MacBook Pro in January 2006. It finished the transition with the release of the four-core Mac Pro in August 2006. Between those endpoints came the Mac mini (Feb.), 17" MacBook Pro (April), and 13" MacBook (May).
Upgrades
The iMac moved to Intel Core 2 Duo processors in September and hasn't been updated since.
The Mac mini dropped its Core Solo and got a bit faster in September. It's the only remaining Mac not using Core 2 technology.
The 15" and 17" MacBook Pro when Core 2 in October, where they remain to this day.
The 13" MacBook moved to Core 2 in November and received a speed bump in May.
Apple added an 8-core option to the Mac Pro in April.
Mac mini
Apple introduced the Mac mini in January 2005, and there were two updates in its first year, one in July and an unannounced speed bump in September. The Intel version was introduced in February 2006 and updated in September. As we approach the nine month mark, it's overdue for an upgrade.
If Apple doesn't discontinue the Mac mini, we can expect it to adopt the Core 2 with its next revision. If Apple follows form, we can anticipate the next revision will have 1.66 GHz and 1.83 GHz CPUs and very likely include larger hard drives. We may see 1 GB of RAM standard, something Apple just adopted in the MacBook.
I think it's more likely that the next generation Mac mini (or its replacement) will have 1.83 GHz and 2.0 GHz Core 2 CPUs, which will still leave it as the slowest Mac on the market.
iMac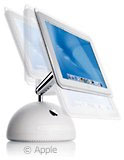 The iMac has come a long way since 1998, when it was a 15" 233 MHz G3 machine with 32 MB of RAM and a 4 GB hard drive. It was updated twice a year on average through tray-loading and slot-loading G3 versions, the "iLamp" G4 models (15", 17", and 20"), and the G5. The Intel iMac debuted in January 2006, and it was updated in September. Nine months later - like the Mac mini - it's past due for an update.
Rumors are the 17" iMac will be discontinued. We speculate that Apple is going to simplify the iMac line with two sizes - the top-end 24" iMac we already know and either the current 20" iMac or perhaps a 19" model with the same screen resolution. We expect this model to retail for $100 more than the current 17" iMacs.
In terms of speed, we expect the usual 167 MHz bump, so the entry-level iMac (still with integrated graphics) will run at 2.0 GHz, the next step up at 2.16 GHz, and the top-end 24" iMac at 2.33 GHz. We expect to see 1 GB of RAM standard on the smaller iMac.
MacBook Pro
The pro MacBooks were introduced in January and April. They migrated to Core 2 in October. That's nearly eight months ago, and we'd say they're due for an update. Frankly, we don't expect more than a speed bump, which would give us 2.33 GHz and 2.5 GHz models. With the MacBook at 2.0 GHz and 2.16 GHz, we wouldn't expect any less.
Mac Pro
The Mac Pro was the pinnacle of Macintosh design last August, and the customizable design makes it easy for Apple to simply add new upgrade options rather than announce a whole new model. Apple has already phased out the 160 GB hard drive option and added an 8-core option.
When Apple revises the Mac Pro, we expect Bluetooth will be a standard feature, 2 GB of RAM will be standard, and there may be a speed bump to 2.83 GHz if Apple can also provide 3.16 GHz 4-core and 8-core upgrade options.
The 2.0 GHz Mac Pro, always a poor value in comparison to the faster versions, should be replaced by a 2.33 GHz or even 2.5 GHz model.
Except for bumping the CPU speed on the core model from 2.66 GHz, Apple could do all of this without changing the model number. Because of this, we don't see Apple rushing to release a new Mac Pro. Maybe in August, on it's first anniversary.
The Summer of Mac
In short, we can expect Apple to upgrade the iMac and MacBook Pro models any day now - probably as the Worldwide Developer Conference (WWDC) in June. An updated Mac mini or, perhaps more likely, Mac mini replacement, may also be unveiled at WWDC.
June should be an exciting month.