Apple Turns $43M Profit
Daniel Knight - 2001.04.19 -
Apple announced financial results for the second quarter of fiscal 2001 this afternoon. As expected, Apple didn't lose money, instead posting a profit of $43 million (12¢ per diluted share) on $1.43 billion total revenue. At a time when many technology companies are losing money, Apple looks especially strong.
Steve Jobs attributes this to new products. "During the quarter we shipped the Titanium PowerBook G4, widely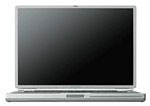 regarded as a major breakthrough in notebook computers; Mac OS X, the world's most advanced operating system; iTunes, the easiest way to create a music library on your computer and 'burn' custom music CDs; and iDVD and SuperDrive, our revolutionary software and drive that together enable users to create and 'burn' their own custom DVDs. It was a great new product quarter, and there's still more to come."
During the quarter (January-March 2001), Apple shipped 751,000 Macintosh computers, including 115,000 PowerBook G4s. PowerBook sales were up 173% over the previous quarter. The company's gross margin was 26.9% for the quarter due to higher demand for more expensive models and strong sales of OS X. (OS X sales brought in $19 million in one week.)
Unit sales were down 28% compared with the same quarter in 2000, but up 14% compared with the Christmas quarter.
Compared with the previous quarter, unit sales were up 75% in Japan and 24% in the Americas, but dropped slightly (3%) in the Asia Pacific market and 13% in the Europe, Middle East, and Africa region. Compared with the same quarter in 2000, sales were down in every region.
Apple has reduced channel inventory by 100,000 units and is working to maintain four weeks worth of channel inventory. About 20% of all units sold during the quarter were "old products," not current models.
The Blue Dalmatian and Flower Power iMacs account for roughly 20% of all iMac sales. iMacs have accounted for about half of all unit sales since the first iMac shipped in 1998, which would normally point to sales of about 375,000 iMacs. Instead, Apple shipped 300,000 iMacs (of which about 60,000 would be Blue Dalmatian or Flower Power) and 250,000 Power Mac G4s, making the graphite powerhouse one-third of Apple's unit sales.
Despite price reductions and new models, only 12,000 Cubes were shipped. More than anything else, this probably indicates there were too many Cubes in the channel from the previous quarter, when Apple sold 29,000.
Apple also sold 55,000 iBooks and 19,000 "Pismo" PowerBooks during the quarter.
Among iMac buyers, 28% are new users and 13% are/were Windows users.
During the quarter, 34% of total worldwide sales came through the Apple Store. This shows broad acceptance of online buying and Apple's ability to sell directly, which bodes well for the unconfirmed chain of Apple retail stores anticipated in coming months.
Links
Join us on Facebook, follow us on Twitter or Google+, or subscribe to our RSS news feed
Dan Knight has been using Macs since 1986, sold Macs for several years, supported them for many more years, and has been publishing Low End Mac since April 1997. If you find Dan's articles helpful, please consider making a donation to his tip jar.
Links for the Day
Recent Content