Apple's first consumer portable since the PowerBook 150 was discontinued at under US$1,000 in late 1995, the $1,599 iBook was available in blueberry and tangerine. Apple billed it as the world's second fastest portable computer – only the Lombard PowerBook G3 outperforms it.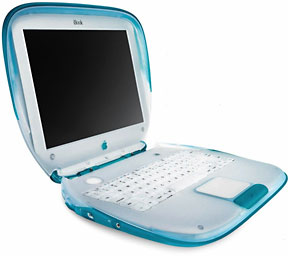 With an active matrix screen and six-hour LithIon battery, the iBook makes an excellent field computer. Wireless networking is available using Lucent's 802.11b AirPort technology, which has a maximum range of 150 feet. At $299 for an AirPort base station and $99 for the AirPort card, this 11 Mbps technology (sounding a bit faster than 10Base-T ethernet, although this is not the case) is very promising.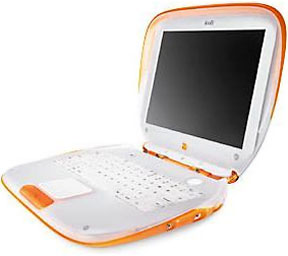 Unique feature: Unlike any PowerBook, the iBook has a handle – but no latch. The iBook puts itself to sleep when you close it, and it can automatically wake up when you open it.
The iBook is a bit larger and heavier than the PowerBook G3 (Lombard).
The iBook Special Edition was introduced on 2000.02.16, the same day the original iBook was updated to 64 MB of memory and a 6 GB hard drive. (The improved iBook is generally referred to as Revision B.) The 300 MHz iBook was replaced with a 366 MHz version in September 2000.
Details
code name: P1
introduced 1999.07.21; available 1999.09 at US$1,599; discontinued 2000.09.13
updated to 64 MB memory, 6 GB hard drive Feb. 16, 2000 at US$1,599 (Revision B)
requires System 8.6 or later, OS X 10.3 Panther officially supported, 10.4 Tiger can generally be installed using XpostFacto 4
CPU: 300 MHz PPC 750 (a.k.a. G3)
Bus: 66 MHz
CPU performance: 893, MacBench 5.0 (beige G3/300 scores 1000)
FPU performance: 973, MacBench 5.0 (beige G3/300 scores 1000)
ROM: 4 MB, NewWorld ROM in RAM architecture
RAM: 64 MB of SDRAM (32 MB before 2000.02.16), expandable to 576 MB (544 on 32 MB iBook) via one 1.25″ 3.3V PC66 compliant SO-DIMM
Level 2 cache: 512 KB backside cache running at 150 MHz
Video: ATI Rage Mobility with 2x AGP
VRAM: 4 MB
display: 12.1″ 24-bit 800 x 600 SVGA 83 ppi color active matrix, resolution scaling supports 640 x 480
Video out: no
Hard drive: 6 GB 9.5mm UltraATA-33 (was 3.2 GB on original 32 MB iBook)
CD-ROM: 24x
floppy drive: external USB only
expansions bays: none
USB: 1 USB 1.1 port
Ethernet: 10/100Base-T
Modem: v.90 56k
WiFi: 802.11b AirPort optional
PC Card slots: none
size: 11.6 x 13.5 x 2.1″ (29.4 x 34.4 x 5.2 cm)
Weight: 6.6 pounds (3.0 kg) with battery
Model identifier: PowerBook2,1
family number: M2453
Online Resources
Cautions
Apple's iLife '05 software requires a 1024 x 768 or higher screen resolution and cannot be installed on clamshell iBooks.
There is an incompatibility between the Kensington Startup ADB extension (part of Kensington MouseWorks) and the Trackpad control with Mac OS 9.0.4. The trackpad will respond during boot, but not after the extension loads. The solution is to disable the extension. This may apply to other versions of Mac OS 9 on 'Books with USB ports.
Portable Computers: Models Which Do Not Have a Backup Battery notes the iBook has no backup battery to retain time and other settings when the main battery is removed. A small capacitor holds enough energy to maintain PRAM contents for 20 seconds, so switch batteries quickly.
Keywords: #firstibook #originalibook
Short link: http://goo.gl/2PxGm4
searchword: ibook300mhz