Environmentally Responsible Retirement for Old Macs
- 2008.06.13
Low End Mac readers really take recycling to heart. We keep Macs running for as long as possible. We fix up machines and give them new lives in schools, churches, and local businesses. Of course, we keep a few for our own collection as well!
But in the end, there comes a time when you just can't keep that old Mac running. When that happens, what is the best way to dispose of your machines in an environmentally responsible manner ?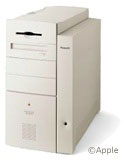 I was recently faced with this question, as I had a few unsalvageable machines (a tank-like Power Mac 9600 and two 7200) from a collection of classic Macs that I purchased. I was unwilling to simply landfill the machines, as I wanted to ensure that any useful components were reused and that the remainder was disposed of here in the US - not in some Third World country with lax environmental laws.
During my search, I found the EPA's ecycling site, which has a wealth of information on electronic waste recycling. Of particular interest to me was the list of EPA's ecycling partners. I scanned the list and decided on Staples, as they are close to my workplace and accept not just small electronics, like cellphones, but also desktop systems and monitors.
Before I recycled my electronics, I decided to see if I could get a Q&A with someone at Staples and share that with LEM readers. I contacted Mike Black, Program Manager of Public Relations, who was kind enough to put me in touch with Mark Buckley, Vice President of Environmental Affairs. Mark agreed to answer my questions, my questions and his responses) are below:
1. Tell me about yourself, especially how you came to this position at Staples, your job responsibilities, etc.
As vice president of environmental affairs, I direct Staples' sustainable business practices to protect and preserve natural resources. I'm responsible for driving the company's environmental leadership in four major areas: recycling; offering a wide assortment of eco-friendly products; investing in energy efficiency and renewable energy; and educating customers and associates about sustainability.
I've worked for Staples for 18 years. Prior to my current role, I was vice president of facilities management and purchasing at Staples, where I directed companywide recycling and energy conservation programs. Prior to Staples, I held several leadership positions in the field of environmental management for Star Market, Continental Baking, General Environmental Services Inc., and the US Department of Interior/Aquaculture Project. I have a Bachelors degree in biology from St. Anselm's College and am an active member of several environmental groups for the State of Massachusetts.
2. Give me a brief overview of Staples' computer recycling program and how it fit's into the company's overall environmental and corporate strategy.
Staples is committed to making it easy for our customers to make a difference for the environment - what we call EcoEasy. Offering everyday, easy recycling options is one of the ways we're helping customers to take action against the growing problem of e-waste. We offer customers in-store recycling for a wide variety of technology, including office technology (computers, printers, etc.), personal technology (cell phones, PDAs), and ink and toner cartridges.
In February 2008, we launched a new online service (staples.com/greensight) that lets customers recycle their newer technology items like laptops, desktops, digital cameras, and LCD monitors in return for Staples coupons to spend online or in stores.
In addition to recycling, we offer more than 3,000 eco-friendly products, ranging from biodegradable packing peanuts to Staples brand recycled paper that is certified by the Forest Stewardship Council. You can find many of these products easily at staples.com/ecoeasy.
3. I like the fact that the machines are recycled here in the US. We have all heard horror stories of electronic waste shipped to Third World countries for improper disposal. How did Staples select Eco International?
We chose to work with Eco International because they are committed to responsible recycling practices. Eco International does not ship equipment overseas to developing countries where limited to no environmental standards are met.
In addition to their safe recycling practices, Eco International is one of the country's most experienced and innovative electronics recyclers. They have a patented method for CRT (cathode ray tube) recycling, which is the most toxic part of older desktop computer systems. And because they are national, they're able to serve our more than 1,400 US stores.
4. How did Staples become a partner in the EPA's e-cycling program? What does that entail?
Staples joined EPA's Plug-in to eCycling program in 2003. Our membership enables Staples to join with other major brands to help to raise awareness about e-waste and bring innovative recycling options to the marketplace. Staples is also a member of the EPA's WasteWise program.
5. What has been the response to your computer recycling program ? How long has it been in place?
Staples has offered in-store recycling for cell phones, PDAs, and other personal technology for several years. In May 2007, we became the first national retailer to offer everyday recycling for larger office technology items such as computers, printers, and fax machines. Through the program, customers can recycle larger items for a small fee and smaller items, such as keyboards, mice, and other peripherals, for free. We've seen a great customer response, particularly from small businesses that have very few easy options for recycling technology waste in their communities.
6. What additional steps should the tech industry take to minimize the impact on the environment ?
As an office supplier, we see a growing trend of customers who want to make responsible technology purchasing decisions. The tech industry can meet this demand by continuing to qualify and comply with EPA Energy Star and EPEAT standards related to green manufacturing and "design for sustainability", thereby making their technology more energy-efficient and easier to recycle. Many companies are already making great strides in this area.
7. Anything else you would like to share or highlight ?
Beyond our own recycling services, Staples is a sponsor of Earth 911 Business, an online business-to-business resource to help companies find recyclers in their communities. The site also offers great tips and advice for making your business or home office more green. I invite your readers to check it out.
Okay, everything sounded kosher, so I loaded up my old Macs and headed for Staples. I pushed my buggy of machines up to a nice young lady at the Customer Service desk and asked to recycle them. She explained that it would be a $10 charge per large component (desktop or monitor), but that anything small like keyboards, mice, and speakers would be free. I told her that would be fine.
We had a laugh when she noticed the Apple logo and asked if the machines were old iMacs. I joked that there actually was an Apple before the iMac and iPod - believe it or not! I happily paid my $30, glad that disposal of my machines would be properly managed.
All in all, Staples has provided a pretty painless way to do the right thing. Hopefully we will see other large electronic retailers following suit.

Join us on Facebook, follow us on Twitter or Google+, or subscribe to our RSS news feed
Today's Links
Mac of the Day: 17" iMac G4 (Mid 2002), introduced 2002.07.17. The iMac grows up with a 17" 1440 x 900 display.
Recent Content
Custom Search
Follow Low End Mac on Twitter
Join Low End Mac on Facebook
Favorite Sites
MacSurfer
Cult of Mac
Shrine of Apple
MacInTouch
MyAppleMenu
InfoMac
The Mac Observer
Accelerate Your Mac
RetroMacCast
The Vintage Mac Museum
Deal Brothers
DealMac
Mac2Sell
Mac Driver Museum
JAG's House
System 6 Heaven
System 7 Today
the pickle's Low-End Mac FAQ
Affiliates
Amazon.com
The iTunes Store
PC Connection Express
Macgo Blu-ray Player
Parallels Desktop for Mac
eBay

Advertise