The PowerBook 145 replaced the 16 MHz PB 140, using a 25 MHz 68030 CPU that made it significantly faster than the previous model.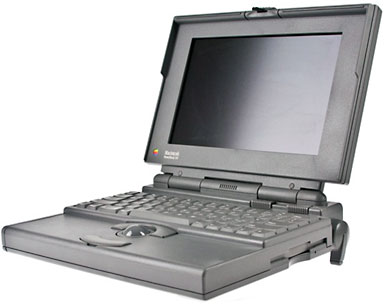 As with all early PowerBooks, when buying one be sure it has all the memory you need (new PowerBook RAM is getting difficult to locate, especially at reasonable prices).
The PB 145 has an 8 MB memory ceiling, although you can go beyond that by using Virtual Memory (slow and free) or RAM Doubler (faster, not free, and discontinued). Another option is RAM Charger 8.1, which offers better memory management than the Mac OS.
Details
Code Name: Colt 45
introduced 1992.08.03 at US$2,150; discontinued 1993.06.07
requires System 7.0.1 to 7.6.1
CPU: 25 MHz 68030
FPU: none
Performance: 3.8, relative to SE; 0.41, Speedometer 4
ROM: 1 MB
RAM: 2 MB RAM, expandable to 8 MB using a special 100ns pseudostatic RAM card
display: 9.8″ 1-bit 640 x 400 77 ppi passive matrix
ADB slots: 1 port for keyboard and mouse
serial ports: 2 DIN-8 RS-422 ports on back of computer
SCSI ports: HDI30 connector on back of computer
Hard drive: 40 or 80 MB
proprietary modem slot
Gestalt ID: 54
Size (HxWxD): 2.25″ x 11.25″ x 9.3″
Weight: 6.8 pounds
Accelerators & Upgrades
Online Resources
Cautions
The PowerBook 145 does not support SCSI Disk Mode.
Apple Computer considers this computer obsolete as of 2001.07.16 in the United States and 2001.07.23 in Canada. As of that date, service parts and documentation are longer be available from Apple.
The 100-series and 500-series PowerBooks do not provide SCSI termination power, depending on external SCSI devices to provide it. For more details, see SCSI Termination Power.
Serial port limited to 57.6 kbps; throughput using a 56k modem may be limited. See 56k modem page.
Apple has discontinued support and parts orders for this model. You may be able to find dealers with parts inventory either locally or on our parts and service list.
Keywords: #pb145 #powerbook145
Short link: http://goo.gl/GKqdlN
searchwords: pb145, powerbook145