Apple upped the ante by moving from the 68030 to the 68LC040 processor on the Duo 280 and 280c in May 1994. (The 68LC040 is a low power version of the 68040 with the internal FPU disabled.) Other than the CPU, this is essentially a Duo 270c.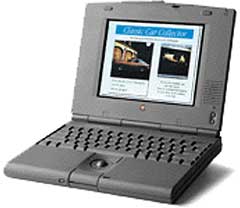 Like the 270c, the 280c supports 16-bit video if you select the 640 x 400 pixel mode under Options in the Monitors control panel.
Details
introduced 1994.05.16 at $3,750; discontinued 1996.01.27
supports System 7.1 to Mac OS 8.1
CPU: 33 MHz 68LC040
RAM: 4 MB, expandable to 40 MB using a single Duo RAM card
ROM: 1 MB
display: 8.4″ 640 x 480 @ 8-bits, 640 x 400 @ 16-bits, 95 ppi active matrix
ADB port: only with dock
SCSI port: only with dock
serial ports: 1 DIN-8 RS-422 port on back of computer
proprietary modem slot
Gestalt ID: 103
Size (HxWxD): 1.5″ x 10.9″ x 8.5″
Weight: 4.8 pounds
power supply: M2693
Acceleration
Online Resources
Cautions
Modem port limited to 57.6 kbps (printer port may be faster); use of a 56k modem on the modem port may limit throughput. See 56k modem page.
Keywords: #powerbookduo280c #pbduo1280c
Short link: http://goo.gl/6OEKKS
searchwords: pbduo280c, powerbookduo280c