Code named Quicksilver, this was the fourth computer to share the name Power Mac G4, but the first to be housed in an obviously different case. With processor speeds ranging from 733 to 867 MHz, the G4 had the power to outperform any Pentium 4 machine made at the time. The top of the line was a dual 800 MHz machine that first shipped in August.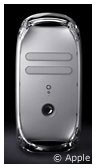 There is conflicting information about "big drive" support for the 2001 Quicksilver. Apple does not list it as one of the Macs that supports large volumes (over 128 GB) on the internal hard drive bus, but quite a few readers have reported successfully using 160 GB and larger hard drives on that bus. According to the Mac OS 9 Lives website, it's a matter of logic boards. If your Quicksilver has logic board 820-1276-A, it tops out at 128 GB drive capacity. If your Quicksilver has logic board 820-1342-B, it will support "big drives". You'll need to look inside your Quicksilver to see whether it supports big drives or not.
As with the Digital Audio Power Mac G4, Quicksilver only supports up to 1.5 GB of RAM.
These were replaced by faster Quicksilver 2002 models on 2002.01.28.
Details
Accelerators & Upgrades
Online Resources
Cautions
Short link: http://goo.gl/oKtYGg
searchword: quicksilver2001