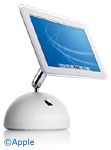 The first iMac to reach 1 GHz, the 17″ G4 iMac has a wide aspect ratio "cinema" type screen and displays 1440 by 900 pixels – just perfect for DVDs. Other improvements over the old 800 MHz model include a slot for an 802.11g AirPort Extreme card, space for internal Bluetooth, 64 MB of video memory, a 133 MHz system bus, 4x DVD burning speed, and a 7200 rpm UltraATA/100 hard drive.
Some Leopard users have reported problems with G4 iMacs that have GeForce 2 or GeForce 4 graphics. When the system wakes from sleep, the screen will be completely white, making the computer unusable. This is fixed by Leopard Graphics Update 1.0, which requires OS X 10.5.2 or later.
Details
introduced 2003.02.04 at US$1,799; replaced by 1.25 GHz model 2003.09.08
Requires Mac OS X 10.2 through 10.5 Leopard
CPU: 1 GHz G4
Bus: 133 MHz
Performance:

Geekbench 2 (Leopard): 510
Geekbench 2 (Tiger): 509

RAM: 256 MB, expandable to 2 GB using one user accessible PC2100 SODIMM (up to 1 GB) and one 184-pin DIMM (also up to 1 GB) – only officially supported to 512 MB modules by Apple.
Graphics: Nvidia GeForce 4 MX with AGP 2x support
VRAM: 64 MB
Display: 17″ 1440 x 900 flat panel display
Video out: Mini VGA port for video mirroring, requires VGA adapter
L2 cache: 256 KB on-chip cache running at full CPU speed
Hard drive: 80 GB 7200 rpm UltraATA/100 drive
SuperDrive: 4x DVD write, 8x DVD read, 16x CD-R write, 8x CD-RW write, 32x CD read
USB: 3 USB 1.1 ports
FireWire 400: 2 ports
Modem: built-in 56 kbps modem supports v.92 standard
Ethernet: 10/100Base-T
WiFi: optional 802.11g AirPort Extreme
Bluetooth: optional
Microphone: internal
Power supply: 130W
PRAM battery: 3.6V half-AA
Height: 13.03-20.0 in/33.1-50.9 cm
Width: 16.7 in/42.3 cm
Depth: 10.6-16.7 in/27.0-42.3 cm
Weight: 22.8 lb/10.4 kg
Part no.: M8812
Model identifier: PowerMac6,1
Upgrades
8x SuperDrive DVD±RW upgrade, MCE Technologies, $149. 8x4x12x DVD, 24x24x40x CD. 2 MB buffer. Must be installed by MCE or an MCE authorized upgrade center.
Online Resources
Cautions
We have previously warned against mixing PC2100 and PC2700 RAM, but a reader has informed us that they work just fine together in his 17″ iMac.