14" iBook G4/1.33 GHz (Late 2004)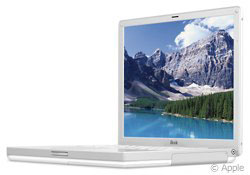 Apple is simplifying the iBook line with two basic models, a slower 12" and a faster 14". Replacing a 1.0 GHz Combo drive model and a 1.2 GHz SuperDrive model, the 14" iBook G4/1.33 GHz offers one-third more power at the same price as the 1 GHz model it replaces. The SuperDrive model is just 11% faster than its predecessor, but the price remains the same.
Improving the value of the iBook, Apple now includes AirPort Extreme as a standard feature.
Details
introduced 2004.10.19 at US$1,299 (Combo) and $1,499 (SuperDrive)
requires Mac OS X 10.3 or later
CPU: 1.33 GHz G4 (7457B)
bus: 133 MHz
performance:

Geekbench 2 (Leopard): 742
Geekbench 2 (Tiger): 692

ROM: 4 MB, NewWorld ROM in RAM architecture
RAM: 256 MB of SDRAM soldered in place, expandable to 1.25 GB using one PC2100 module (PC2700 compatible)
Level 2 cache: 512 KB on-chip cache
Video: ATI Mobility Radeon 9200 4x AGP
VRAM: 32 MB
display: 14.1" 24-bit 1024 x 768 91 ppi color active matrix, resolution scaling for 640 x 480 and 800 x 600 modes
video out: VGA and composite video
hard drive: 60 GB 4200 rpm ATA/100
optical drive: Combo drive, 4x SuperDrive optional

Combo drive writes CD-R discs at up to 24x, CD-RW at up to 16x, reads DVD-ROM at up to 8x, CD-ROM at up to 24x
SuperDrive writes DVD-R discs at up to 4x, reads DVDs at up to 8x, writes CD-R at up to 16x, writes CD-RW at up to 8x, reads CDs at up to 24x

floppy drive: external USB only
expansions bays: none
USB: 2 2.0 ports
FireWire: 1 FW400 port
ethernet: 10/100Base-T
modem: v.92 56k
wireless networking: 54 Mbps AirPort Extreme standard
microphone: built in
PC Card slots: none
Battery: rated at 6 hours
size: 12.7 x 10.2 x 1.35" (32.3 x 25.9 x 3.4 cm)
weight: 5.9 pounds (2.7 kg) with battery
Part no.: M9627LL/A (Combo), M9628LL/A (SuperDrive)
Online Resources
Cautions