More on the 'Feminine' iBook
Charles Moore - 1999.08.06 - Tip Jar
NOTE: This Miscellaneous Ramblings columnoriginally appeared on MacOpinion on August 6,1999. It is republished here by permission of the author andMacOpinion.
More on the "Feminine-Friendly" iBook
My Road Warrior feature last week entitled "Is John DvorakExposing the 'Emperor's New Clothes' or Just a PC Curmudgeon?"generated a lot of mail, which you can read below in the RW Mailbag section.
Upon further rumination, Mr. Dvorak's protests notwithstanding,it occurs that Steven Job may just have identified another nichethat other computer manufacturers have ignored up till now - andaddressed it with the "feminine-friendly" iBook.
According to a Cox News Service report by Marilyn Geewax, only one tenth ofcomputer purchases are currently made by women, and "millions ofwomen won't buy a computer unless a man helps choose it, buy it,and set it up."
Consumer studies reveal that many women perceive computers ascomplicated and hard to use - an accurate assessment in mostinstances, especially with Windows PCs. According to data cited byMs. Geewax, 38 per cent of all women were Internet users the at theend of 1998, compared with 46 per cent of men, but the vastmajority of these women are not making their own computerpurchases.
Michaela Platzer, vice president for research with the AmericanElectronics Association told Ms. Geewax that women are discouragedand intimidated by the fact that computers crash a lot, and lackconfidence that they will be able to keep them running. Men ingeneral are found to be much more willing to confront thecomplexities and aggravations of computer setup, and are lessdiscouraged by technical glitches and malfunctions. Men, are alsomuch more likely to be technology buffs who enjoy, read about, andtalk about computers as an end in themselves, rather than as autilitarian tool or means to an end.
The problem for non-geek computer users is that the computerindustry has yet to come up with the cyber-equivalent of theautomatic transmission. When cars were hard to drive and tended tobreak down a lot, fewer women drove them. Now that cars arereliable and easy to drive, most women are drivers.
A few women are interested in auto mechanics, and doubtless asubstantially larger proportion are technology-literate. There isno reason to doubt that women can excel in either field if they areso inclined, but it is the inclination that seems to be missing inthe majority. This may be partly cultural conditioning, but I thinkthat generally speaking its mostly because both men and women areessentially "hard-wired" toward different interest-orientations,which is not a bad thing - just another fact.
Women are from Venus; men are from Mars, so to speak. Neither is"superior" or "inferior" to the other - just different. However, atthe present "Model T" stage of computer development, this realitydoes tend to put women at a disadvantage in a world where computerliteracy is rapidly becoming as important as traditional literacyin terms of economic advancement and well-being.
Children from households that don't have computers areincreasingly at an educational and economic disadvantage, andcomputerless households are more likely to be headed by a woman,according to U.S. Commerce Department studies. A white child in atwo-parent household is nearly twice as likely to have Internetaccess as a child in a white single-parent home. Black childrengrowing up in two parent households are nearly four times as likelyto have Internet access as children in black single-parenthomes.
While the iBook, which isprobably the most user-friendly and un-complex personal computeryet conceived,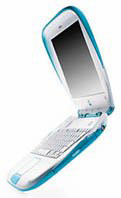 is not quite the automatictransmission yet, it is several notches closer than thecompetition, and the styling of its case is regarded by many(including several males in my acquaintance) as "cute" and"huggable," with its translucent case and bright Blueberry orTangerine candy color highlights. Simplicity along with avant-gardestyling equals a computer obviously calculated to appeal to femalebuyers. Steve Jobs may know exactly what he's doing.
Marilyn Geewax quotes Michael Erbschloe, vice president of theCarlsbad, CA, based private research firm Computer Economics Inc.,who notes that women are much less impressed by fancy,cutting-edge, power features on a computer than men, and moreinclined to just want the basic necessities. Witness this letter Ireceived from a female PowerBook-owning friend who read last week'scolumn:
Good grief, dear heart, the iBook was not made for men,obviously! You guys have the Lombard.
[My fifteen-year-old daughter] and her friends would absolutelylove to have an iBook, but I don't like to buy the first release ofa computer, which is just as well since I need to save up for itfirst. It has all the bells and whistles these kids need for yearsto come. They are not computer experts who need much expandabilityand upgradeability. Just something portable to carry from room toroom, to type their reports on and get onto the Internet with foremail, instant messaging and information. Something that is sturdy,sturdy, sturdy. I am afraid for her to use my WallStreet, especially when she has tocarry it around, but right now it is the only computer we can usesince the 6200 is so slow. Besides,she keeps changing my desktop picture!! ;-)
Wireless Input for PowerBooks (and Other Macs)
Road Warrior reader Michael R. Shannon wrote:
Charles,
I'm the proud owner of a new last generation WallStreet G3 thatis a vast improvement over the 520cit replaced. Thanks for your advice and insight.
Now I have a question. I use the G3 on the road for PowerPointpresentations. Now to change slides I have to be close enough tothe trackpad button to touch it, so I was wondering if anyone makesa reliable wireless mouse? I know the PC people have them, but dothe Mac people?
Thanks.
Michael R. Shannon
I don't know of a wireless mouse for the Mac per se, butDigital Creations Inc. makes a really cool wireless infraredkeyboard called MacAirKey, whichincludes integrated mouse function and is designed for multimediause. It works up to 30 feet away from the Mac.
The MacAirKey Wireless Keyboard weighs less than a pound and isvery much like a PowerBook keyboard in size (13.8" x 6.3" x 1.1"),layout, and feel, with light, short travel keys The MacAirKeyincludes an integrated thumb mouse about the size of a quarter,which eliminates the need for a separate mouse, and of courseallows wireless cursor control for the sort of use Michael enquiredabout.
MacAirKey is a plug and play design; it requires no specialdriver for installation. The Keyboard comes with an ADB connectorfor the infrared receiver, so it will work fine with Michael'sWallStreet. For use with USB equipped Macs and PowerBooks an ADB toUSB adaptor from Griffin Technologies is required.
The MacAirKey requires its own infrared receiver and will notwork with the infrared communications port on PowerBooks and earlyiMacs. The keyboard is powered by two AA alkaline cells, andbattery life is estimated at three months based on 5Kstrokes/day.
For more information about the MacAirKey, check out the DigitalCreations Website.
The MacAirKey Wireless Keyboard is available for $129.95.
AirPort Still Lacks FCC Approval
The PowerBook Source reports that due to the current lack of FCCapproval for its AirPort wireless networking products, Apple hasreportedly canceled all AirPort Base Station and AirPort Cardorders placed at the Apple Store to date.
FCC regulations unfortunately dictate that unapproved items maynot be put into production, so in order to get iBook productionramped up Apple has been obliged to remove the AirPort component oforders already received. Orders placed with Apple resellers areunaffected by this action.
A Real Computer for Barbie (and It's Not an iBook!)
With tongue firmly planted in cheek, Dan Knight of Low End Macsuggests in his column TheBarbiBook that "A hot pink BarbiBook could be just what thedoctor ordered to have twelve-year-old girls salivating for a G3.Team Barbie with the iBook and imagine the possibilities."
"How about it, Steve," Dan asks, "could you do the iBook inBarbie pink? (Not only could you sell the Barbie crowd, but there'sthis cosmetic company with pink cars....)"
Dan may be more of a prophet than he realized. The Mattel toycompany, makers of the hugely successful Barbie doll series formore than 40 years, will soon launch a line of low-cost,brightly-colored computers tied into its Barbie brand for girls, aswell as a Hot Wheels variant for boys.
However, the Barbie/Hot Wheels computer will not be an iBook orany other sort of Mac, but another dismal Windows PC selling for$599 or $14.98 per month, including a CPU, monitor, and a bundle of20 software titles.
The PCs will be produced by Patriot Computers, with the Barbieversion dressed in silver with pink and purple floral accents andthe Hot Wheels model sporting the trademark's "famous flame logo"used on the toy cars; both including a 15-inch monitor and a 333MHz Intel Celeron chip.
The Barbie model will be bundled with a Barbie digital camera,mouse, and CD holder, plus some Mattel software like Barbie SuperSports and Barbie Cool Looks, while the Hot Wheels model will shipwith a Hot Wheels steering wheel controller and mouse and softwarelike Hot Wheels Stunt Track Driver. Both bundle versions willinclude educational software from The Learning Company, as well.The Mattel computers will ship around September 15.
With the separate computer models obviously targeted at girlsand boys, respectively, one suspects that Mattel is riskingaccusations of "sexism" from the political correctness crowd.Families with both girls and boys my also face a dilemma as towhich model to buy. Helpful Hint: theiMac comes in several "gender-neutral" colors, and it's a wholelot better computer than that poky Celeron-based PC, folks.
iBooks Bloom at Bloomingdale's
Last March, a 3rd Avenue window of Bloomingdale's Upper EastsideManhattan flagship department store in New York City featured aspectacular spring iMac display , featuring all five iMacflavor-colors - strawberry, blueberry, grape, lime and tangerineiMacs - displayed with color-coordinated women's fashions.
Bloomingdale's iMac display attracted droves of window shoppers,especially at night. The 3rd Avenue window is located across thestreet from movie theaters, and at night the whole street is bathedin soft colored light.
Now Bloomingdale's is featuring two iBooks as prominent part ofits "Back to Cool" back-to-school promotion. Bloomingdale'screative director Michael Fisher says "I mean, what a coolaccessory you'd have to go back to school with.... I knew we had todo it."
A Mac user from way back, Fisher has a lime iMac in his office,a Power Mac G3 at home, and a PowerBook at his beach house. Hecontacted Apple's Suzanne Forlenza (the person responsible forgetting iMacs, PowerBooks and other Apple products into movies andTV shows where millions of people can see them), and asked foriBooks in both colors. And she
"We didn't know what the iBook looked like until the very lastminute" said Fisher... Suzanne hand-carried two of them from SanFrancisco." He managed to find tangerine and blueberry wigs for themannequins, from a selection of wigs in every color.
For a look at Bloomies' iBook window dressing, checkout the Apple story.
Apple Invests $100 Million in Samsung Electronics
Apple and Samsung Electronics have jointly announced that Applewill invest $100 million in the Korean firm to further expandSamsung's TFT-LCD flat-panel display production capacity. Theinvestment will help Apple's ensure an adequate supply of TFT-LCDdisplays to meet the growing demand for Apple products.
Consumers can also hope that increased production of TFT screenswill help lower prices, which have spiked sharply this year.
Apple iCEO Steve Jobs noted that with the new iBook coming onstream and continued strong PowerBook sales, Apple will need moreflat displays than ever going.
"We are pleased that Apple has placed such confidence inSamsung's leading-edge technology," commented Y. W. Lee, presidentand CEO of Samsung Electronics' Semiconductor Business. "Samsungwill use this investment to further accelerate the expansion of ourTFT-LCD production to support Apple's growing needs."
Samsung Semiconductor, Inc. is a wholly-owned subsidiary ofKorean-based Samsung Electronics Co., Ltd. Samsung's semiconductordivision is the sixth-largest semiconductor manufacturer and aleading producer of memory and TFT-LCD products. For moreinformation, visit Samsung'swebsite.
ZoomCam Live Motion Color Camera for USB Macs
Here is a really cool item I would love to have myself. ZoomTelephonics, Inc. is now shipping its new USB live-motion,full-color camera for Macintosh computers with a USB port, which ofcourse includes iBook and Lombard. (I'll have to get a PC Card USBadapter for the WallStreet!) The estimated retail price of theZoomCam USB Model 1596 camera is $80. The camera's software bundleincludes a full retail ($69.00) version of White Pine'saward-winning CU-SeeMe video conferencing software.
The ZoomCam USB for Macintosh computers is basically plug andplay. Since the computer's USB port itself provides power for theZoomCam USB, no other connections are needed.
The camera's still-image capture resolution is rated up to 704 x576 pixels. For subjects in motion, the ZoomCam USB'ssoftware-selectable frame rate can be as high as 30 frames persecond in QCIF (Quarter Common Intermediate Format) mode.
The ZoomCam USB is suitable for tasks like interactivevideophone conversations or video e-mail. The camera may also beused for videoconferencing, presentation production and Web siteimaging, or even as a security or baby monitoring camera. Forpositioning and mounting, the camera's base features a rubber,anti-slip pad and is threaded to accommodate a standard cameratripod.
Included with the camera is the full retail version of CU-SeeMevideo conferencing software; SmithMicroVideoLink e-mail which letsusers put a face and voice to e-mail messages for live-motion videocommunications; Microsoft NetMeeting and iVisit multiparty videoconferencing software; and PaintShopPro SE image editingsoftware.
The ZoomCam USB features a f1.5, multi-element, antireflectioncoated lens that focuses between 1.5 inches and infinity. Its 60degree wide angle view can take in an entire room while automaticexposure control, brightness and contrast adjustment, backlightcompensation, and fluorescent light flicker correction assurecrisp, clear images under a variety of conditions.
The ZoomCam USB's driver software complies with the QuickTimestandard for easy interface with most popular video applications.Still images captured by the camera may be edited easily usingAdobe software such as Photoshop or PhotoDeluxe. Video generated bythe ZoomCam USB can be viewed on any Mac with the AppleMoviePlayer.
UpgradeStuff Wants Feedback on PB 1400 Upgrade Demand
Apparently there are few to no G3 upgrades left for thePowerBook 1400 from either Newer Technology or Vimage. However, agroup of resellers is considering the possibility of bandingtogether to "sponsor" a special build of 1400 upgrades if demandwarrants. They are not looking for a firm commitment to buy, butare trying to gauge potential demand. Parties interested in seeingmore G3 upgrades on the market for the 1400 should send and emailto 1400@upgradestuff.com.
TIL Article on Support for Older PowerBooks
Apple has posted a Tech Info Library (TIL) article to assistowners of older model Macintosh PowerBook computers to locatesupport information. The following are considered to be Older ModelApple PowerBooks:
PowerBook 100 Series
PowerBook Duo (200 and 2300) and DuoDock series
PowerBook 500 Series
PowerBook 5300
PowerBook systems upgraded to PowerPC
You can check it out here.
Cleaning PowerBook Displays
Another Apple TIL article deals with cleaning the PowerBook'sLCD monitor display.
Apple recommends first turning the computer off, and then usinga soft, lint-free cloth or paper with water or mild (no alcohol norammonia) glass cleaner to wipe the screen. Do not spray liquiddirectly on the screen.
Apple has tested a product called Klear Screen made by MeridrewEnterprises and found it does not cause any harm to theplastics.
World's Biggest Internet Search Engine Goes Online
Fast Search & Transfer, Inc.'s New FAST Search index hasmore than 200 million Web pages today, and will offer the entireWeb in one year. FAST claims that it's unique parallel architecturebased on Dell servers delivers the fastest, freshest and mostrelevant search results.
I checked FAST Searchout, and it indeed lives up to its name; it's the fastest Websearch engine I've yet encountered, and by a wide margin.
FAST says that FAST Search is the result of more than a decadeof research into optimizing search algorithms and architectures, aproject originally initiated at the Norwegian Institute ofTechnology in Trondheim.
FAST Search currently includes more than 200 million unique URLsin its database, making its catalog almost twice the size of searchengine reseller Inktomi and three to four times bigger than severalpopular search engines. FAST intends to resell FAST Search to majorportals, search engines, ISPs, and content sites.
According to a study published in the July, 1999 issue of Naturemagazine, search engine coverage of the Web has decreasedsubstantially since December 1997, with no engine indexing morethan 16% of the Web (estimated at approximately 800 million URLs asof July, 1999). At 200 million URLs, the new FAST Search indexesmore of the Web than any other search engine and in one year's timeis expected to catalog the entire Internet - and then to keep upwith the growth of the Web from that point forward.
The FAST Search architecture is based exclusively onhigh-performance Dell PowerEdge servers and Dell PowerVault storagesubsystems. These systems operate in parallel with each other todistribute user queries, search the document catalog, and spiderthe Web through dedicated computing and storage nodes.
A key design objective of the FAST Search architecture is toscale linearly in both query volume (number of searches) andcatalog size (number of documents), enabling search to become an'organic application' that effectively keeps up with the growth ofthe Web. This 'parallel server' approach of FAST Search differsmarkedly from the architectures of other major search engines,which typically use a small number of very large expensivemultiprocessor computers. These large systems do notcost-effectively scale with the growth of the Web, and as catalogsizes increase, they are further slowed by increased processingoverhead and inefficiencies.
The parallel FAST Search architecture also delivers exceptionalsearch speed - a typical query on FAST Search races through all 200million documents in less than 1 second. In addition, by using manysystems working in parallel, FAST Search builds its document indexin only 12 hours, a task that takes many search engines severaldays or even weeks to perform The result is fresher information toweb surfers on a more consistent basis.
Fast Search & Transfer ASA (FAST) is a high-technologycompany that develops and markets advanced and innovative searchand real-time filtering solutions for the Internet and corporatemarkets. The company performs research and development out of itscorporate headquarters in Oslo, Norway, and in Trondheim, Norway,while sales, marketing, customer support, field engineering, andoperations are run from the US headquarters in Boston and SanFrancisco. For more information on FAST and its solutions, visitthe FAST World Wide Web site at http://www.fast.no.
Actiontec USB Call Waiting Modem Supports Macs
Actiontec Electronics, Inc. has announced that its Actiontec 56KUSB Call Waiting Modem will support the iMac, G3, and otherUSB-equipped Macintosh computers. The modem's Call Waiting featureensures users won't miss vital telephone calls while surfing theWeb or checking e-mail.
Using the Call Waiting Service available on most telephonesystems, the modem monitors the phone line for incoming voice callswhile the user is online. The user is notified when a call comesin, and has the option of ignoring the incoming voice call orpicking up the call to see who is calling without disconnecting theInternet connection. The user then has the choice of accepting theincoming call or taking a message and remaining online.
The ongoing sales success of the new iMac and G3 platforms, anda base of over 31 million Macintosh systems sold to date, meansthat the Macintosh represents a major market opportunity forActiontec.
To install the 56K USB Call Waiting Modem on a USB-equipped Mac,simply plug the modem into an available USB port. The low power,hot swappable modem draws its power from the USB port, eliminatingthe need for an external power supply.
Based on the Lucent Technologies Microelectronics GroupUSB-compliant chip set, the V.90/K56flex 56K USB Call Waiting Modemoffers automatic rate adaptation technology that adjusts speeds,depending on line conditions, to operate at the optimum speeds withthe fewest errors.
The modem operates at up to 56 Kbps, and combines MNP5 andV.42bis data compression with MNP2.4, V.42, and LAPM errorcorrection to provide full duplex operation with throughput up to115,200 bps. It is fully compatible with all common modem standardsto ensure reliable connections when lower speeds are needed. Speedis automatically negotiated on connection. In the FAX mode, themodem offers send/receive fax capability up to 14,400 bps andprovides Group 3 fax support.
The 56K USB Call Waiting Modem will be available in late Augustfrom Actiontec's distributors, retail outlets, and on-line store atan estimated street price of $129.99. The modem is backed by afive-year limited warranty and comes with free technicalsupport.
For more information visit Actiontec's Website at: http://www.actiontec.com.
Road Warrior Mailbag
My column on the allegedly "girly" (viz. John Dvorak) iBookgenerated a lot of mail. Thanks folks for the thoughtful,flame-free responses. There are also a few other topics addressedin this week's mailbag.
---
From George Blake
I read your report and was impressed. The iBook is not foreveryone but those of us who love this platform want the media tobe cheerleaders, not detractors. We can find all we want in the PCcamp but when our own media is less than excited we feel betrayed.There is time enough to look at the iBooks shortcomings between nowand late Sept. but for now we want positive spin from our media,not have you guy adding to the negative slant or giving ammunitionto the enemy.
Again I love you report as it was 95% positive and that's whatwe your readers want for now. Don't put water on of our excitementbecause this product has been long in coming to the faithful.
God's Blessings on you and yours
Geo Blake
---
From Daniel Farnan
Charles,
As always, your column tends to give me pause for thought. But Ifigured I write with my opinions anyway, and respond to a fewthings you've said.
Firstly, your complaint about the connectivity, with particularattention to the lone USB port. You note that you prefer (as I do)to use an external keyboard and mouse with a PB. Well, using aniMac keyboard would give you another USB port. I haven'tinvestigated the area too deeply, but I imagine you could findother keyboards which provide you with an extra port (I knowMacAlly make some solid products and are welcoming USB). But theiBook wasn't designed to be a desktop replacement - it *isn't* aPowerBook, just as an iMac isn't a PowerMac G3 Tower. So, while Irespect your wish to use the iBook just like you do a PB, the iBookwas not designed with that use in mind.
The removal of SCSI we could all anticipate clearly, I think -it's not a necessary component now that USB storage devices havearrived; USB is taking off quite nicely and I accept the move.People not wanting to shell out for an Ethernet card for an oldermachine... really, how much of a hassle is this? If you've got aniBook, you've generally got an Ethernet network to hook it up to.If you don't, somebody's child probably goes to a school which does- investigate that possibility. But the simplest answer is to havethe reseller you buy the machine off transfer the data for you. Ifit's from the contents of your current PB's hard drive, you canprobably get it done for nothing with your purchase (although Ipersonally would charge for it, nothing goes onto one of mymachines, even legacy ones, without my thoroughly investigating it,which takes time and effort) - at something like US$20 extra,what's the big deal? Plus, any reseller worth their salt will keepa backup of the data for you until you give them the OK, or they'llburn it onto CD for you for a small(ish) fee - there are a greatmany choices available for transferring legacy data in the personalcase.
For interaction with other people's legacy equipment, well,you're choosing to upgrade, you pay to stay connected to them(perhaps the costs can be shared?). Buy a USB ZIP drive if you'vegot big files to transfer, use email or ftp; there is always a way- I was reading recently that a company manufacturing andmaintaining punch-card machines ("discontinued" 30+ years ago!) isconfident they'll have a market for the next ten to twentyyears!
Secondly, the general complaints about the size, styling andprice of the machine are answered by that email from DavidChilstrom - the iBook is meant to be visually arresting, toshowcase what a portable computer can be! OK, it's bigger than youpersonally prefer, it looks like a powder compact or some such, butit draws attention like nothing else! I lost a few hours' worth ofwork staring in wonder at the machine on Apple's website on the dayof the announcement, emailing all and sundry about it, etc. Theprice is pretty reasonable - for an extra US$400 over an iMac, youget an LCD screen, portability and battery power. If Apple bringsthe price to around US$1300 (even though I wish it would), it wouldhave to correspondingly drop the price on the iMac (and again, Iwish it would), but there is a strong possibility that such a movewould seriously affect the long-term viability of Apple. If Appleisn't out of the woods yet financially (quick turnarounds oftenresult in long-term problems), the last thing they need isfinanciers and economists expressing doubts again - the troubleswere hyped to the point where they have stuck in the medium-termsocial memory (I still have people asking now whether Apple will goout of business), and the merest rumour will bring the spectreback. Even if this scenario doesn't happen, cutting prices on theiMac (what's the estimated gross margin there? 30%?) will requiresubstituting cheaper materials, retooling assembly lines, tweakingsoftware, etc. - things that may go wrong. When the "C2" revisioncomes out, maybe then price adjustments are possible, but I'm notholding my breath.
Thirdly, John Dvorak's article shows that he doesn't recognizewho Apple is targeting with the iBook. He's not alone (IIRC, hemissed the point of the iMac, too) - my biggest point, one whichpeople have missed worldwide, it seems, even though it's themessage coming directly from Apple:
The iBook is an iMac to go.
What was said about the iMac first off? Hugely critical things -but it's wildly popular. Who is it popular with? Mostly, newconsumers, and some Wintel converts (hallelujah!). Why is itpopular with them? It's not a threatening, "this is a computer"machine (IMHO - it's probably only one of the reasons, but *I*think it's the most important one). It looks like a toy? Peoplewill want to play with it, then. Who cares if it doesn't take offin business circles? There's a chance that, like the iMac, it will.Who cares if a lot of current Mac owners wanted a different machinefrom Apple? (OK, bad example, but...) Apple gains new customerswith it, enchants the world (again), changes the world a little(again), and after a few months a fair proportion of users wantingto upgrade accept the new technology and what it can offer them. Alot of complaints are coming from people who don't like the factthat technology is moving on and making their machines "worthless"- to these people I explain that their machine still does exactlythe same things for them that it did when they bought it, if theirperceptions of its usefulness have changed then they will need todeal with that personally, they are concentrating on theirsituation rather than examining the positives that arise frommoving to the new technology. If you want the latest and greatestof anything, you pay for it - if you don't think you can managewith a system which suited you perfectly well x number of yearsago, how is that the fault of a company?
I, for one, welcome the iBook. I am biased because the better itsells the better off I am, and so I am more inclined to acceptunpopular-with-the-faithful design changes and/or less altruisticbehaviour by Apple, but my arguments are still valid. It's part ofApple's move to introduce more people to computing with a Mac, andas long as Macintosh retains its traditional advantages, I willcontinue to support Apple Computer, Inc.
Thanks for reading - sorry for the length, some things needingto be expressed are best captured quickly, and I lack time forthorough editing.
Daniel Farnan
---
From Darren Wheatcroft:
I must say I (almost) agree with both you and John Dvorakregarding the iBook. It is designed like a children's toy (if youdon't believe me, visithttp://www.toysrus.co.uk/encyclopaedia_vtech.html ) and willprobably be bought by parents en masse for use by the 'kids' (andprobably themselves when the kids go to bed).
It doesn't matter that it hasn't got the connectivity of theiMac, or FireWire, or SCSI - what do children care? As long as theycan plug a joystick in or a printer, its fine. OK, its not asserious looking as my PowerBook 520 - which some of my friends havesaid resembles some of the 'computers' on the above link. Itcertainly isn't as serious as my PC laptop, which looks and feelslike a brick, and despite careful maintenance crashes regularly(and I am a 'qualified' windows techie with years ofexperience.)
The point is - The iBook is a 'fun' machine. It is designed forchildren (or their parents) or adults who dare to be different. Icertainly wouldn't want one, and I preordered an iMac before iteven entered the UK, and now it is my main machine and crashes onlyif I do odd things with TCP/IP. I love my iMac, because it isdifferent. The iBook is just *too* different, but maybe that's thePC techie in me fighting back. Good luck to Apple all the same.
Darren Wheatcroft
Microsoft Certified Professional
IT Support, External Relations, Nottingham Trent University
---
From Ben Apple
Bra-vo, chap. Give me a thin, small PB with brushed-steelcasing, model rubber grips, and a screen that takes up almost theentire top panel. Apple could do it... but there's *no* way theywill, because precious iBook has already been imprinted on all ourminds... and, yeah - it does look like a toilet seat. :-) Have anice day,
Ben Apple
Owner/Editor, "The Mac Junkie"
http://www.TheMacJunkie.com
MacJunkie@TheMacJunkie.com
For a pictorial look at Ben Apple's concept for the idealPowerBook, go here:
http://www.TheMacJunkie.com/silver
---
From Randy Soare
When you state that the iBook isn't enough computer for you, youare right. You are a professional user who makes their living oncomputers. People like you need a full featured computer, like aPowerBook.
However the iBook is not for users like you. It is aimed atpeople like students, teachers and low end users who don't have allthe gadgets and doodads you use every day. They need a simplemachine for their simple needs.
I would never recommend a graphic designer buy an iMac. I wouldpoint them to a B&W G3. But a high school student or home userwould not need all the power or features, (or price) of a fullPowerBook, and I would strongly recommend they look at theiBook.
Please keep in mind the target audience when you evaluate theiBook. Apple didn' t offer this product as a way for someone to buya work station class machine at $1600.00, so please don't expect itto have the feature set of that kind of machine.
Randy Soare
The Mac Observer
---
From Michael Brian Bentley
Would you buy one in black (instead of blueberry) and if theApple logo glows when the screen is on?
It could be the color is the thing, and that these two colorsare specifically chosen so that iBook does not appeal to those whootherwise buy Power. Of course, to also diff between Apple and thesea of beige and black already out there in spades.
In other words, to maximize niche sales, you sometimes have tomaximize the appeal of the product for the target niche, even if itdefuses sales in other, perhaps larger, niches.
A black one could radically change the demographics for a"consumer" product. The result _might_ cause a _dip_ in sales,perhaps because it softens the differentiation between Macs andPCs. I don't know enough about this kind of thing to take theargument any farther, but I think that's the gist of what'shappening. It's a savvy and brilliant decision, I suspect, and noaccident.
I didn't have a problem with the sexist aspect of Dvorak'sopinion, because that doesn't go deep enough. I thought hemarginalized and typecast both the target niche for the product andthe folks for whom the product isn't intended. This is the reactionyou'd expect by someone with either an untrained eye for that sortof thing, or someone who is intentionally being blind for themoment. He should have thought the article through better, butsometimes a rash thing like this is full-bore intentional. You haveto be Bene Gesserit to resolve the big picture.
Regards,
-m
---
From Sean:
What kind of Mac Man are you?
If you write for a Mac website your supposed to praise theirproducts
Sean,
Not sure whether your comment is approbation or opprobrium, butas a professional journalist, my credibility rests on providinghonest assessments of products I review - whether from Apple orother mfrs. - to my readers.
I am not anti-iBook, nor do I think it is a bad machine or evena questionable value. However, Apple made some choices and focusedon some priorities that I would have done differently.
---
From Keene Haywood
Hi Charles.
I read your article today about the iBook's design and critiqueof Dvorak's article. Yes, Dvorak really went over the edge with hisarticle.
I agree on the color thing. Personally, I would like to see itin a translucent smoke plastic case with solid black rubber"bumpers" on the case and maybe a way to attach a shoulder strapinstead of using the carrying handle (although I just saw ashoulder strap being offered).
You mention the lack of ports and expandability. I onlypartially agree. First off, if you start adding things like SCSIand FireWire, you are talking more circuitry and more weight. Andit would add more cost. I think Apple was very careful with thisproduct to not overlap what it was already offering in thePowerBook lineup. If you really want the things you mention, thenget a PowerBook because it has tons of ports, lots of expandabilityand is actually lighter but with a bigger screen.
I think the iBook has what most consumers need for a portable.There are only a few things I would change. For now I am sitting onthe fence as to whether or not to get one. But it seems they havecome up with a good compliment in terms of features for thisproduct. I am sure they weighed all the options carefully beforemaking decisions, and since these units are still 2 months awayfrom shipping, there may be more changes or colors in theworks.
Interestingly enough, no one is really making the big stinkabout no floppy drive the way they did on the iMac. Perhaps its asign that, maybe we really don't need one and if so, there arethird party options that have answered the call.
If my opinion counted for the iBook's design, I would add orchange several things:
1) A translucent gray or black case option 2) An internal harddrive that can be upgraded 3) Instead of a fixed CD-ROM drive, havethis a removable media bay 4) Add a second USB port 5) Maybe shipthe unit with a removable DVD drive instead of the CD-ROMdrive.
If it had these options or changes, I would think they wouldsell thousands more than they already will.
Best Regards,
Keene Haywood
Your wish list is pretty much mine. A second USBport and a mic jack wouldn't have cost much, and would help a lot.I would miss SCSI Disk Mode though.
---
From E. Karsten Smelser:
Thinking not as a 'techie' but instead as a 'consumer' (and aMac loving consumer at that):
Seems that no one has yet hit on the fact that one of thecoolest technologies included with Mac OS 9 requires a microphone!!I'm referring to, of course, the voice print login. Aside from theobvious cool/wow factor it sure would be handy on a notebook. Toobad we'll have to carry around a USB microphone to take advantageof it.
On the same tack, I'm saddened that to listen to CD's on theroad I'm now required to plug in a headset to hear it in stereo.Plus - now I'll get fragged because I won't know which way I'mbeing shot at in Quake - I guess I'll have to carry around somespeakers too.
Considering that 128 MB of RAM is going to be $300 and a largerHD is going to be an additional $400 - not to mention the $400 forthe wireless option so I can use it around the house. Then there'sthe $100 for the speakers and another $30 for a microphone. Don'tforget the $80 for a USB hub. That makes it total $2909. Notexactly cheap.
This is all from the general consumer perspective - I'm nottalking about video out, DVD, or a Zip/Floppy drive (even thoughthe Zip drive could be considered a consumer rather than techieitem) and I never even mentioned the weight or size - or even the'look', much less a CPU that has been discontinued from all theother Mac models.
Now, don't get me wrong - I'm not bashing the iBook, but I amcurious why people are so excited about paying SIXTEEN-HUNDREDdollars (more) for an iBook (less).
The upshot? Lower the damn price and up the RAM to 64 MB.
Minimally - I am going to need extra RAM and the wireless option- that puts me at $2299. That's more than in the range of existingnotebooks that have everything else that the iBook doesn't.
If you want market penetration - price it at $1199 as is. Atleast then I won't feel like I'm buy a professionally priced itemthat is missing all the professional items.
---
From Dave Martin:
Now, I hasten to interject here that John Dvorakis not your typical beige-worshipping PC troglodyte
He's actually worse, because he spews his vitriol purposely andwith absolute certainty that he is wrong - but at least people willread what he says.
My tastes run to midnight black, gunmetal andother metallics, or barely-there subtle pastel shades.
Then go with the PowerBook line. The iBook isn't for you, simpleas that.
I don't anticipate the iBook being a hit with theMarlboro Man set, or in executive suites for that matter, not tomention the college frat house
Nor is it geared to them. And you'd be surprised how many"professionals" and "macho men" wish Apple would remake thePowerBook line in the iBook's colorful and stylish image. They wantthe features of the PB, not the consumer-targeted iBook, but theywant the "look" of colors and translucency and "coolness" that theiMac started.
And, oddly enough, while many don't care for the Tangerine iMacas much, something about the Tangerine iBook makes a statement.Somehow it DOES look more sexy - but in a masculine way - than theBlueberry one. Almost a musk, or Old Spice.
However, it's arguable that the first two of thosemarkets at least are not what Apple was going after with iBookanyway.
No, but they'll buy some of them anyway, proudly displaying themin the privacy of their own homes, throwing a dish towel over themwhen the girls come over to watch football or play poker.
Is the iBook "effeminate" and "sissified" asDvorak asserts? The foldaway handle does recall a handbag, althoughit should prove functionally useful given iBook's road-huggingweight.
As I pointed out to one person, it's close to seven pounds ofbulletproof polycarbonate plastic, and it has a conveniently sturdyhandle. One good swing and the silly brute that called you a"sissy" is KO'd on the ground, while you skip away whistling showtunes. Who the hell CARES if some idiot thinks it looks like apurse or a giant compact, or what they might think about someonethat chooses to carry one?
If you're that insecure - "in the closet", if you will, when itcomes to choosing "form & function" over utility alone - put itin a nylon carrying case and have the best of both worlds.
At least until someone comes out with stylish Tangerine andBlueberry flavored form-fitting iBackPacks. :-)
...with a respectable compliment of portsincluding either SCSI or FireWire, the STN passive matrix screenfrom the MainStreet Series 1 G3 'Book to keep costs down, and aprice below $1,300. [...] I would have liked to see at least twoUSB ports [...], a SCSI port, and a removable-device expansion bay,as well as at least one PC Card slot.
There you go, wanting the world on a dime. Repeat after me:"Consumer Portable". Once more, just to be sure: "ConsumerPortable".
The average consumer - think "Mother" - doesn't need SCSI orlots of ports. FireWire might be nice one day, and it would helpApple to strengthen the adoption of it as a standard, but USBsuffices for most of what your average (or even slightly aboveaverage) user wants or needs.
USB *is* the "removable-device" bay *AND* the PC Card slot. Howmany USB things were you planning to cart around with you? Printer?Scanner? And drives? And..Yeah, right. If you are packing thatmuch, might as well drop a hub in the bag. Heck, I expect someonewill have a "docking station" for the iBook soon: combine powermanagement, recharging, and a USB hub in a nice little desktopplatform. Maybe throw in a serial port, too, and a PC Card slot.There's already someone making a USB-based PCMCIA, so why not?
As an aside: an iBook and that cute little USB flatbed scannerJobs held up at Macworld make the perfect library companions. Mightnot get six hours worth with both going, but you can certainly keepfrom paying high per-page copier fees or cramping your hands.
And while I was myself hoping for a slightly lower price point,it's still a damn good one for what you get. Apple's move to ensureavailability of TFT screens is the wisest move they have made in along time, and may even help drop the price by September when theiBook ships.
"Do they spray mind-numbing gas in theseauditoriums where Steve Jobs speaks?" he asks rhetorically. "Is his'reality distortion field' really that powerful?"
Dvorak's real query, his real fear if unanswered, is "when willthey pay that much attention to ME?".
Is Jobs charismatic - sure the heck is. Does he put on a goodshow? Yup. (QUITE the showman, bringing Noah Wyle on stage likethat; now Gates can't tell Anthony Michael Hall "no hard feelings"without it looking like Bill's copying Steve again.)
Dvorak has his own RDF, just a different polarity. Jobs' RDF wasinitially attributed only to him - HIS worldview differed from whateveryone else saw, implying there was an aura which altered the waythe "real world" was perceived in his mind alone. It's a morerecent claim that he's stretched reality so many times that he cannow extend the mind-altering aspects over a wide area. It'sactually more likely that people are learning to "grow" their ownRDF just like Steve's, or that the audience creates its own RDF,independent of Jobs.
PC types tend to be attracted to the more negative "dark side"RDF that Dvorak projects, but that's just due to conditioning.
Besides, even if Jobs could "broadcast" his RDF to others, hisNielsen ratings are rather good - people are choosing hischannel.
Oh, my! QTV, broadcasting Steve's RDF 24/7 worldwide...!
I still want a less than four pound, not more thanan inch thick, "executive" PowerBook in a tastefully subdued colorwith lots of connectivity and expandability
Face it, Apple can't make EVERY product line meet your specificdesires. Especially all at once. "Portable!", "Tower!","Weightless!", "Tiny!", "Huge Screen!", "Six Slots!", "SCSI/Serial/ ADB/ FireWire/ USB/ Parallel/ Modem/ Gigabit EN/ Wireless/VidInOut/ MicIn/ Stereo/ Etc. Connections!", "Cheap!", "Floppy/SuperDisk/ Zip/ SyQuest/ MO/ CD/ DVD/ CD-R/ DVD-RW/ Etc.Drives!".
Get a PowerBook and quit ragging on the iBook.
The iBook is the first PowerBook model ever that Idon't find myself really interested in having for my own.
The iBook isn't a PowerBook. It's more like a Performa; acompletely different market of users than the Power line. Besides,it's not meant for you. You can't have one, even if you want it.Sorry, kid, it ain't for you.
but so far it doesn't turn my crank.
With all your griping about the iBook, about how you "don't likeit but...", how "if only it had...", and "I want...", one would getthe idea you REALLY want one but are afraid someone will findout.
That's exactly what's got Dvorak's CareBear panties in a twist.Why he's bitching so loud about it. Methinks he doth protest toomuch.
He wants one. He wants one BAD.
He's just afraid someone's going to walk in on him while he'splaying with it...
;-)
---
From Todd Bates:
A Microsoft advocate baited me with a description of it as atoilet set. after call WinCE wince I let him get by with that one.I also have to agree, it does look like one. Maybe if it came in amore understated color scheme.
---
From Stan Cousins
That's right Charles it doesn't turn my crank either but my 8year old wants one like crazy
Good read
Stan
---
From Jeff Ford:
Subject: Is The iBook A Bit Too "Feminine" For He-Man RoadWarriors?
Charles,
Only for limp weenies like little Johnny Dvorak.
---
From [name removed]:
Dear Charles,
I read your article in MacOpinion about the 5300 ApplePowerBook. I have a 5300cs but unfortunately it's really slow. Irun PowerPoint 98 and it takes me ages to make a poster or thingslike that. Is there any way to accelerate the Mac? You mentioned inyour article that you are able to run different applications at thesame time. I have sometimes problems with the memory. What size ofmemory is recommended for Office applications and Netscape?
I don't want to bother you but it's not easy to find informationfor this Mac. I'm sure you received loads of Emails like this. I'mglad about any information/help.
Thank you very much.
[name removed]
Yup, the old 5300 is pretty slow by today's standards,especially for graphics apps. that require a lot of processorpower. Actually, the slow internal bus and slow hard drive are alsoto blame.
There is no upgrade path for the 5300. Some people report modestimprovement using Connectix's Speed Doubler.
You can never have too much RAM, and upgrading your RAM capacityis probably the single most effective thing you can do to improveyour 5300's performance. I have only 24 Megs, but I use RAMDoubler. However I rarely use really RAM-hungry applications.
---
From Vincent:
I appreciate your Site. The Magma PCI expansion for thePowerBook G3 currently is only available for G3 WallStreetversions. It uses an expansion slot in the WallStreet and doesn'tfit the Lombard.
I'm struggling with the need to purchase for Digital Audio butdon't want to be limited to the WallStreet's 300 MHz G3 . . . Andthe Lombard compatible version isn't out yet....
---
From bibos:
Hi,
I am a website dev. & architect in Switzerland, and knowpretty well the BIG differences between IE 4.5 Mac and IE PC...they are essentially due to the facts that some basic calls inJscript (equiv. Netscape's JavaScript) are system call's toundocumented parts of proprietary code in Windows. That means thatsome JScript are handled by Windows itself and thus not availableto Macintosh users.
More info can be found at http://www.DHTMLab.com probably in theFAQ's...
When questioned about it, MS Tech's and Engineers reply thatthis will probably be worked out in future versions of IE...Great... I suppose...
So Mac users are left with three net-browsing options:
Netscape: bloatware, slow, handles CSS like ****, prints like****, very slow, weird resizing behavior, slow, etc...
Internet Explorer: bloatware, slow but better than NS, handlesCSS much better, prints better, impossible to get rid of the cache(Uberimportant when you develop pages), JScript jerky at best.
iCab: beta, tiny, highly customizable, very fast, no CSS, noJavaScript, did I say fast?
I know users had stability troubles with iCab, and my experiencewith the last versions of the three above is only on a G3 (233Beige Box & iMac, PowerBook 400), but I must say that mycrashes are rare with iCab but only iCab crashes, very often in NSbut only NS crashes, and pretty rare with IE but it brings the OSdown with him!!!
Just my two cents,
bibos
Join us on Facebook, follow us on Twitter or Google+, or subscribe to our RSS news feed
Charles Moore has been a freelance journalist since 1987 and began writing for Mac websites in May 1998. His The Road Warrior column was a regular feature on MacOpinion, he is news editor at Applelinks.com and a columnist at MacPrices.net. If you find his articles helpful, please consider making a donation to his tip jar.
Links for the Day
Mac of the Day: Macintosh 512K Fat Mac, introduced 1984.09.10. The first Mac with enough memory for serious work.
Recent Content
Custom Search
Follow Low End Mac on Twitter
Join Low End Mac on Facebook
Favorite Sites
MacSurfer
Cult of Mac
Shrine of Apple
MacInTouch
MyAppleMenu
InfoMac
The Mac Observer
Accelerate Your Mac
RetroMacCast
The Vintage Mac Museum
Deal Brothers
DealMac
Mac2Sell
Mac Driver Museum
JAG's House
System 6 Heaven
System 7 Today
the pickle's Low-End Mac FAQ
Affiliates
Amazon.com
The iTunes Store
PC Connection Express
Macgo Blu-ray Player
Parallels Desktop for Mac
eBay

Advertise