The Revised Mac mini Value Equation
Dan Knight - 2005.07.26 - Tip Jar
At Low End Mac, we really like the Mac mini. It's compact, reasonably priced, and offers a decent level of performance - exactly the same as the 2004 and 2005 eMacs.
There's not enough horsepower to attract gamers. There's not enough room inside for expansion to attract power users. There's just a nice looking, quiet computer that finally put a Mac under the US$500 price point.
Today Apple tweaked the Mac mini, making 512 MB of RAM standard, adding a 1.42 GHz SuperDrive model, and including AirPort Extreme and Bluetooth 2.0 as stock features on the updated 1.42 GHz models.
Other than that, these are the same machines that Apple introduced this past January.
When we looked at the Mac mini back in January, we compared it with the 1.25 GHz eMac and found it to be a good value, particularly for those who might benefit from a portable computer that isn't a laptop. The 2005 eMac runs at 1.42 GHz, the same speed as the faster Mac mini.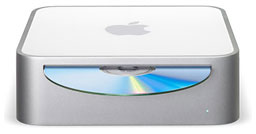 Boosting the Mac mini to 512 MB is a real benefit for buyers, since OS X runs much more smoothly and efficiently with more than 256 MB of RAM. At today's prices, it costs US$45 and up to have a 512 MB module shipped to your door, and you still need to get inside the Mac mini (not especially easy) to install it.
Based on that, the 256 MB 1.25 GHz Mac mini should be selling for about US$449 at close-out pricing in comparison to the new US$499 1.25 GHz model. A quick check of online dealers shows the earlier model being sold at a US$20 discount - it would only make sense to purchase that model if you plan to put in a 1 GB memory module.
Adding Bluetooth and AirPort Extreme add US$99 to the price of the Mac mini - and now both are standard on the 512 MB 1.42 GHz model. If you plan to add either to your mini, let alone both, skip the 1.25 GHz mini. For the extra money, you also get a 13% faster CPU.
In addition to Bluetooth and AirPort Extreme, the 1.42 GHz models also have an 80 GB hard drive, just one more way Apple improves value and makes the faster models better deals.
With a US$599 price tag, the 1.42 GHz Combo drive model offers a lot of value, and Apple now offers a third model - one with a SuperDrive - for US$699.
The price on the 1.42 GHz 256 MB model has been reduced by US$50, and that really isn't enough of a discount unless you have no need for Bluetooth, no need for AirPort Extreme, and plan to install 1 GB of RAM. Otherwise pick the newer model.
Note that the SuperDrive in the Mac mini is a 4x model that doesn't burn dual layer discs.
All things considered, the 1.42 GHz Mac mini is a better buy than the 1.25 GHz model unless there's absolutely no chance you'll ever want Bluetooth or AirPort Extreme. Also, the new models offer better value that the older ones. The 256 MB models are only worth considering if you plan to upgrade to 1 MB of RAM.
Join us on Facebook, follow us on Twitter or Google+, or subscribe to our RSS news feed
Dan Knight has been using Macs since 1986, sold Macs for several years, supported them for many more years, and has been publishing Low End Mac since April 1997. If you find Dan's articles helpful, please consider making a donation to his tip jar.
Links for the Day
Mac of the Day: 17" iMac G4 (Mid 2002), introduced 2002.07.17. The iMac grows up with a 17" 1440 x 900 display.
Recent Content
Custom Search
Follow Low End Mac on Twitter
Join Low End Mac on Facebook
Favorite Sites
MacSurfer
Cult of Mac
Shrine of Apple
MacInTouch
MyAppleMenu
InfoMac
The Mac Observer
Accelerate Your Mac
RetroMacCast
The Vintage Mac Museum
Deal Brothers
DealMac
Mac2Sell
Mac Driver Museum
JAG's House
System 6 Heaven
System 7 Today
the pickle's Low-End Mac FAQ
Affiliates
Amazon.com
The iTunes Store
PC Connection Express
Macgo Blu-ray Player
Parallels Desktop for Mac
eBay

Advertise