PowerBook 150
Code Name: Jedi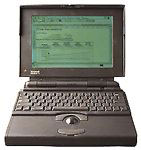 The PowerBook 150 replaced the 25 MHz PB 145b. It offered the faster performance at a lower price and was the final model in the 140-145-145b-150 line of economical PowerBooks. It was also the lightest of the line and its battery rated at 2.5 hours, about 30 minutes longer than previous models. Finally, the 150 sported a 640 x 480 display, the same size as a regular monitor.
Using the same memory modules as the Duos, the PB 150 was far more expandable (to 40 MB!) than other PowerBooks in the 100-180 series. The PB 150 was also the first PowerBook to use an IDE hard drive.
As a cost-saving measure, Apple used a pretty poor LCD and left out the ADB port. The 150 was the only PowerBook without an ADB port. This helps earns it the Compromised Mac designation.
Details
Accelerators & Upgrades
Online Resources
Cautions