15″ PowerBook G4 (Jan. 2005)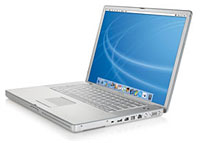 The same size and weight its 1.5 GHz predecessor, the Jan. 2005 edition runs a bit faster (at 1.5 and 1.67 GHz). The entry-level 15" PowerBook now has 512 MB of memory, and 5400 rpm hard drives are standard. Both versions of the 15" PowerBook now include Apple's backlit keyboard.
The 1.67 GHz SuperDrive model supports Dual-Link DVI (a $100 build-to-order option) and retails at $200 less than its predecessor, and the SuperDrive is now an 8x DVR±RW mechanism.
The 2005 'Books also use improved video, ATI's Mobility Radeon 9700.
Bluetooth 2.0 (up to 3x faster than the old standard) and AirPort Extreme are now standard features on all PowerBooks, and the 2005 models add two new technologies: a scrolling trackpad and motion sensing. Scrolling with the trackpad requires the use of two fingers, and motion sensing is meant to protect the hard drive if the PowerBook is dropped.
Battery life is rated at 4.5 hours.
Closed Lid Mode: G4 PowerBooks support "lid closed" (or clamshell) mode, which leaves the built-in display off and dedicates all video RAM to an external display. To used closed lid mode, your 'Book must be plugged into the AC adapter and connected to an external display and a USB or Bluetooth mouse and keyboard (you might also want to consider external speakers). Power up your 'Book until the desktop appears on the external display and then close the lid. Your 'Book will go to sleep, but you can wake it by moving the mouse or using the keyboard. The built-in display will remain off, and the external monitor will become your only display. Since all video RAM is now dedicated to the external monitor, you may have more colors available at higher resolutions. The TiBook is designed to run safely in closed lid mode, but if yours runs hot (perhaps due to overclocking or high ambient temperatures), you may want to open the lid when in closed lid mode: The screen will remain off and the computer will more readily vent heat from the CPU.
To resume use of the internal display, you need to disconnect the external display, put the computer to sleep, and then open the lid. This will wake up your 'Book and restore use of the built-in display.
Details
Introduced 2005.01.31 at US$1,999 (1.5 GHz/Combo) and US$2,299 (1.5 GHz/SuperDrive); a 1.5 GHz SuperDrive model was released about a month later. Replaced 2005.10.19 by higher resolution 15" PowerBook G4 HR.
requires Mac OS X 10.3 or later
CPU: 1.5/1.67 GHz G4 (7457B)
bus: 167 MHz
performance:

Geekbench 2 (Tiger): 783 (1.5 GHz), 1015 (1.67 GHz)

ROM: 4 MB, NewWorld ROM in RAM architecture
RAM: 512 MB, expandable to 2 GB using two PC2700 DDR SDRAM modules
Level 2 cache: 512 KB at CPU speed
Video: ATI Mobility Radeon 9700 AGP 4x
VRAM: 64 MB
Video out: S-video and DVI connectors (VGA supported with adapter)
display: 15.2" (38 cm) 24-bit 1280 x 854 101 ppi color active matrix
supports 1152 x 768, 896 x 600, and 720 x 480 pixels at 3:2 aspect ratio; 1024 x 768, 800 x 600, and 640 x 480 pixels at 4:3 aspect ratio
allows mirroring to external display or extended desktop mode
hard drive: 80 GB 5400 rpm ATA/100 (100 GB optional)
optical drive: Combo drive or 4x SuperDrive

Combo drive reads DVDs at up to 8x, writes CD-R at up to 24x, writes CD-RW at up to 16x, reads CDs at up to 24x
SuperDrive writes DVD-R and DVD+R at up to 8x, DVD-RW and DVD+RW at 4x, reads DVDs at 6x, writes CD-R at 24x, writes CD-RW at 10x, reads CDs at 24x

floppy drive: external USB only
expansions bays: none
USB: 2 USB 2.0 ports
FireWire: 1 FW400 port, 1 FW800 port
IR port: none
ethernet: 10/100/gigabit
modem: v.92 56k
WiFi: 802.11g AirPort Extreme built in
Bluetooth: BT 2.0 built in
PC Card slots: 1
size: 9.5 x 13.7 x 1.1" (241 x 348 x 28 mm)
weight: 5.6 pounds (2.5 kg)
Part no.: M9676LL/A (Combo), M9677LL/A (1.67 GHz SuperDrive)
Online Resources