PowerBook 3400c
Code name: Hooper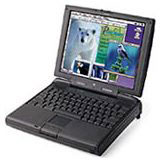 The PowerBook 3400c, running aPowerPC 603e processor at 180-240 MHz, was designed as a no compromiselaptop and was billed as the world's fastest notebook computer when itwas introduced. It was the basis for the first PowerBook G3.
The 3400c was the first PowerBook based on Intel's PCI architecture,although it obviously doesn't include PCI expansion slots. This made itthe first PowerBook to support 33 MHz CardBus devices.
Memory is expandable to 144 MB. Using a hard drive larger than3 GB precludes the use of SCSI Disk Mode, according to PowerBook HardDrives: The Essential Upgrade.
Warning
According to the Road Warrior and Other World Computing, the drive controller in pre-G4 PowerBooks isincompatible with some ATA-6/Ultra ATA-100 hard drives.
Details
introduced 1997.02.17 at US$4,499 (180 MHz, no ethernet, modem, or CD-ROM),$4,999 (180 MHz with ethernet, modem, and 6x CD-ROM), and US$6,499 (240 MHz with 12xCD-ROM); discontinued
requires System 7.6.1 (with PowerBook 3400 Enabler) through 9.1
CPU: 180, 200, or 240 MHz PPC 603e
bus: 40 MHz
Performance: 293/308/334 (180/200/240 MHz), MacBench 4
ROM: 4 MB
RAM: 16 MB, expandable to 144 MB
Level 2 cache: 256 KB
VRAM: 1 MB
display: 12.1" 16-bit 800 x 600 83 ppi color active matrix
video out: VGA port
hard drive: 1.3, 2, or 3 GB EIDE
expansion bay: same as PowerBook 190 and 5300
CD-ROM: 6x or 12x, removable, optional on 180 MHz model
ADB: 1 port for keyboard and mouse
serial: 1 DIN-8 RS-422 port on back of computer
SCSI: HDI30 connector on back of computer
infrared: supports IrDA and Apple's IRtalk protocol
ethernet and modem standard on most configurations
PC Card slots: 2, CardBus compliant with USB Card Support patch (seeCardBusfor Your PowerBook 3400c or Kanga G3! for details and links
size: 2.4" H x 11.5" W x 9.5" D
weight: 6.9-7.4 pounds with battery
power supply: M4896 or M4895
Online Resources
Cautions
From PowerBook 2400,3400: Password Security and Mac OS 8.0: On PowerBook 2400 and 3400systems, Password Security software is not compatible with Mac OS8.0. Other PowerBook systems are not affected.
From Mac OS 8.1: LateBreaking Tips: Mac OS 8.1 will not install the Password Securitycontrol panel on a PowerBook 2400 or 3400 unless an earlier versionalready exists in the Control Panels folder. As noted above, PasswordSecurity is not compatible with these models under OS 8.0 or later andshould not be used.
From AppleKnowledge Base Archive Article #24014: Do not under anycircumstances enable the PowerBook 3400 password security if youhave At Ease 4.0.x installed on the PowerBook and you haveenabled the "Prevent users from bypassing security by starting upfrom a floppy disk" option in the At Ease administration program.The hard disk driver becomes corrupted in such a way that thePowerBook is unable to start up. Additionally, the computer willnot start up from a floppy disk, CD, or in SCSI disk mode.