15″ PowerBook G4, 667 MHz (Gigabit Ethernet)
code name: Onyx, TiBook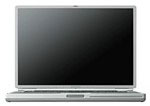 Just nine months after releasing the first titanium PowerBook, Apple replaced it with two faster models - this is the faster one. Both models share the same logic board, but they run the bus and CPU at different speeds. The 667 MHz CPU in this model runs on a faster (133 MHz vs. 100 MHz) system bus than its 400-550 MHz siblings. Standard features include an AirPort card, a 30 GB hard drive, and ATI Mobility Radeon graphics with 16 MB of video memory. CD-RW is available as a build-to-order option for those willing to give up DVD.
Closed Lid Mode: TiBooks support "lid closed" (or clamshell) mode, which leaves the built-in display off and dedicates all video RAM to an external display. To used closed lid mode, your 'Book must be plugged into the AC adapter and connected to an external display and a USB mouse and keyboard (you might also want to consider external speakers). Power up your 'Book until the desktop appears on the external display and then close the lid. Your 'Book will go to sleep, but you can wake it by moving the mouse or using the keyboard. The built-in display will remain off, and the external monitor will become your only display. Since all video RAM is now dedicated to the external monitor, you may have more colors available at higher resolutions. The TiBook is designed to run safely in closed lid mode, but if yours runs hot (perhaps due to overclocking or high ambient temperatures), you may want to open the lid when in closed lid mode: The screen will remain off and the computer will more readily vent heat from the CPU.
To resume use of the internal display, you need to disconnect the external display, put the computer to sleep, and then open the lid. This will wake up your 'Book and restore use of the built-in display.
This TiBook was replaced by a faster, larger screen model on April 29, 2002.
Details
introduced 2001.10.16 at US$2,999; discontinued 2002.04.29
DVD-ROM replaced with CD-RW/DVD-ROM combo drive 2001.12.17
product code: M8363 (DVD-ROM), M8623 (Combo)
requires Mac OS 9.1 or later, Mac OS X 10.1 through 10.4.x, 10.5 not officially supported
CPU: 667 MHz G4 (7451)
bus: 133 MHz
performance:
ROM: 4 MB, NewWorld ROM in RAM architecture
RAM: 256 MB, expandable to 1 GB using two PC133 3.3 volt unbuffered low-power 144-pin 133 MHz SO-DIMMs
Level 2 cache: 256 KB at 667 MHz
Video: ATI AGP 4x Mobility Radeon
VRAM: 16 MB
Video out: VGA and S-video connectors
display: 15.2" (38 cm) 24-bit 1152 x 768 91 ppi color active matrix
supports 896 x 600 and 720 x 480 pixels at 3:2 aspect ratio; 1024 x 768, 800 x 600, and 640 x 480 pixels at 4:3 aspect ratio
allows mirroring to external display or extended desktop mode
hard drive: 30 GB IDE, 48 GB optional, 128 GB maximum
DVD-ROM: 2x (8/8/24x CD-RW optional), CD-RW/DVD-ROM standard from 2001.12.17
floppy drive: external USB only
expansions bays: none
USB: 2 USB 1.1 ports
FireWire: 1 FW400 port
IR port with full IrDA support
ethernet: 10/100/gigabit
modem: v.90 56k
WiFi: 802.11b AirPort Card included
PC Card slots: 1
battery: 50 watt-hours, rated at up to 5 hours
PRAM battery: Apple part 922-4361, US$70-95
size: 9.5 x 13.5 x 1.0" (241 x 341 x 26 mm)
weight: 5.3 pounds (2.4 kg)
Upgrades
Online Resources
Cautions
Do not under any circumstances use the Password Security control panel with any PowerBook running Mac OS 9 - see PowerBook (FireWire): Late Breaking News - it will render your PowerBook inoperable. The only fix is to put the drive in an older PowerBook, open Password Security, go to Setup, and click the Reset button, and then put the drive back in your 'Book.
There is an incompatibility between the Kensington Startup ADB extension and the Trackpad control on the iBook with Mac OS 9.0.4. Symptom: trackpad responds during boot, but not later. Solution: disable Kensington Startup ADB extension. This may also apply to other USB portables and versions of the Mac OS.