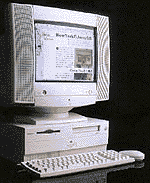 Power Macintosh 4400
Power Mac 7220 in some markets
The 4400 was Apple's attempt to build an inexpensive Mac using more industry standard components, such as a chunky DOS-like case. It was also available in a PC Compatible system with a 166 MHz DOS card (brand and model of CPU not mentioned on Apple's site) containing 16 MB RAM.
The 4400 was Apple's only computer designed around a modified Tanzania motherboard. The 4400 and other Tanzania-based clones will not boot with a dead PRAM battery. Try replacing the battery before attempting to replace the power supply on a "dead" 4400.
Note that there are some significant differences between the 160 MHz and 200 MHz models in terms of memory capacity and expansion slots.
Details
160 MHz model introduced 1996.11.07, discontinued
200 MHz model introduced 1997.02.17, discontinued
DOS compatible model introduced 1997.04.04, discontinued
requires System 7.5.3 (with System Enabler 827) through 9.1, excluding 7.5.5
CPU: 160 MHz or 200 MHz PPC 603e
bus: 40 MHz
performance: XXX (relative to SE)
ROM: 4 MB
RAM: 32 MB, expandable to 96 MB (160 MHz version) or 160 MB (200 MHz model) using 3.3V unbuffered EDO RAM (three DIMM sockets, each supports an 8, 16, or 32 MB SIMM in 160 MHz model; support 64 MB DIMMs in 200 MHz machines; slot 1 supports only single-bank DIMMs)
VRAM: 1 MB in 4400/160, 2 MB in 4400/200
Video, std, 4400/160: 16-bit to 832 x 624, 8-bit to 1152-870
Video, std, 4400/200: 24-bit to 800 x 600, 16-bit to 1152 x 870, 8-bit to 1280 x 1024
Video, 4 MB max: 24-bit to 1024 x 768, 16-bit to 1280 x 1024
L2 cache: 256 KB (optional on 4400/160)
hard drive: 1.2GB IDE in 4400/160, 2GB IDE in 4400/200
CD-ROM: 8x (12x in DOS Compatible model)
ADB: 1 port for keyboard and mouse
serial: 2 DIN-8 RS-422 ports on back of computer
SCSI: DB-25 connector on back of computer
ethernet: standard on 4400/200 and 7220/200, but not on the 4400/160.
three PCI slots in 4400/160, two plus a Comm II slot in 4400/200
Accelerators & Upgrades
Vimage at one time announced a G3 upgrade for the 4400
Farallon 10/100 Comm Slot II ethernet card
Online Resources
Cautions
Will not work with System 7.5.5
DIMM slot 1 supports only single-bank DIMMs.
Macs with IDE hard drive do not provide SCSI termination power, depending on external SCSI devices to provide it. For more details, see SCSI Termination Power.