Power Macintosh 5400
Performa 5400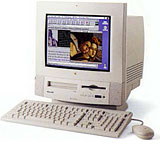 The 5400 was the first PCI-bus Power Mac with an integrated monitor. It was available in black in the UK, the first black desktop Mac since Mac TV.
This model was sold as the Power Mac 5400 in the education market and under the Performa 5400 name in the consumer market.
Although the 5400 replaced the 5260, it had an improved motherboard design that overcame the most egregious failings of the "Road Apple" x200 series.
The 5400 was replaced by the faster Power Mac 5500. The Performa 6400 is essentially the same machine as the 5400 without a built in monitor.
Details
5400/120 introduced 1996.04.15, discontinued
5400/180 introduced 1996.10.01, discontinued
5400/200 introduced 1997.02.17, discontinued
requires System 7.5.1 through 9.1
CPU: 120, 180, or 200 MHz PPC 603e
bus: 40 MHz
performance: XXX (relative to SE)
RAM: 16 MB (120, 180 MHz) or 24 MB (200 MHz), expandable to 136 MB. 8 MB on motherboard. Accepts one or two 8, 16, 32, or 64 MB 70ns 168-pin DIMMs.
VRAM: not expandable
Video: 15" screen, thousands of colors at up to 800 x 600, 256 at 832 x 624
L2 cache: 256k
hard drive: IDE, 1.2 GB on 5400/180, 1.6 GB on 5400/120 and 200
CD-ROM: 4x or 8x
microphone: standard 3.5mm minijack, compatible with line-level input including Apple's PlainTalk microphone
ADB: 1 port for keyboard and mouse
DIN-8 GeoPort on back of computer
SCSI: DB-25 connector on back of computer
comm slot (used by ethernet port on 5400/200 )
bay for Apple TV/FM Radio System
video slot
one PCI slot
Accelerators & Upgrades
Online Resources
Cautions
Apple discontinued support and parts orders for this model on 15 October 2001 (22 October in Canada), except in California. You may be able to find dealers with parts inventory either locally or on our parts and service list.
This highest PIO mode this model supports is Mode 4 (16.7 MB/s), Macintosh: Using Third Party IDE Hard Disks
Macs with IDE hard drive do not provide SCSI termination power, depending on external SCSI devices to provide it. For more details, see SCSI Termination Power.