The 5400 was the first PCI-bus Power Mac with an integrated monitor. It was available in black in the UK, the first black desktop Mac since Mac TV.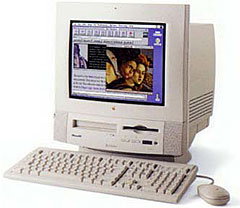 This model was sold as the Power Mac 5400 in the education market and under the Performa 5400 name in the consumer market. Speeds ranged from 120 MHz to 200 MHz.
Although the 5400 replaced the 5260, it had an improved motherboard design that overcame the most egregious failings of the Road Apple x200 series.
The 5400 was replaced by the faster Power Mac 5500. The Performa 6400 is essentially the same machine as the 5400 without a built in monitor.
Details
Accelerators & Upgrades
Online Resources
Cautions
Keywords: #performa5400 #powermac5400
Short link: http://goo.gl/edIlnZ
searchwords: powermac5400, performa5400