How to Rip Your DVDs So You Can Watch Them on Your Video iPod
- 2006.03.21 - Tip Jar
I recently got a new iPod with video, and like many of you I wanted to fill it up with great content. The iTunes Music Store has tons of TV shows available and also tons of free videocasts.
I already own a lot of DVDs, and with many music CDs beinging DualDiscs now, I also have music videos to transfer to my iPod.
In this article I'll explain how to transfer content from DVDs to your iPod. If you want to convert videos already on your Mac to a iPod friendly format, read Converting Video and Adding Album Art for Your iPod.
Note: I do not endorse or promote breaking your country's copyright and fair use laws. We take no responsibility on your actions and recommend you follow and comply with all laws and not copy DVDs that you don't own.
Stuff you need:
Any Mac running Mac OS X, including new Intel Macs
A DVD-ROM, Combo drive, or SuperDrive
A DVD you want converted to iPod format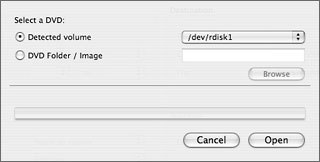 Once you have Handbrake installed, insert the DVD you want to convert into your drive and start up Handbrake.
Choose your DVD from the list (normally it's the default one) and hit open.
Under Source select the Title and Chapters you want.
Under Video select "same as source", "FFmpeg", and your average bitrate over 400 - the higher, the bigger the file - and select 2-pass encoding for low noise.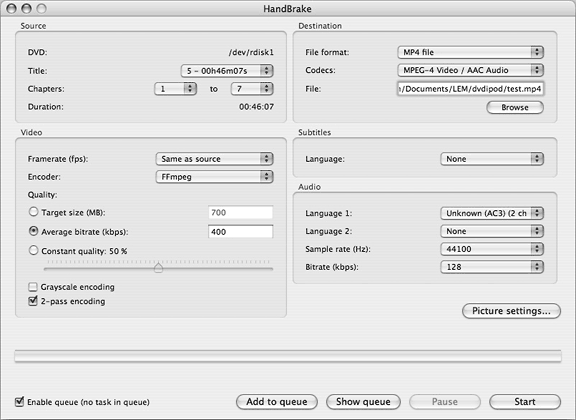 Your destination file format is MP4, MPEG-4Video/AAC Audio as your Codecs, and choose a location you will remember.
You can choose to install subtitles, but they will probably be too small to read on your iPod.
Select your audio quality from the languages, sample rate, and bitrate.
Picture settings: make sure you "Keep aspect ratio" and the width is no greater than 320 with a maximum height of 240.
Press Rip and stand back while it encodes.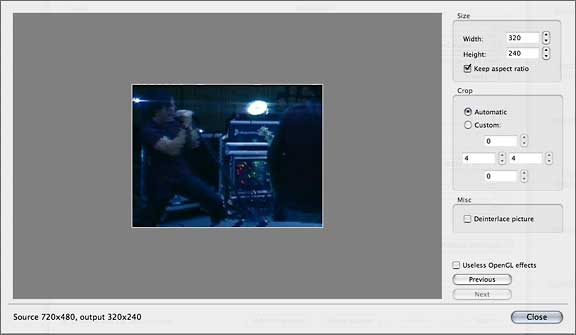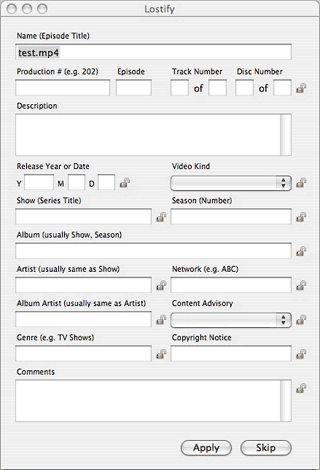 Now that you have your DVD content in iPod format, use Lostify to make it easier to find in your iPod's menu system. By default your iPod puts all normally converted video into your movies folder; Lostify lets you put it in the TV Shows or Music Videos menus, depending on what you select.
After you install Lostify, you simply drag the file you want to edit onto it. Then you fill in the info that you want, hit apply, and it will generate a new file with all those settings applied.
Then simply drag the file created by Lostify into iTunes, transfer it to you iPod, and your done.

Join us on Facebook, follow us on Twitter or Google+, or subscribe to our RSS news feed
If you find Joe's articles helpful, please consider making a donation to his tip jar.
Today's Links
Mac of the Day: Lisa, introduced 1983.01.19. The ancestor of the Macintosh had a mouse, a graphical interface, and a $10,000 price tag.
Recent Content
Custom Search
Follow Low End Mac on Twitter
Join Low End Mac on Facebook
Favorite Sites
MacSurfer
Cult of Mac
Shrine of Apple
MacInTouch
MyAppleMenu
InfoMac
The Mac Observer
Accelerate Your Mac
RetroMacCast
The Vintage Mac Museum
Deal Brothers
DealMac
Mac2Sell
Mac Driver Museum
JAG's House
System 6 Heaven
System 7 Today
the pickle's Low-End Mac FAQ
Affiliates
Amazon.com
The iTunes Store
PC Connection Express
Macgo Blu-ray Player
Parallels Desktop for Mac
eBay

Advertise