The Macintosh Two-Page Monochrome Display was Apple's first 2-page monitor for the Macintosh. The 21″ Two-Page Display was introduced with the Mac IIcx and the Macintosh Two-Page Monochrome Video Card in March 1989.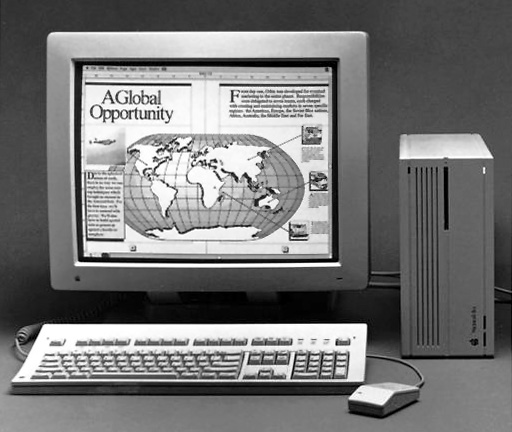 This display has a fixed resolution of 1152 x 870 and uses an unusual 13w3 connector instead of Apple's "normal" DA-15 video connector.
Interestingly, the 2001 Titanium PowerBook G4s had the same width in pixels with its 1152 x 768 display, almost enough for two pages. The later 2002 PowerBook G4 with DVI increased resolution to 1280 x 854 pixels, making it very suitable for displaying two pages at once – on the go.
The power button is on the back of the monitor, along with a built-in 3-port ADB hub. The brightness and contrast controls are on the right side. The monitor can sit on top of most desktop Macs and is actually wider than the Mac IIx. It works with the Apple Universal Monitor Stand.
Apple recommends using a screen saver to avoid phosphor burn caused by static elements on the screen, such as the menu bar, drive icon, and Trash. To clean the screen, Apple suggests applying household glass cleaner to a clean cloth or paper towel and wiping the screen. You should avoid spraying glass cleaner directly on the CRT, as it could run down the screen, into the case, and damage the internal electrical circuitry.
Details
introduced 1989.03.07 at US$2,149; discontinued 1992.12.01
tube size: 21″
viewable size: 19″
tube type: grayscale CRT
warmup: 20 minutes for complete warmup, usable immediately
pixels: 1152 x 870
bit depth: supports up to 8-bit grayscale
display area: 8.0″ x 10.85″/203 x 276 mm
refresh: 75 Hz
resolution: 77 dpi
dot pitch: not known
connection: DA-15
video cable: removable cable with DA-15 connectors on both ends
security: supports standard security lock
dimensions (H/W/D): 19.1″ x 19.6″ x 18.6″/485 x 495 x 470 mm
weight: 60 lb./27 kg
power cable: standard computer power cable
AC power: 90-270V, 47-63 Hz
power draw: 95W, 0.8A
operating environment: 50° to 95°F/10° to 35°C, 0-90% humidity, less than 10,000'/3,000 m altitude
storage environment: -40° to 116°F/-40° to 47°C
tilt/swivel base: optional
part number: M0402 (Rev A), M1025 (Rev. B)
Online Resources
keywords: #macdisplay #monochromedisplay #2pagedisplay