The PowerBook 100 was a big step forward from the Mac Portable. First and foremost, it was just one-third as heavy at 5.1 pounds. Secondly, it was several thousand dollars less expensive.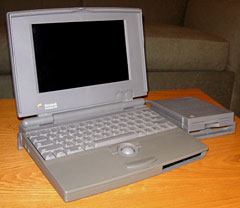 The weight reduction was accomplished by using lighter plastics, eliminating the internal floppy drive, and using a smaller (2 hour, 7V) lead-acid battery. Cost savings were achieved by eliminating the internal floppy drive (a $200 accessory), using a physically smaller hard drive (20 MB 2.5″), building around a 9″ (640 x 400 1-bit) passive-matrix screen, and having Sony manufacture it. (Sony designed the 100 by starting with the Mac Portable and reducing the size and weight of components as much as possible.)
In 2005, Mobile PC called the PowerBook 100 the Best Gadget of All Time.
Although the PowerBook 100 uses a standard 2.5″ SCSI hard drive, there just isn't room for a 2.5″ IDE drive plus a SCSI-to-IDE adapter (the solution for most SCSI PowerBooks). You can only use a real SCSI hard drive in the PB 100.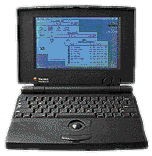 In terms of total volume, the PB 100 was the most compact PowerBook until the Titanium PowerBook G4 came out in 2001 – it took nearly a decade for Apple to create somethings smaller (the 15″ TiBook was 127 cubic inches vs. 168 for the PB 100). The PB 100 also has the second-smallest footprint of any Mac notebook prior to the 11″ MacBook Air, just a bit bigger than the PowerBook 2400c and a tiny bit smaller than the 12″ PowerBook G4.
This was the first PowerBook with SCSI Disk Mode, which allows desktop users with a special cable to connect the PowerBook and use it as an external drive. (The 140 and 170, introduced simultaneously with the 100, lack this feature.)
Another very nice feature, for those with enough memory (the PB 100 supports up to 8 MB), is a persistent RAM Disk. You can load the system into RAM Disk and boot from it – provided you have enough RAM to both run your applications and create a RAM Disk large enough for your System Folder.
Until Apple blew out the PB 100 for under $1,000, it was a very poor seller. Then it sold like hot cakes while supplies lasted.
When buying a used PB 100, be sure to get all the memory you need, since it's difficult to come buy nowadays, and don't expect it to include a working battery. Bear in mind that the PB 100 only supports up to 8 MB of RAM and only functions in 24-bit mode. To get the most out of that memory, consider using RAM Charger 8.1, which offers better memory management than the Mac OS.
Details
introduced 1991.10.21 at $2,500; discontinued 1992.08.03
Gestalt ID: 24
Code Name: Derringer, Rosebud
Mac OS
requires System 6.0.8L to 7.5.5
addressing: 24-bit only
Core System
CPU: 16 MHz 68HC000
ROM: 256 KB
RAM: 2 MB, expandable to 8 MB using a special 100ns pseudostatic RAM card
Performance
2.0, relative to SE
1.3 MIPS
2.56, Speedometer 3.06
0.16, Speedometer 4
Graphics
display: 9″ 1-bit 640 x 400 84 ppi passive-matrix
Drives
Hard drive: 20, 40, or 80 MB
floppy drive: external 1.4 MB drive with proprietary connector
Expansion
ADB ports: 1 for keyboard and mouse
serial ports: 1 DIN-8 RS-422 port on back of computer
SCSI ports: HDI30 connector on back of computer
proprietary modem slot
Physical
Size (HxWxD): 1.8″ x 11″ x 8.5″
Weight: 5.1 pounds
battery: 7V lead-acid battery, unique to PB 100
PRAM battery: 3 CR-2430
AC adapter: 7.5V, 1.5 A nominal
power supply: M5140 – 15W, 2 amps
Tips
There is a switch on the back of the PB 100 that completely shuts off power. This should be used only for long term storage since it wipes the RAM disk and PRAM settings. (You can use TechTool to save and restore PRAM settings.)
Online Resources
Online Profiles
New Hardware
BTI once mdae the MC-100X PB 100 battery, although several users have reported problems with this discontinued battery.
eBatts has a NiCad battery for the PB 100.
Cautions
The 100-series and 500-series PowerBooks do not provide SCSI termination power, depending on external SCSI devices to provide it. For more details, see SCSI Termination Power.
Macs with black-and-white only displays (1-bit, no grays) may find Netscape Navigator 3 makes it impossible to view some pages and sites. The workaround is to use Navigator 2.
Battery becomes unusable if discharged below 5.4V; keep it charged!
Modem port limited to 57.6 kbps (printer port may be faster); use of a 56k modem on the modem port may limit throughput. See 56k modem page.
Apple has discontinued support and parts orders for this model. You may be able to find dealers with parts inventory either locally or on our parts and service list.
Keywords: #pb100 #powerbook100
Short link: http://goo.gl/oqCdbX
searchword: powerbook100, pb100