The PowerBook 180 was the first portable Mac with a 4-bit (16-shade) active matrix display. With a 33 MHz CPU and improved screen, it replaced the 25 MHz PowerBook 170 and was in very high demand through its six-month life.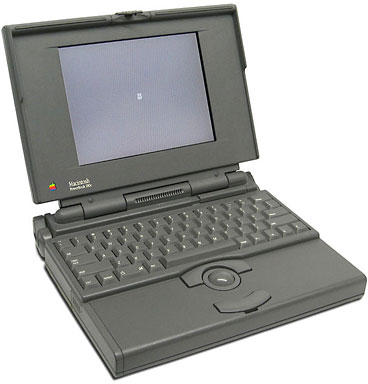 Like the PowerBook 160, the 180 has a video out port supporting an external 13″ to 16″ monitor. With the 160, it was the first PowerBook to support an external monitor (using Apple's proprietary VID-14 connector with an adapter) and the first PowerBook to support more than 8 MB of RAM.
The 180 reintroduced SCSI Disk Mode to the PowerBook line, a feature previously found only on the PowerBook 100.
As with all early PowerBooks, when buying one be sure it has all the memory you need (new PB RAM is getting  difficult to locate, especially at reasonable prices).
The PB 180 has a 14 MB memory ceiling, although you can go beyond that by using Virtual Memory (slow and free) or RAM Doubler (faster, not free, and discontinued). Another option is RAM Charger 8.1, which offers better memory management than the Mac OS.
Details
Accelerators & Upgrades
Online Resources
Cautions
Keywords: #pb180 #powerbook180
Short link: http://goo.gl/kSYQVL
searchwords: pb180, powerbook180