If you want to get a real jump on performance, but you don't want to have to buy new PowerPC ready applications, then the Turbo 040 is for you. Unlike a Power Macintosh, DayStar's Turbo 040 radically accelerates all your current software and doesn't require the purchase of new PowerPC versions of your applications. And when all your software is PowerPC ready, you have the option of upgrading to DayStar's PowerPC products. DayStar always protects your investment.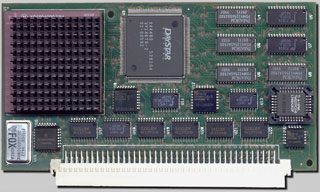 DayStar's Turbo 040 is a "Five Diamond" winner from MacWeek magazine, and it was nominated by MacUser Magazine as an Editor's Choice Finalist. With its plug-and-play installation, and excellent compatibility you can easily see why the reviewers at MacWeek said, "The upgrade was painless, and performance will make users blink."
The Turbo 040 includes a built-in 128K cache that allows the card to run a full speed within your existing Macintosh. It is available in models with or without a math chip -both provide Quadra 800 or better performance at a fraction of the cost of a new machine.
Platforms Supported
System Requirements:
Adapter required for SE/30, II, IIx, IIcx*, and IIsi. None needed for IIci, IIvx, IIvi, and Performa 600.
Supports Quadra compatible software and hardware.
Supports virtual memory.
Upgrade Board
Mfg#
33/66 MHz Turbo 040i with Cache
000780
without FPU 40/80 MHz Turbo 040 with Cache
000797
with FPU Adapters for the Turbo 040 Family
–
Adapter PDS: Mac SE/30 and IIsi PDS cards
A31S2-000
Adapter II: Mac II
A31II-000
Adapter IIx: Mac IIx
000339
Adapter IIcx: Mac IIcx
A31CX-000
Adapter IIsi: Mac IIsi (has extra PDS connector)
A31SP-000
Adapter IIsi NuBus (has extra NuBus connector)
000063
Note: all upgrades above are discontinued
Keywords: #turbo040 #daystardigital
Short link: http://goo.gl/Ya5QoT
searchword: turbo040