The Mac IIvx was an okay computer, but a big "Huh?" for Mac IIci users. Where the LC and LC II had been compromised by using a 32-bit processor on a 16-bit data bus, the IIvx ran a 32 MHz CPU on a 16 MHz bus. This gave it slower performance than the IIci, which was still available (stock IIci tests 30% faster than IIvx; adding 32 KB cache to the IIci bumps this to 60%).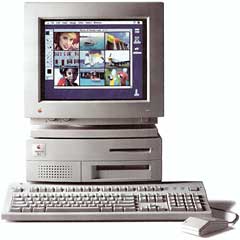 In fact, the old 16 MHz Mac IIx outperformed the IIvx on some benchmarks! Needless to say, most serious Mac users chose the IIci over the IIvx.
The Mac IIvx and its near-twin, the Performa 600, were the first Macs available with a built-in CD-ROM drive and also the first Macs to use a metal case.
The floppy drive mounting sled used in the IIvi, IIvx, Centris 650, Quadra 650, and Power Mac 7100 can also be used for a hard drive if you no longer need the floppy drive.
Although it wasn't officially discontinued until October 1993, with the introduction of the 25 MHz 68040-based Centris 650 in the same enclosure and at the same price just five months later, Apple slashed it's base price from US$2,949 to US$1,899 overnight. Needless to say, a lot of recent IIvx buyers were none to happy with Apple over that.
The IIvx and Performa 600 easily merit the Road Apple designation.
See our NuBus Video Card Guide for information on adding a video card.
Details
code name: Brazil, Lego
introduced 1992.10.19 at $2,949 (4/80), $3,319 (4/230), and $3,219 (5/60/CD); prices slashed on 1993.02.10 with introduction of Centris 650; discontinued 1993.10.21
model no.: M1350
Gestalt ID: 48
upgrade path: Quadra 700, Quadra 650, Power Mac 7100 motherboard
Mac OS
requires System 7.1 to 7.6.1
addressing: 24-bit or 32-bit
Core System
CPU: 32 MHz 68030
FPU: 32 MHz 68882
ROM: 1 MB
RAM: 4 MB on motherboard, expandable to 68 MB using lone 4-SIMM bank of 80ns 30-pin memory; can use 256 KB, 1 MB, 2 MB, 4 MB, and 16 MB SIMMs
L2 cache: 32 KB
Performance
2.7, relative to SE
7.0 MIPS
7.5, Speedometer 3
0.44, Speedometer 4
Graphics
built-in 8-bit video with 512 KB VRAM, supports 512 x 384 at 16-bits, 640 x 480 at 8-bits, and portrait monitor (640 x 870) at 4-bits
video port: DB-15
Drives
Hard drive: 40, 160, or 400 MB SCSI
floppy drive: 1.4 MB double-sided
Expansion
ADB ports: 2
serial ports: 2 DIN-8 RS-422 ports on back of computer
SCSI ports: DB-25 connector on back of computer
PDS slot supports L2 cache only in IIvx, accelerator card in both models
NuBus slots: 3
Physical
size (HxWxD): 6.0″ x 13.0″ x 16.5″
Weight: 25 lbs.
PRAM battery: 3.6V half-AA
power supply: 230W
Accelerators & Upgrades
Accelerator Reviews
Online Resources
Cautions
Apple discontinued support and parts orders for this model on 2001.01.01. You may be able to find dealers with parts inventory either locally or on our parts and service list.
Serial port normally restricted to 57.6 kbps; throughput with a 56k modem may be limited. See 56k modem page. For more information on Mac serial ports, read Macintosh Serial Throughput.
Keywords: #maciivx #macintoshiivx
Short link: http://goo.gl/Z2MHLm
searchwords: maciivx, macintoshiivx