Finding the market confused with five product lines (Mac II, Centris, Quadra, Performa, and PowerBook), Apple renamed the Centris models in October 1993. At the same time, the 68040 CPU in the Quadra 650 was boosted to 33 MHz.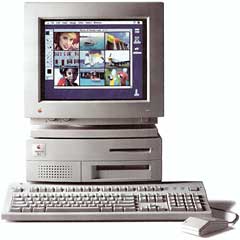 The floppy drive mounting sled used in the Mac IIvi, IIvx, Performa 600, Centris 650, Quadra 650, and Power Mac 7100 can also be used for a hard drive if you no longer need the floppy drive.
See our NuBus Video Card Guide for information on adding a video card.
Details
introduced 1993.10.21; discontinued 1994.09.12
requires System 7.1 or later; highest version supported without a PPC upgrade is Mac OS 8.1.
CPU: 33 MHz 68040 CPU
Performance: 14.6, relative to SE; 21.9, Speedometer 3; 1.19, Speedometer 4; 29 MIPS
see Benchmarks: Quadra 650 for more details
ROM: 1 MB
RAM: 4 MB or 8 MB on motherboard, expandable to 132MB or 136MB using 80ns 72-pin SIMMs; motherboard had 4 SIMM slots which can be filled individually but should ideally be filled in interleaved pairs; can use 4 MB, 8 MB, 16 MB, and 32 MB SIMMs
video: 512 KB VRAM, expandable to 1 MB

512 x 384 @ 16-bit
640 x 480, 800 x 600, 832 x 624: 8-bit @ 512 KB, 16-bit @ 1 MB
832 x 624, 1024 x 768, 1152 x 870: 4-bit @ 512 KB, 8-bit @ 1 MB

L2 cache: optional, PDS
ADB: 2 ports for keyboard and mouse
serial: 2 DIN-8 RS-422 ports on back of computer
SCSI: DB-25 connector on back of computer
Hard drive: 230 or 500 MB
NuBus: 3 NuBus 90 slots
one PDS slot
size (HxWxD): 6.0″ x 13.0″ x 16.5″
Weight: 25 lbs.
PRAM battery: 3.6V half-AA
Gestalt ID: 36
addressing: 24-bit or 32-bit
upgrade path: Power Mac PDS card, Power Mac 7100
Accelerators & Upgrades
Online Resources
Cautions
Apple discontinued support and parts orders for this model on 2001.10.15 (2001.10.22 in Canada). You may be able to find dealers with parts inventory either locally or on our parts and service list.
You must have a "fat" system installed to use a PowerPC upgrade.
Serial port normally restricted to 57.6 kbps; throughput with a 56k modem may be limited. See 56k modem page. For more information on Mac serial ports, read Macintosh Serial Throughput.
Keyword: #quadra650
Short link: http://goo.gl/6uqzkO
searchword: quadra650