This relatively rare variant of the LC 630 includes a DOS card with an Intel 486DX2/66 CPU, although some shipped with a Cyrix 486/70. The DOS Compatibility card can share Mac motherboard memory or use its own dedicated RAM.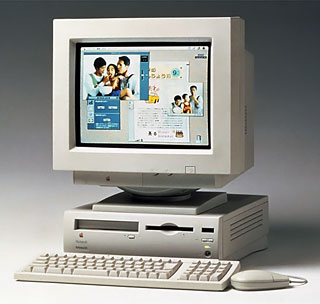 The motherboard has two SIMM sockets, while the DOS card has a single SIMM socket. (The non-DOS 630 usually has just one SIMM socket.)
The 630/640 was quite cleverly designed for a computer with no industry standard slots. It contained an extended LC PDS that supports both LC and extended LC cards, a comm slot for a modem or ethernet card, and a video slot for either Apple's Video System Card or TV/Video System card.
To top it off, the DOS card plugs into the CPU socket and also uses the PDS, but it leaves the comm and video slots free. Unlike other DOS Compatible Macs, the 630/640 doesn't use a "hydra" video cable; both Mac and PC sides share the same video port. The DOS card also includes a joystick port, which plugs into the PDS socket.
Although the hard drive is IDE, the CD-ROM (when present) is a SCSI device.
Details
Accelerators & Upgrades
Online Resources
Cautions
Keywords: #lc630dos #performa640dos
Short link: http://goo.gl/9dbYqK
searchwords: lc630dos, performa640dos